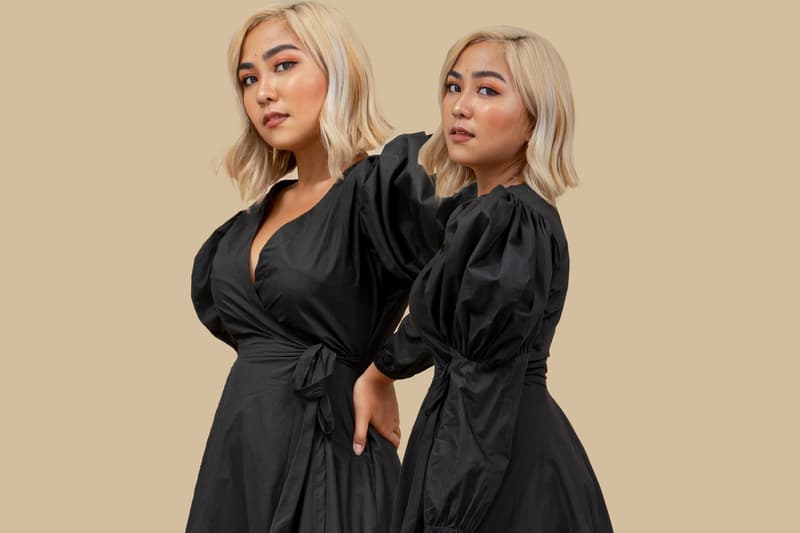 Fashion
Ara Madrigal's House of Enchanté Is Giving the Filipiniana a Modern Twist
The designer discusses her inspiration and how her brand came to be.
Ara Madrigal's House of Enchanté Is Giving the Filipiniana a Modern Twist
The designer discusses her inspiration and how her brand came to be.
Filipina fashion designer Ara Madrigal took a leap of faith last year and started her own brand amid the peak of the pandemic. Diving in and expecting the unexpected, Madrigal turned her vision into reality, creating House of Enchanté.
Having only ₱4,000 PHP (approximately $78 USD) — a portion of the last salary she earned from her previous styling job — to start her business, Madrigal used the power of social media to promote her work. With a loyal support system, the young talent has been able to sustain her label and hone her skills as a designer. Her brand reimagines the Filipiniana dress, a traditional garment worn at formal occasions by women in the Philippines, with a modern look and feel. Madrigal's design inspiration also stems from her love of Disney princesses and Victorian sleeves.
Below, we spoke to Madrigal about how her brand came to be, her goals as a designer and more. Read on for our conversation.
Take us back to the beginning, where does your passion for fashion stem from?
Pretty things have always fascinated me — well, all things bright and beautiful, as clichéd as it may sound. I used to have a complete DVD collection of all the Disney princess movies and tons of Barbie dolls dressed in sparkly, colorful and majestic clothes, which I was instantly attracted to. My go-to pastime as a kid was playing dress-up with my paper doll collection. So, being surrounded by beautiful and nice things made me curious as to why I felt that way. That's when I realized I was drawn to the clothes my dolls wore because they added personality, beauty and uniqueness — it's like you know who they are based on what they are wearing. Ever since that day, all I think about was having my own fairyland where clothes would make you feel magical and enchanting.
Can you share with us your fashion background?
In 2019, I completed my accounting degree and decided to start my formal education in fashion at Slim's Fashion and Arts School. However, my family wasn't aware of my application at the time because they were against the idea. I enrolled in a dress-making class when the pandemic hit, so I had to drop out in June 2020. Like many students studying in practical fields, I'm not comfortable taking online classes since we're dealing with more hands-on stuff like pattern making, but I didn't want to completely focus my efforts on studying. So, I tried to balance my experience with being a fashion student and working as an assistant stylist at ELDZStyles.
You started your brand with only ₱4,000 PHP. How did you make that happen and can you explain what the process was like starting a business in the middle of a pandemic?
My ₱4,000 PHP was actually a portion of the last salary I got from my styling job. After I dropped out of school, I knew I wanted to make use of my time. I thought of taking a risk, which was to show the world my take on the "new normal" pandemic fashion. I believed I could bring life to the PPE suits our front-liners use — not only do they function well, but they also empower them as if we're back to our pre-COVID life.
During the early days of House of Enchanté, we were still under strict quarantine protocols. I was skeptical at first since I needed to get everything sorted online and have our materials delivered. I didn't even get a chance to do a professional photoshoot for my designs with a photographer, since most jobs were put on halt due to the virus. My best friends and I only got to take a few photos at the mall.
Quick fun fact — I ran an experiment prior to the launch. Since we were only allowed to go out three days a week during that time, I wore the first prototype at a doctor's appointment just to see how people would react to my design. I was also trying to see if it would be a head-turner or if people would wonder why it looks weirdly good to be just a PPE. I went home proud that day as I made a few heads turn, and someone even asked where I got my PPE.
As you mentioned, you put your studies on hold in 2020. Do you plan on going back?
I'm actually back in fashion school. I re-applied to Slim's Fashion and Arts School under the Fashion Illustration program last November and I'm about to finish Module I this month. I'm looking forward to finishing my studies at Slim's first before I pursue further studies abroad if given the chance.
What are some things you have learned from running your own business that school wasn't able to teach you?
I learned that life will surprise you with harder obstacles than what schools prepare you for. One lesson that really stuck with me is about looking at a situation from different perspectives before making a final decision. It really wouldn't hurt to ask for help from people around you from time to time.
Another is to treasure every person you work with. From the seamstress down to the staff who carries the rolls of fabric you purchase — treat them with respect. It is lovely to work in a supportive and helpful environment, and you'll be able to attain it by showing them that they are appreciated.
Other than the traditional Filipiniana dress, what else inspires your designs?
When I'm asked how I would describe my designs, it's "Once Upon A Dream" — they're like what you see on a Disney princess but vintage. I'm in love with puffs and fluffs, so I often take inspiration from Disney movies with a combination of a few Victorian sleeves. I love how the overall look can make you feel like you're dancing in the wind with your sleeves and skirt up high in your own fairytale.
Who are some designers that have shaped you into the creative you are today?
I'm forever in love with Dior, but I'm currently loving what Sarah Burton has coming up for Alexander McQueen. I also admire Vera Wang, Minju Kim, Paul Vasileff and Danielle Frankel. In terms of local designers here in the Philippines, I look up to the late Salvacion Lim-Higgins — she is the founder of our school and I personally think she came up with the most exceptional fashion silhouettes. Ramon Valera, Michael Cinco, Francis Libiran, Patricia Santos, Martin Bautista and Jaggy Glarino are designers that also inspire me.
What does your day-to-day typically look like?
On weekdays, I start my day with work and answer inquiries. I then attend my classes and work on my plates. I answer even more queries when I can. From lunch to late afternoon, I attend to the orders which are about to be shipped by double-checking and scheduling the deliveries. After that, my seamstress and I double-check our pending orders and the supplies we need for the next batch.
I always try to make the most out of my weekends. This is when I schedule the pick-up for international orders. I wake up early to prepare and seal all shipments to be delivered to a local courier. My weekends also wouldn't be complete without me having a trip to my happy place — the fabric store. It's part of my weekend routine with my boyfriend, so actually, I pretty much have more time to rest on weekdays rather than weekends. But there's no room for complaints if I enjoy it, I love my job a lot.
What is your goal for House of Enchanté?
The dream has always been to be part of Fashion Week in the world's fashion capitals, especially in Paris, Milan and New York. I want my brand to have the reputation for being the biggest luxury fashion brand based in the Philippines, made in Manila and owned by a Filipina. I want my brand to be a representation of how the Philippines can introduce a household name in the industry too, like Gucci, Versace or Prada. It's ambitious but a girl can dream, right?
Knowing what you know now, what advice would you give your younger self?
People will admire you for being a believer in your dreams. Continue on celebrating yourself. Be empowered and never underestimate your capabilities. It will take a lot of courage to make the world appreciate your craft, but never stop creating. Fall in love with the process and never stop dreaming to contribute beauty to the world you've always dreamed of being a part of. Your designs will come to life one day. Everything will fall into its rightful place. Be patient and you'll get there.
Share this article