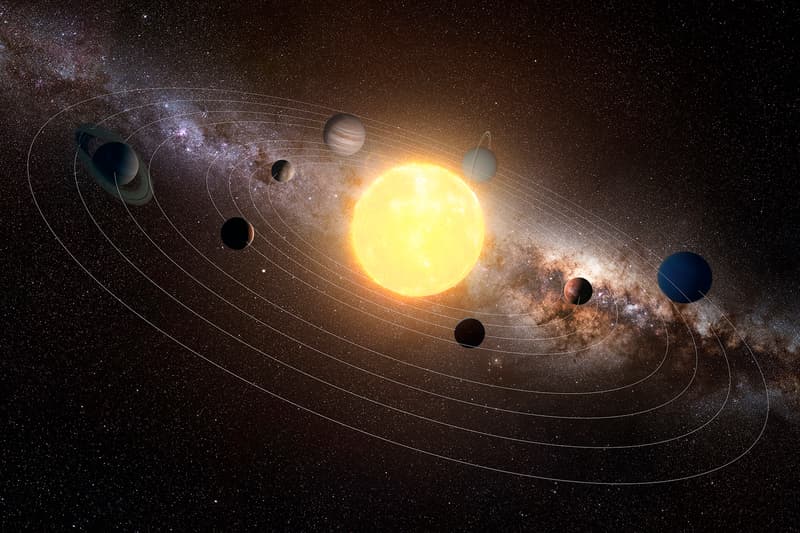 Culture
Ruling Planets, Explained: Here's How They Affect the Zodiac Signs
An astrologer explains the significance of the celestial bodies.
Ruling Planets, Explained: Here's How They Affect the Zodiac Signs
An astrologer explains the significance of the celestial bodies.
Planetary rulership plays a significant role in astrological analysis as it reveals how the planets influence the energy of each of the zodiac signs. Each sign has a specific ruling planet, which provides a bonus layer into the bigger picture of the birth chart. "Rulership will continue down the line until a planet is in its home sign or if there's a forever loop," astrologer Julia Arielle Modorsky of the Sanctuary app tells us.
While some of you may already be familiar with the basics of ruling planets, Modorsky specifically breaks down their effect on the signs. Read on to discover more about the concept of planetary rulership, and be sure to grab a copy of Sanctuary app's What's Your Sign? book to further understand the language of the sky.
View this post on Instagram
The ruling planets for each of the zodiac signs
Aries is ruled by Mars
Taurus and Libra are co-ruled by Venus
Gemini and Virgo are co-ruled by Mercury
Cancer is ruled by the Moon
Leo is ruled by the Sun
Scorpio is ruled by Pluto in modern astrology and by Mars in traditional astrology
Sagittarius is ruled by Jupiter
Capricorn is ruled by Saturn
Aquarius is ruled by Uranus in modern astrology and by Saturn in traditional astrology
Pisces is ruled by Neptune in modern astrology and by Jupiter in traditional astrology
View this post on Instagram
How the planets affect the signs
Moon
The most dynamic and diverse rulership of the signs is Cancer. The Moon changes signs every two and a half days, so you can actually find a Cancerian ruled by any of the signs in the same year of birth. Depending on the specific day of birth, this is the only Sun sign in which every sign will be found ruling it every year.
Yet Cancer's opposing sign, Capricorn, will oftentimes only be ruled by just one sign — not all signs — if born within the same year or two. For example, during Capricorn season from December 2021 to January 2022, when the Moon entered all the signs, Saturn was only in one sign — Aquarius. All of the Capricorns born at that time were ruled only by Aquarius Saturn, which will also be the case for those born in Capricorn season at the end of this year into the next (December 2022 to January 2023). Saturn stays in a sign for about two to two and a half years, so throughout that time, Capricorns will have the same sign ruler. If hard-working and goal-oriented Saturn is making its transition into a new sign during Capricorn season. That phenomenon can bring two signs into the mix during that year of Capricorn births.
Mercury
Mercury is never more than 28 degrees from the Sun. There are 30 degrees to each sign, so it's impossible for communicative and mind-oriented Mercury to be in the opposite from your Sun sign, or even two signs away for that matter. Mercury can only be in the same sign as your Sun or in the sign before or after your Sun sign. With Mercury's rulership of Gemini and Virgo, Geminis can only possibly be ruled by Taurus, Gemini or Cancer Mercury, and Virgos can only be ruled by Leo, Virgo or Libra Mercury.
Leo is another fascinating sign of rulership because it's ruled by the Sun. All Leos have this extra bright force of solar energy that isn't influenced by another sign.
Mars
Mars changes signs every two or so months. All Aries Suns that are born in the same year will oftentimes have the same sign ruling their Sun. The sign isn't restricted to the Sun like Mercury's rulership, so each year, there could be a different Mars sign in any sign. For example, all Aries born in 2021 have their Aries Sun ruled by Gemini Mars, while all Aries born in 2019 have their Aries Sun ruled by Capricorn Mars. However, if Mars is in Capricorn and ends its two-month cycle during Aries season, then you will find two sets of Mars rulership for the Aries Suns born that year (ruled by either Capricorn Mars or Aquarius Mars). This is exactly what happened for Aries Suns born in 2020. All of this goes for Scorpio as well during Scorpio season if you prefer traditional dual-rulership with this active, driven and fiery planet.
Pluto
Pluto is a generational planet that dictates the underlying themes of each generation. It can be in one sign for around 11 to 30 years. With modern rulership, many Scorpios will all have this powerful, deep and transformative planet in the same sign for its rulership. Pluto has been in Capricorn since 2008 — set to shift into Aquarius briefly in 2023, then officially in 2024 — so all Scorpio Suns from then to now will be ruled by Capricorn Pluto for a very determined, mature and wise influence over the sign. Pluto was in Sagittarius (ruled by Jupiter) from 1995 to 2004, and it was in its home-sign rulership of Scorpio from 1983 to 1995, which provided a double Scorpionic influence in rulership for Scorpio Suns born during that decade.
Venus and Sun
Taurus and Libra share the beautiful, relational, justice-oriented and charming Venus as their ruler. This one is a bit more dynamic like Mars but similar to Mercury in that Venus doesn't steer too far from the Sun. It's impossible to have your Venus sign at the opposite end of your Sun sign, so there will never be a Scorpio Venus-ruled Taurus Sun or an Aries Venus-ruled Libra Sun. Venus can only be in the same sign as the Sun, or in the two signs, before or after the Sun sign. A Taurus Sun could be ruled by Pisces Venus, Aries Venus, Taurus Venus, Gemini Venus or Cancer Venus. Meanwhile, a Libra Sun can only be ruled by a Leo Venus, Virgo Venus, Libra Venus, Scorpio Venus or Sagittarius Venus. There can never be a Capricorn Venus-ruled or Aquarius Venus-ruled Taurus Sun or Libra Sun.
Earth
A small handful of modern astrologers controversially believe that sensory-driven Taurus Suns are ruled by the resourceful, natural and steady groundedness of Earth, which is always directly opposite or 180 degrees from the Sun sign. Each Taurus Sun would be ruled by Scorpio Earth, similar to how all Leo Suns are ruled by the one and only sign. This belief isn't widely adopted but thought-provoking nonetheless.
Jupiter
Jupiter traditionally rules both Sagittarius and Pisces, with Pisces being modernly ruled by dreamy, spiritual and soulful Neptune. Jupiter stays in a sign for about a year, usually retrograding in and out of the sign briefly. As a result, you'll find most Sagittarians — and traditionally, Pisceans — ruled by the same sign unless that transit shifts into a new sign during Sagittarius or Pisces season. All Sagittarians born in 2021 were ruled by Aquarius Jupiter, and all Sagittarians born in 2020 were ruled by Capricorn Jupiter.
Neptune
Neptune stays in one sign for about 14 years. In modern astrology, all Pisceans will be ruled by the same Neptune sign for over a decade at a time. Neptune, the ruler of Pisces, entered its home-sign rulership of Pisces in 2011 where it will stay through about 2026. All Pisceans born during that period of time will be modernly ruled by the double-emphasis of Pisces Neptune.
Saturn and Uranus
Aquarians are traditionally jointly ruled by Saturn and Uranus. Like Capricorn Suns, Aquarius would traditionally be ruled by the same Saturn sign for about two and a half years. On the other hand, Aquarians are ruled by the same sign for about eight years at a time. Uranus entered Taurus in 2018, so all Aquarians born from then until now will be ruled by Taurus Uranus. If you were born between about 1989 to 1996, all Aquarius Suns were ruled by Capricorn Uranus. Those Aquarians were modernly ruled by Capricorn Uranus, which was further modernly ruled by different Saturn signs throughout those years. With this, we can see that rulerships don't stop at one sign.
Share this article