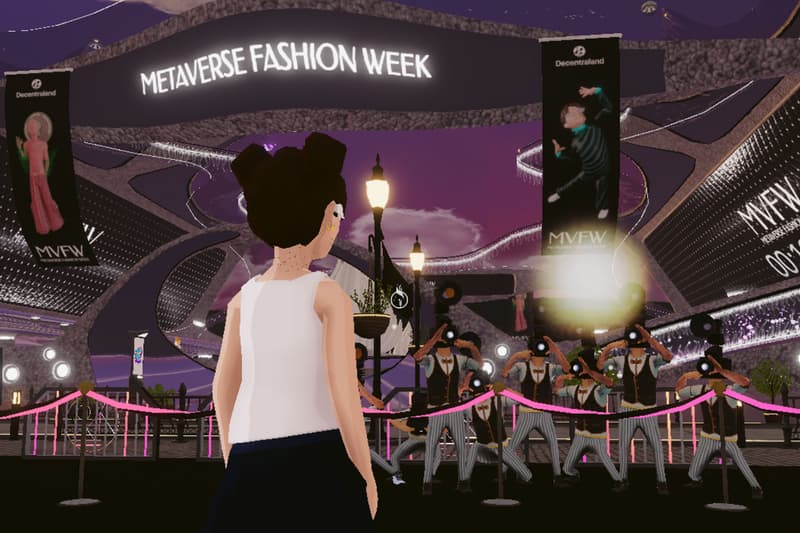 Fashion
The Future Is Here: Look Inside Decentraland's Metaverse Fashion Week
We speak to the event's organizer about the future of web3 and how it'll impact fashion.
The Future Is Here: Look Inside Decentraland's Metaverse Fashion Week
We speak to the event's organizer about the future of web3 and how it'll impact fashion.
With the world talking about all things web3, it was only a matter of time for a platform like Decentraland to host a Fashion Week in the metaverse. The event, which took place a few weeks after the IRL Fashion Month, featured a rather impressive roster, including Etro, Elie Saab, Guo Pei, SHOWstudio, Estée Lauder and more.
Decentraland's Metaverse Fashion Week (MVFW) isn't exactly the first of its kind. Brands like Jonathan Simkhai and Roksanda showcased their respective collections in digital spaces earlier this year. This time around, the event was a lot bigger, with a runway stage, retail stores and other event spaces available for everyone. As a visitor, all I had to do was to connect my crypto wallet and set up my avatar to enter the virtual world.
Customizing my avatar and outfit felt similar to playing The Sims. I could choose different skin colors, facial features, hair as well as my outfit (although I didn't have a wide range of options as I don't own any digital wearables). I opted for a simple white tank top and mini skirt, which I'd like to say was inspired by Miu Miu and Bottega Veneta's latest looks.
As mentioned in many other reviews online, the main setback of the experience was that my computer was unable to handle the volume of graphics that running MVFW required. While there were a lot of events to attend, I had to take breaks and refrain from "walking" around too much for fear of my laptop overheating and shutting down.
Aside from all the glitches and lags, MVFW was filled with things to see. Models were flying on the runway. You could teleport from one floor to another in a building. People were dressed in otherworldly clothes featuring wings, sparkly dust and so much more. From the comfort of my bed, I could be a part of a Fashion Week that recorded 108,000 unique users. The graphics weren't the best in showcasing actual garments and their details, but it was more about the experience itself, where you could immerse yourself in a virtual world with people from all over the globe. With Decentraland kicking off this event, we're excited to see what the future holds for web3 in fashion, and vice versa.
Below, Hypebae speaks with Giovanna Graziosi Casimiro, the head of MVFW, about the future of web3 and what it means to host Fashion Week in the metaverse.
What does the development process with designers and brands look like in creating a runway show in the metaverse?
Brands work alongside Decentraland community creators who know a lot about the metaverse and wearables. These community creators are acting as consultants and sharing their web3 expertise with the participating brands. Our process was to get brands to adapt their vision based on the creators' experience working in this space. The digital designers who are native to web3 are guiding these luxury brands who've had major success in the IRL fashion world, and helping them navigate what works in the metaverse and what does not.
What are the biggest challenges in hosting Metaverse Fashion Week?
The biggest challenge is to get brands to step outside of their comfort zones and show them that they are, perhaps for the first time, allowed to do something different than what they are used to with their regular catwalks.
The second challenge has been working around web3's limitations and restrictions. For example, we may not be able to produce the exact textures, designs or animations brands desire simply because the technology is so new. As a result, it's imperative to remain flexible and inventive.
Finally, a general challenge we face in web3 is onboarding new users. The world is in a transition period, so we must educate and provide guidance on how to use the platform and the technology, so that users may enjoy it to the fullest.
Do you think digital presentations can replace physical ones?
No, these are two interpretations of the same story. In my opinion, it's important to have both. And the reason I believe that is because physical experiences are part of the physical world, and they will have their own flavor, right? You want to touch things. You want to smell the perfume on the catwalk. You want to see the lights on your body. You want to be with your friends. But there are some experiences you can't have in the real world: You can't fly. You can't see particles exploding around you. You can't have a Tiger face. The physical and digital should complement each other rather than compete, and brands should utilize both to communicate a holistic story to their audience.
Where do you see the future of fashion headed in the metaverse and/or digital space? What will Metaverse Fashion Week look like in five years' time?
Our philosophy is not to have ownership of anything. We don't have any competitors — we are building the next generation of the internet and we are all doing that together. A lot of other projects see us as competitive but we don't see that at all. We are trying to direct it in the way we think is philosophically best and we build everything with open standards, so everything we write, anybody could come along and copy and make their own version of what we do. We're giving it to the world. There's no point in trying to have ownership over something when we're at the beginning of this. It's the first time the script has been rewritten in 25 years. We are trying to guide it in a new direction and make it better for everyone.
While many believe in the future of the metaverse, some claim that the boom is temporary and the interest in the metaverse is falling. What are your thoughts on this and how will web3 continue to impact the fashion industry?
I truly believe that as long as the community at large keeps guiding web3 efforts, it will succeed. On the flip side, if someone acquires web3, then it won't, we'd just be reshaping the surface if we allowed that to happen, but the core would remain unchanged from what we know. In short, as long as we have an open internet, we will be in good shape.
In terms of fashion, I believe the metaverse will eventually emerge from our screens. DressX and other brands have already begun to develop AR solutions. As those types of solutions become more mainstream, people will finally be able to grasp the significance of digital fashion and how it extends beyond the confines of our computers. Additionally, I believe that fashion within the metaverse will be regarded as a work of art, not merely as a commodity to be consumed.
Share this article