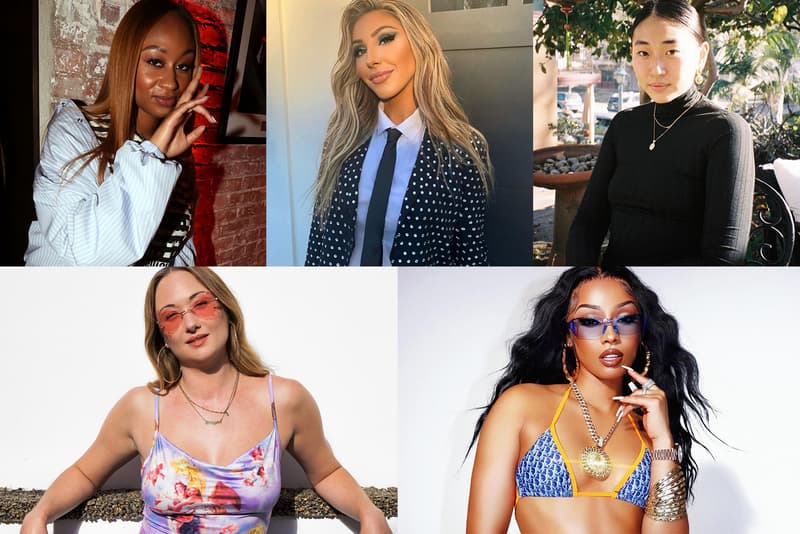 Music
Women in Music Discuss Their Triumphs and Struggles in the Industry
Hannah Lux Davis, Lily Mercer, Nina Lee, Rubi Rose and TRAKGIRL share their stories on the latest HYPETALKS.
Women in Music Discuss Their Triumphs and Struggles in the Industry
Hannah Lux Davis, Lily Mercer, Nina Lee, Rubi Rose and TRAKGIRL share their stories on the latest HYPETALKS.
Women in the music industry have been fighting for gender diversity and equality for years. Predominantly led by men, the scene carries several underrepresented female talents who hold different titles, such as artists, songwriters, producers and directors.
According to reports from 2020, the average gender pay gap in UK-based record labels Universal Music, Sony Music and Warner Music were at 29.2%, 25.4% and 30% respectively, while companies like Spotify and Live Nation were at 15.3% and 34.3%. Meanwhile, the ratio of men to women producers across 600 popular songs was 38 to 1 just last year, as per USC Annenberg's findings. Considering the amount of talented female music creators across the globe and the way they are being misrepresented, it is evident that the industry still has room for improvement. With that being said, half of this year's Grammy nominees for Album of the Year are women — but surely more can be done because awards don't always validate an artist's work and worth.
To round out Women's History Month, we hosted a HYPETALKS session with five experts in the field who discussed how they themselves have smashed the glass ceiling amid a male-dominated environment. Read on for our conversation with Hannah Lux Davis, Lily Mercer, Nina Lee, Rubi Rose and TRAKGIRL, and listen to the full recording here.
View this post on Instagram
Growing up, who were your female inspirations in your respective careers? 
T: Being a music producer and someone in this space, the one person who inspired me was Missy Elliott. I just admired everything she did, from her music videos to her production. I tried to always instill that in building my career. She's definitely one of the ones for sure.
NL: As a first-generation Korean-American growing up in Southern California, I think just the Asian women who were represented in media. I initially wanted to pursue journalism, so I think that was where my initial inspirations came from growing up.
LM: It was a very male-dominated space for me. When I was growing up, there were very few women in like the rap industry. But Angie Martinez was an inspiration from the radio side because she did so much and always kept the music focused within her interviews. Miss Info is another one.
HLD: Growing up, I would see what music videos were playing on TRL. At the bottom of the videos, they would also show the directors, and so for me, I was always like seeing who the directors were and it was a lot of Dave Myers and Nigel Dick. Eventually, I started to see female directors like Floria Sigismond and Sophie Muller listed and I was obviously super inspired by that. In film school, I also started to take notice of a director named Melina Matsoukas.
RR: I'm gonna have to go with the queen, Nicki Minaj. I never really listened to Lil' Kim, but now, I think she's really dope as well. But I'm going to have to give all my props to Nicki Minaj.
View this post on Instagram
What were the biggest hurdles you had to overcome as you progressed further into your careers, and how did you move past them?
RR: The biggest hurdle for me in my career was getting people to take me seriously as an artist because I started off as a social media influencer. Being validated and taken seriously were probably the biggest hurdles that I've faced and I feel like a lot of female rappers face that nowadays.
LM: It was being able to embrace my femininity even though it wasn't a very male space. I think early on during my interviews, the way I dressed wasn't really like true to me because I was so kind of paranoid that people would think I slept my way to that position. As a woman, you're always kind of judged a bit extra on how you look. So I kind of wish I'd been a little bit freer with that.
T: I kind of had to reshape the definition of "hurdle" and use it more so as like fuel. Being an independent creative, I think it's tougher to get a seat at the table. I kind of just have to shift my mindset a little bit and just know that anything is possible to push forward.
HLD: It's a very mysterious and elusive career path. It's not really a set-in-stone way, at least for the film side. There's not really one direct path in order to get where you need to go, and I think I was always questioning if I was doing this right. I was a little insecure about that at the beginning of my career. However, as you have more projects under your belt, the more confidence you get and the more respect you gain. It sorts itself out and you'll learn that everybody's processes are all different.
"Being validated and taken seriously were probably the biggest hurdles that I've faced and I feel like a lot of female rappers face that nowadays."
We'd like to bring up the topic of putting "female" before your job titles. Tell us your thoughts on that.
LM: I think from the DJ aspect of my career, that was just the given from the start. But nowadays, in London for example, female DJs are kind of running it now. As a journalist, obviously, no one's ever called me a female writer. Ruby, for example, her being called a female rapper, I find it frustrating when it's other careers that people are talking about.
RR: We are women but it's weird to put us in groups. When we talk about female rappers, we always try to like compete and put other female artists against each other. There are only a few of us but there are so many doing this sh*t, so it's just weird to call us female rappers. But I love being a woman, so I don't really care.
HLD: At first thought, it was really cool to be called a female director. Then I started to notice how it meant it was almost like second-rate director, It's even more annoying in 2022 because why does the female have to be its own genre? I find it incredibly frustrating. Although, I think it'll change the more that we stop making it a cause.
T: I just try to block out the noise. I embrace the fact of being a rarity. I love being unique. It's obvious that I'm a female, but I just redirect that narrative to focus on my art. I embrace the fact that we're all rarities, that's how you have to look at it. We're all just unique beings.
View this post on Instagram
Winning a Grammy certainly does not define an artist's worth or work. What is your definition of being a good artist?
T: First and foremost, awards should not validate your art. However, I do want to win Producer of the Year one day, I'll put that on record. But I just feel like what makes a good artist is someone who is open to evolving or who goes deeper with their craft. I love the evolution of an artist that's open to trying new things.
LM: This is a very hard question because I think even the definition of a good artist would be different amongst all of us. Even at first, I thought it was legacy, but then there are so many artists that I love that haven't necessarily had long careers or might only have one album. But my point being is that there's a lot of music that I've loved, which was what some were classified as a one-hit-wonder. It's more about definition, and I think that definition is unique to each person and open to interpretation.
HLD: Being able to evolve, learn, grow and practice your craft. As somebody who works with artists, I always find that the ones that are the best to work with would be the ones that are collaborative, open to listening, trusting, are able to do the work and come prepared.
View this post on Instagram
Do you believe the big businesses in music have done enough to lift women? What else can they do to ensure that more women are rightfully put in the spotlight?
HLD: I love working with female artists — it's like my bread and butter. It's what I love to do and I always find it really exciting when their teams are made up of a lot of women. When artists hire more women in all aspects of their business, that excites me. Companies hiring more women with executive roles, I think that's important. I feel like there are always things that people can be doing better. I think it's about women really taking ownership and inviting more people to the table when they feel that they're in a position to have that power and to hire.
T: It's all kind of the same. Being a rarity in this space, it's hard for big businesses to really wrap their mind around someone like me. I've had to learn to align with corporations who are really about that life and really about amplifying our voice, versus corporations who just want to use us for diversity numbers or use our name and our likeliness to demonstrate they align with X, Y and Z. There are corporations and businesses who actually care about us and care about our work. I just try to align with those individuals honestly and they there are.
View this post on Instagram
What kind of impact do you want to leave in the music industry?
LM: I just want to continue on my mission. I'm quite happy with my industry and I feel like I've built a cult scene around what I've done with my magazine. I just want to make a mark on music in terms of sharing more artists and putting more people onto the artists that I love.
NL: Being able to share the music and the stories of the artists and creatives that I work with is the most satisfying part of what I do. In the last few years, I've had interns reach out that there aren't a lot of Asian-American women in the music industry. I think those moments end up meaning so much and it feels like the path towards diversifying and opening up our industry to more diverse women.
T: I just feel like I'm a vessel and that everything that I'm doing is bigger than me. I just want to be able to give resources to others and give that positive light to others because I feel like sometimes this can get stressful. This industry can get dark but there are still good humans.
HLD: I want to leave an impact on pop culture, especially through the female gaze because that's what female directors are. The female perspective is a real thing, like how a woman would shoot somebody versus a man and I think it's cool that I'm making an impact on pop culture through the work that I do in collaboration with these artists.
Share this article