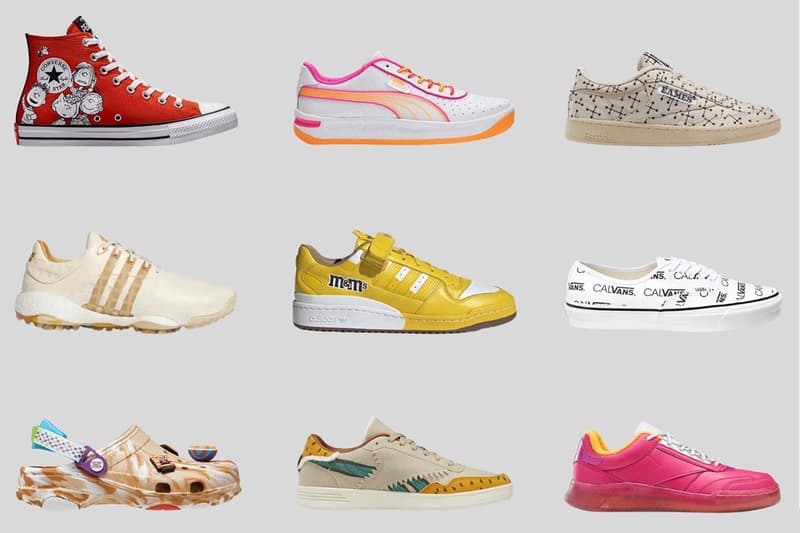 Collaboration Culture: Of the Moment or Overdone?
Brand x brand x exhaustion.
Designer collaborations surged in popularity during the early aughts. Vying for a high fashion experience, consumers lined up — even camped out — for H&M's capsule collections with Karl Lagerfeld, Versace, Balmain and Maison Margiela. Even Target had its pulse on the trend with partnerships with Rodarte, Missoni and Isaac Mizrahi.
What a time.
The high/low fashion partnership has since been eclipsed by mega mergers of designer x designer (see: Balenciaga x Gucci), streetwear brand x luxury brand (see: Supreme x Louis Vuitton), artist x brand (see: Bad Bunny x adidas), and the more ubiquitous sneaker collabs that include unusual pairings like Dunkin' Donuts x Puma and General Mills cereals x Crocs.
Is something being lost with these licensings? There's a great chasm between a Nike "Tiffany" Dunk and a (hypothetical) Tiffany & Co. x Nike Dunk. The former implies an under-the-radar, against-the-grain sensibility, while the latter carries with it the weight of sneaker culture's rampant commercialization.
Collaboration culture as a whole begs the question: Are companies clinging to these co-branded drops as a means of extending a cultural footprint or in an attempt to create one? Has the scale dipped too deeply into partnership over product?
During the month of May, Hypebae reported on twenty-six unique sneaker collaborations, more than one for every weekday on the calendar. Hypebeast's coverage comes in at nearly 80 collaborations, averaging about three new announcements per weekday. The massive volume dilutes the entire spectrum from resonating co-brands to the more brazenly dying-to-go-viral moments. The shock factor is gone. A return to authenticity is in order.
So, what can brands do to differentiate their partnerships from others? According to Marketing Communication News, Gen Z consumers in the U.K. between 16-24 define authenticity in the following ways: 71% say "caring about its customers," another 71% equate authenticity with having a wide range of options and 66% selected "being true to its values," "being friendly" and "caring about its employees" as indicators of an authentic brand. The findings are clear — its up to brands to align with these core values as much as they align with each other.
Time will tell if peak brand partnership has been reached, but its safe to say that co-branded drops don't carry the weight they once did. While that era has passed, it makes space for new approaches including storytelling, sustainability and tech-driven avenues to name a few — cosign and co-brand not required.
---
Share this article