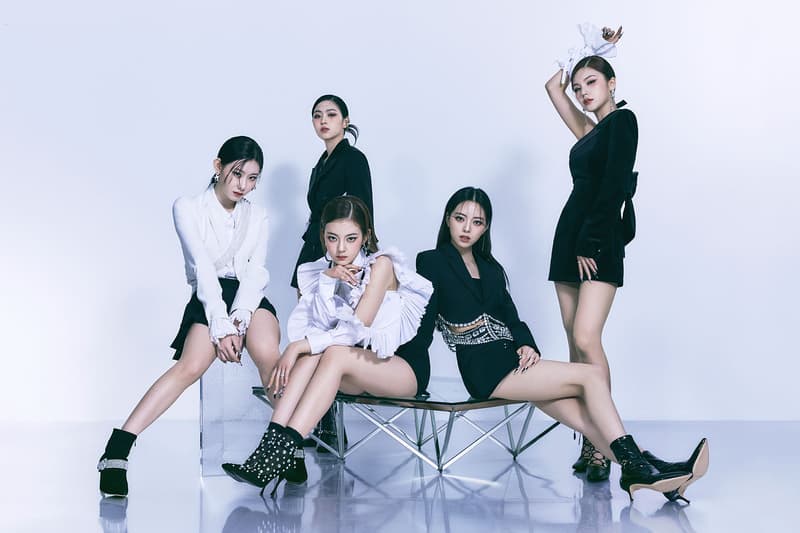 Music
ITZY Isn't Slowing Down Anytime Soon
The K-pop group talks to Hypebae about their latest mini-album 'CHECKMATE.'
ITZY Isn't Slowing Down Anytime Soon
The K-pop group talks to Hypebae about their latest mini-album 'CHECKMATE.'
ITZY has entered their third year in the industry and aren't slowing down anytime soon, from their fashion collaborations to their sold-out U.S. tour. Coming back with no less than a bang, the K-pop group certainly shocked their fans with their comeback announcement, channeling a regal concept. MIDZYs expected to see the girls in tiaras and dresses but were surprised to see the colorful "SNEAKERS "promotional content. Despite this unexpected style transformation, fans expect no less from ITZY.
ITZY's maknae (a Korean term used to refer to the youngest person in a group) Yuna admits that the quintet has expressed the "SNEAKERS" concept in an obscure way, leaving no hints for fans. Keeping MIDZYs on their toes, ITZY is back with their new mini-album, CHECKMATE. Fans were already in awe with what was assumed to be an elegant concept, but ITZY is sticking to their teen crush roots, channeling major Y2K vibes. Since their 2019 debut, ITZY has maintained their fiery sound — think girl power, Gen Z and oozing confidence — and more importantly, they have the talent to back it up. They're Not Shy, a bit "LOCO" and "WANNABE" nobody else but themselves. One listen of "DALLA DALLA," "ICY" or "WANNABE" and you'll recognize their powerful vocals and their precise and unique choreography, whether it be Ryujin's recognizable shoulder dance or their back-breaking "ICY" choreography. The quintet is really in their own lane and the sky's the limit for them.
With "SNEAKERS" on the horizon, Hypebae caught up with Yeji, Lia, Ryujin, Chaeryeong and Yuna to talk about the new EP, their tour and their growth as a group and individuals.
It's been a year and a half since we last spoke about your third EP, NOT SHY. What has changed since and what have you been up to during your free time?
Yeji I think ITZY has matured a lot since then. Even concept-wise, since we gained more experience, I think we became more skillful on the stage too. I've been spending my free time at home, as I usually use a lot of energy at once during my schedule times, I need some time to recharge calmly at home.
Chaeryeong When I look back to my NOT SHY era, I realize how young I looked! I think I lost a lot of baby fat. We've matured a lot over the past year and a half. I usually spend my free time at home. I like static hobbies rather than active ones, so I've been drawing, doing nail art or watching dramas.
What messages do you aim to deliver to your fans behind your new EP?
Ryujin The title song contains a big, new message of freedom, which is a new one for ITZY. I hope our fans and listeners can feel that too.
Yuna I would first like to thank our fans, MIDZY, for waiting for us for such a long time. Also, I would like them to feel the joy of summer, and feel happiness through our song together with us.
What did you enjoy the most while shooting for your latest music video?
Lia There were many MV scenes which we had to shoot together with the actors this time. I enjoyed the scene where the "Rocket Sneakers" were launched, and everyone was happy, screaming.
Yuna The most interesting thing was that we've expressed the "SNEAKERS" theme without making it too obvious. We've made it unique, the ITZY way. Also, it was my first time channeling a medieval concept, so that was very interesting.
With K-pop going global and more music acts emerging in the space, how do you think ITZY, as a group, is different from others?
Yeji I think ITZY has a strong and unique team color! The energy as a group is strong, but each of us also has different charms and strong personalities that make ITZY stand out.
Lia I think the different colors and energy each member has, and how those are harmonized are very amazing. We fill each other's gaps and double the strength, so we produce a very special and strong synergy.
Who is your dream collaboration?
Ryujin Bebe Rexha. I think our chemistry would be great.
Chaeryeong I think it would be great to be on the same stage with TWICE.
As travel restrictions are being lifted in numerous countries, where is the first place you would like to go on vacation?
Yeji It's really hard to pick just one. I want to go travel everywhere, like we do during tours.
Chaeryeong Paris for me! I have been there once, and I remember the Eiffel Tower was so beautiful. I want to go there with my parents again.
What are your favorite songs from the new EP?
Lia It would be "DOMINO" for me. I get emotional when I sing this song because the lyrics are so good.
Ryujin I like the fantastic and cool feeling of "Free Fall."
Yeji It's hard to choose because this album contains so many good songs, but I'll choose "DOMINO." I generally like sentimental songs and the lyrics also touch my heart when I think of our fans and my bandmates.
What is your favorite piece of choreography or dance move from your songs?
Yeji My favorite is "SNEAKERS" because I think the choreography is super cute.
Chaeryeong I think "SNEAKERS" is my favorite among our title songs from now on.
When you were younger, did you always aspire to be K-pop idols? If not, what did you want to be and why?
Yuna I've always wanted to do something I can just enjoy. I've been interested in music and art since I was young, so I am satisfied as a K-pop idol now.
Ryujin I've always dreamt of being on stage doing something like performing. I guess that is why I am a K-pop idol now.
How do you like to relax and unwind after a busy schedule?
Lia I lie down on my bed right away to let my legs take a rest, or I like to eat delicious foods.
Yuna I like taking baths. Also, I feel more relaxed when I indulge in sweet desserts.
Beyond K-pop, you've dipped your toes into the world of fashion. What does fashion mean to you?
Lia I think fashion is one of the biggest ways to express yourself, so I want to experience more about fashion in the future through projects like collaborations.
Chaeryeong For me, fashion is another way to show the atmosphere or vibe I have besides dancing and singing. That's why I am really interested in fashion.
How long does it take for you to master your choreography and prepare for performances?
Ryujin It depends on the song and choreography, but it took around three to four days to master "SNEAKERS."
Yeji I usually take around three days.
Yuna Normally, I think I need about four days.
What is your favorite thing about being K-pop idols?
Chaeryeong The best part is to have people who support and love me! Also, I am super proud and happy that I can give strength and energy to someone else.
Yuna I think the fact that I became a K-pop idol makes me proud of myself. Also, I feel so lucky to have met my fellow ITZY members.
How have you been preparing for your tour?
Lia We are really working hard on it to meet our MIDZYs face to face! It's been so long. Wait a bit more please!
Ryujin We are practicing and preparing almost every day to show new performances and stages to surprise our fans. So please stay tuned!
---
Bashirat Oladele is a freelance writer covering pop culture and politics. Her work can be found in Teen Vogue, Stylist, Polygon, Cosmopolitan and more. You can check out her work here.
---
Share this article