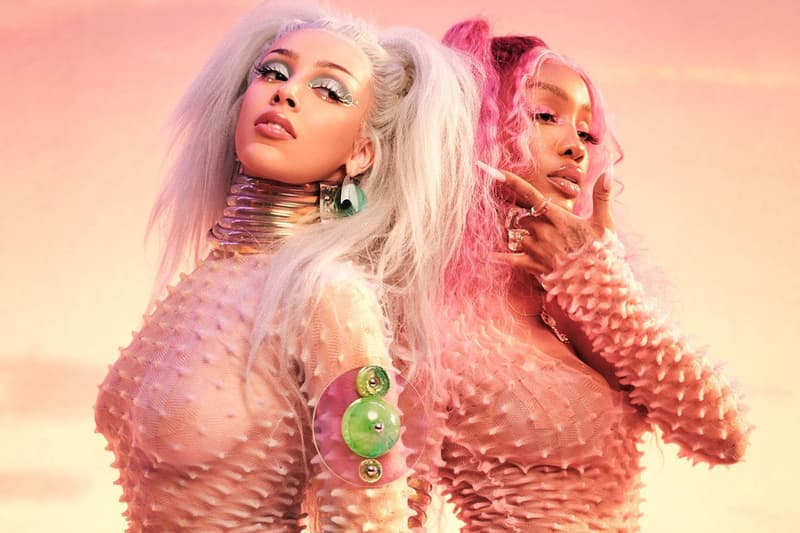 Music
SZA's Upcoming Track "Shirt" to Feature Doja Cat Collab
Following up on the duo's award-winning hit "Kiss Me More."
SZA's Upcoming Track "Shirt" to Feature Doja Cat Collab
Following up on the duo's award-winning hit "Kiss Me More."
SZA shared with fans during her performance at Mad Cool Festival in Madrid, Spain that her upcoming track "Shirt" will feature a collaboration with Doja Cat.
"Want to know a secret? You all want to know who's on this song? It'll be like our secret, right? The hint is we already have a song together. Her name starts with a 'D' and it rhymes with Soulja," the musician said on stage.
"Bloodstain on my shirt/ New b—h on my nerves," SZA sings. "Old n—a got curved/ Going back on my word/ Damn, b—h, you like thirty."
The team-up would follow "Kiss Me More," the hit song on Doja's album Planet Her featuring the Ctrl singer. "Shirt" was first teased back in 2020 on SZA's Instagram Stories with a snippet of the track available on TikTok, leading to a dance challenge on the social media platform.
Stay tuned as we learn more about the release of SZA's track "Shirt" featuring Doja Cat.
SZA announces Doja Cat will be featured on her highly anticipated track "Bloodstain/Shirt." pic.twitter.com/fFNc6Qhubo

— Rap Alert (@rapalert6) July 9, 2022
Share this article