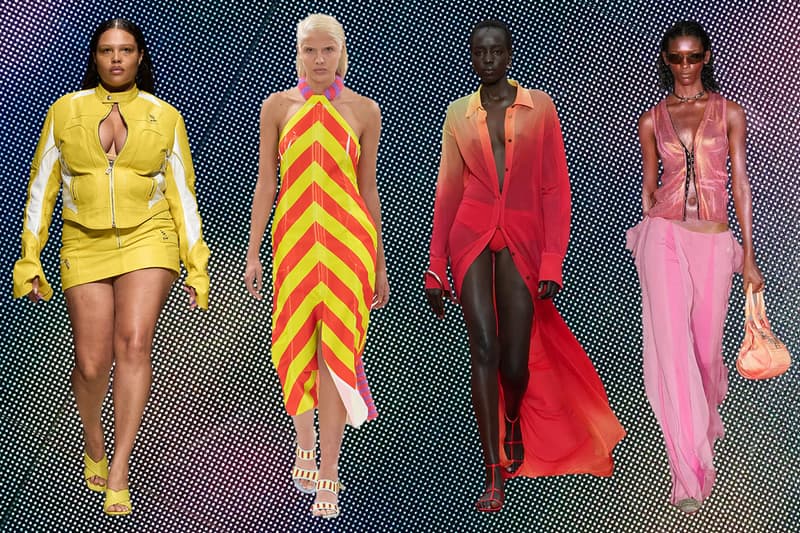 Fashion
The Top 7 Shows and Runway Trends at Milan Fashion Week SS23
"People want to have fun, they really don't give a sh-t, it's just joyous." – Glenn Martens of Diesel
The Top 7 Shows and Runway Trends at Milan Fashion Week SS23
"People want to have fun, they really don't give a sh-t, it's just joyous." – Glenn Martens of Diesel
Milan Fashion Week Spring/Summer 2023 brought us exaggerated silhouettes, theatrical performances and a communal sense of joy. Glenn Martens of Diesel said it best when we stopped him for a backstage interview after his show: "People want to have fun, they really don't give a sh-t, it's just joyous."
Italian fashion houses including Prada, Moncler and Ferragamo conveyed how archives can be reinterpreted to the now while designers such as AVAVAV and Han Kjøbenhavn merged otherworldly footwear with futuristic accessories. Key themes for this season include sheer ombré nightwear, motorcross-fuelled two piece sets and a double down on denim.
With MFW coming to a close, Hypebae rounds up our favorite runway shows of the week and key trends to track for the SS23 season. For more fashion week inspiration, checkout our top trends from LFW.
Ferragamo
Fresh off of a brand name change, Ferragamo ushered in its next chapter led by newly appointed Creative Director Maximilian Davis. Davis transitioned from his namesake brand to the Italian luxury house with flying colors, bright red to be specific. The SS23 collection seamlessly combines sheer knits, liquid silk and glossy leathers with polished accessories and suede sandals. For Davis it was about "looking into the archive and establishing what could be redefined to become relevant for today," as he shared in a press release. Keep an eye on Ferragamo this SS23 to be inspired by its blend of heritage and next-gen glamor –we certainly will.
GCDS
Who lives in a pineapple under the sea? GCDS, surprisingly. In a nostalgic creative direction we didn't know we needed, GCDS presented its SS23 collection marked by your favorite SpongeBob SquarePants characters. Despite its references to a child friendly show, this collection's rendition might come with parental control. Diamond G-strings, skimpy swimwear and see-through dresses assembled to construct an intergalactic presentation dedicated to "alien club kids." Look to motocross gear, fluorescent sequence and bold colors as the go to clubwear for SS23.
Diesel
Glenn Martens' Diesel show was anything but ordinary. While the collection wowed with new iterations of the 1DR bag, dreamy denim and models covered in a now signature, glittery second skin, it was the environment of the event that truly caught our attention. Diesel opened the show to the public, inviting nearly 4,000 global fans to participate in the event. Revolving around a record-breaking inflatable sculpture, the models donned the brand's chunky trousers, holographic dresses and oversized belts. Diesel put its stake in the ground for decentralizing the fashion week ecosystem with joy, sparkle and community and we're so here for it.
Jil Sander
Set in a rainy, floral oasis, Jil Sander merged menswear and womenswear, function and style and night and day in its SS23 runway show. Inspired by multiple regions of California, Lucie and Luke Meier presented graphic jackets, short dresses, sculpted turtlenecks and their signature, pleated high-waisted trousers. "We started from the idea and feeling of what the West Coast represents: a new and different world, progressive in thought and freedoms, offering extensive possibility," the team shared in a press release. Finally, Bella Hadid closed the event in a smart black vest and cream dress. All and all it was whimsical, sophisticated and a show that is sure to inspire functionality for SS23 outerwear.
Han Kjøbenhavn
Han Kjøbenhavn's fifth time showing at Milan Fashion Week, felt like entering another dimension, where humans and humanoids seamlessly co-exist. Aptly titled "Searching for Shadows," the ready-to-wear collection blends bionic limbs with handcrafted, sword-inspired footwear. You can always count on Jannik Wikkelsø Davidsen to pierce your senses, this time with a slow and considered show fusing voluminous silhouettes and 3D chrome accessories. Not one to shy away from darkness, Han Kjøbenhavn's colorways consisting of rich stone, warm gray and jet black offer a moodier approach to SS23.
SUNNEI
Category is, twinning. SUNNEI shocked its spectators when, one-by-one, ordinary guests popped up from their seats, strutted down the runway through a revolving door only to return dripping in new SUNNEI garm. The illusion was constructed through the clever use of twin models, also thematically imagined in Gucci's SS23 show. Outside of the surprising transformations, SUNNEI offered sunny yet satirical pieces from boxy vests to rubber and tubular tops. The brand thoughtfully ties evening wear and outerwear which will inspire playful aesthetics for night time style choices in the Spring/Summer season.
Moncler
Moncler celebrated its 70th anniversary in none other than Milan's iconic Piazza del Duomo. Consisting of 700 dancers, 200 musicians, 100 choir members and 952 models, the cast of 1952 members came together in the most theatrical performance of the season. Moncler asserted its Maya jacket as a staple of heritage with a next-gen twist by inviting seven designers to reinterpret the silhouette including Thom Browne, Rick Owens and Pharrell Williams. The brand also announced seven Moncler NFTs, dedicated to the new Moncler Maya 70 jacket and the city of Milan.
---
Share this article