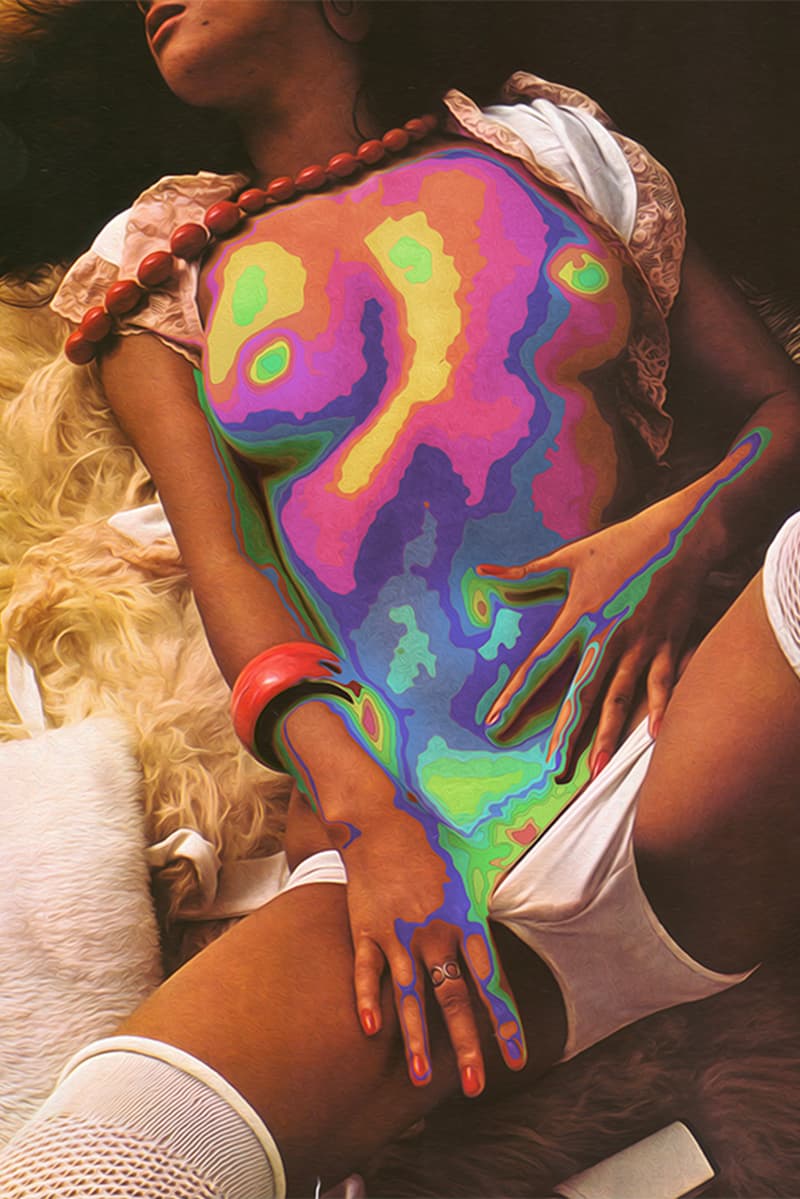 Meet Slimesunday, the Rebellious Artist Inspired by Sexuality and Censorship
"There is nothing wrong with the human form, or sexuality and I really don't understand why everyone is still so uptight about it."
Art
Sex & Dating
Meet Slimesunday, the Rebellious Artist Inspired by Sexuality and Censorship
"There is nothing wrong with the human form, or sexuality and I really don't understand why everyone is still so uptight about it."
Censorship has forced many artists to forfeit and pivot to other avenues. But for digital collage artist Mike Parisella, also known as Slimesunday, censorship only inspired him to go harder — no pun intended. From vibrant landscapes that lead into an open vulva to mango tits, Slimesunday's art has the ability to show you what sex-positivity truly looks like. In fact, his work is in a lane of its own, pulling inspo from only the most iconic and partnering with those on the same accord — cue his Playboy and Opensea collabs and position as the eighth highest earning artist in the NFT space.
View this post on Instagram
Although censorship has become a recurring theme in Parisella's career, he's found the silver lining: community. And his next project, SLIMESHOP will give his  fanbase true creative reign. Created in collaboration with NFT giant, Opensea, SLIMESHOP allows fans to channel their inner Slimesunday and build their own collage, with layers made by none other than Parisella himself. For the art enthusiasts in the chat, the collab releases September 8.
Keep reading for an intimate conversation on defying censorship and channeling erotic energy with Slimesunday.
What inspired you to create collages that highlight feminine sexuality?
It started around the time that algorithms and AI within social media platforms became more commonplace, I noticed a lot of users would have their pictures or artwork deleted for relatively minor "violations". I think the vast majority of people can think for themselves and by censoring the human body you're not really doing anyone a favor. Large companies want to cover their ass and put guidelines in place because society is overly sensitive about sexuality.
After thinking about these things for a while and coming to my own personal opinion I decided to play a game with the algorithms. For example, if I can take something — say, a breast — and make it look like something else — a mango — will the algorithm pick it up? Everyone knows that if you post a nipple on Instagram you're done for but what about a mango?
I got away with this for a very long time, a couple of years. One day I woke up and six months of work was just wiped from my Instagram, over 30 images deleted and I was left with a half-functional account and a threat of termination. It was really at that point that I felt like my art was doing something and making waves. From then on it has become a personal mission to create in this way, even if I am told not to.
Does erotic art directly inspire you? If so, what are some pieces/styles you enjoy referencing?
Of course! Some of my favorite artworks to draw inspiration from come from various academic artists. My personal favorite is John William Godward. I love his use of color. I also like William Adolphe Bouguereau and Jean-Léon Gérôme. Where I truly get most of my inspiration from is 70s and 80s magazines, advertisements and photographers. Anything from the French magazine LUI or the Pirelli Calendar during that era is gold.  As for photographers, I'm a big fan of Helmut Newton, Manray, and Guy Bourdin. There are truly so many other people I could reference but these are the few that immediately come to mind. 
How did you refine your skillset and find your creative tone?
I have been doing this for a little over 11 years and I'd say the first five years were extremely experimental. I loved making art but I wasn't really thinking for myself. I would see something I liked and then I would just figure out how to replicate it. It was mainly a massive learning phase and I spent most of my time messing with different software. After that, I really just fell in love with collage and photoshop. I was focusing a lot on portraits, eyes, mouths and was trying to make things as weird and surreal as possible. It was probably about three years ago when I started doing more erotic art.
It was more exciting, felt a bit more taboo and there weren't many people that I personally knew of exploring the genre. Up until that point I had done everything digitally and being stuck behind a computer all day was getting pretty draining. I started experimenting more with analog techniques. I got myself a scanner and started going to thrift shops looking for old magazines and items I could put into the scanner. That is really where I kinda hit that "AHA" moment and I think this is when the majority of my best work was made. All that work has since been removed from every social media platform I have been a part of. My show with Phillips Auction House became all about censorship. I was so fed up with being censored that I made it a major topic of conversation throughout my work. Today, I'm focusing more on organizing my own photoshoots and creating concepts that push that narrative further.
In the past few years, social media and internet censorship have posed quite a challenge for the creative process. How have you navigated this while maintaining the integrity of your work? Has transitioning into Web3 helped with this?
It can for sure be hard. As I said above, I dont have the same reach across socials because of all the violations. My accounts have either been terminated or limited. For example, I can't advertise on Twitter and my Instagram which would bring in a 200k+ story views only brings in a couple thousand.
Transitioning to Web3 has helped significantly. Most of the platforms I release work on don't have any censorship rules and if they do, I just avoid them. The overall consensus is a censorship free zone so there are plenty of places to release work without restriction. As I move towards the future, I'm still looking for a Web2 platform to release work on. I know the majority of my fans have not yet taken the blue pill and I'm sure they would love a place to view my work without restrictions.
In your opinion, what's the most detrimental aspect of censorship in relation to erotic art?
Sexuality is a natural human phenomenon that has largely been excluded from conversation for centuries. I predominantly blame certain religious ideologies for the puritanical and repressive world view that still exists today. The Vatican was so offended by sculptures that they mass produced fig leaf's to cover up penises. Other times, religious groups would take a heavy object and break the penis right off the sculpture. Throughout history censorship has had a negative effect on art and these types of actions have no benefit. There is nothing wrong with the human form, or sexuality, and I really don't understand why everyone is still so uptight about it. 
Out of your many notable collaborations, which is your personal favorite and why?
I have many but my collaboration with Playboy was one of my favorites. Their team was super fun to work with, they gave me total free reign and they have a history of being very invested in the arts. We still have something in the works, and the art may or may not be cannabis related.
What are your hopes for SLIMESHOP and its impact on the community you've created?
I had always wanted to build something that would allow more people to directly participate in the creative process. SLIMESHOP was eight months of extremely hard work and meticulous design. I created hundreds of layers from scratch, some of them by hand using physical collage techniques and a scanner. The entire tool and art direction exemplifies collage and I'm putting it directly in the hands of the community. I have no control over how the final art will look but I'm excited to see what gets created. I want this project to be remembered in Web3 for years to come.
View this post on Instagram
---
Share this article