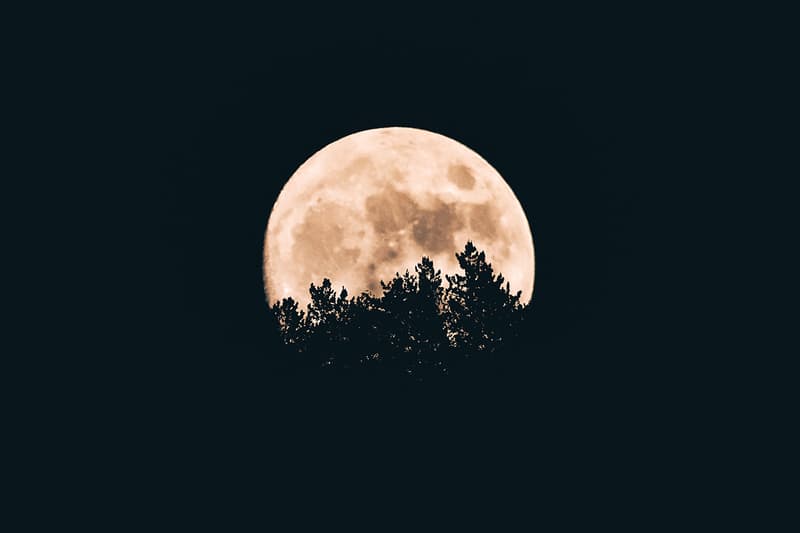 Culture
January's Wolf Full Moon Has the Power To Transform Your Life
It's time to enter your era of self-transformation.
January's Wolf Full Moon Has the Power To Transform Your Life
It's time to enter your era of self-transformation.
The first full moon of 2023 offers a golden opportunity to dig deep before the new year truly kicks into high gear. Lighting up the night sky on Friday, January 6, the wolf full moon is in compassionate and tender-hearted Cancer, bringing out your softer side.
Mars is moving backwards in Gemini until January 12, while Mercury is in retrograde in Capricorn until January 18, so take a deep breath if the beginning of the month has been filled with stagnant energy and delayed plans — it's not just you. Emotions always run high during a full moon, but placed in the super sensitive crab, you can expect to be in your feelings.
Before you turn on SZA and grab a glass of cabernet sauvignon, remember that we're also in the midst of Capricorn. The ambitions and level-headed earth sign will give your potential meltdown some purpose.
It's very difficult to move forward when you have heavy emotions or unresolved issues weighing you down. Embrace the spirit of the wolf full moon and howl your demons out to walk into the rest of the month feeling lighter. Reflect on the past year and excavate anything that's holding you back, whether it be self-limiting thoughts or toxic relationships.
You can only be successful in the outside world if your inner world is grounded and balanced. The full moon forms a sextile with Uranus, which is associated with enlightenment and innovation. Brace yourself for some necessary upheaval, the seventh planet from the sun tends to stir things up for good, spurring self-transformation. Remind yourself to stay open to new perspectives as a mental shift could be the key.
Continue scrolling to learn what the January wolf full moon has in store for you.
January's full moon sits in your fourth house of domesticity, turning your gaze towards potential problems on the home front. The holidays may have stirred up family tensions, causing your inner child to feel as though its standing on rocky ground. Before we get too deep into 2023, take a moment to reinforce your personal boundaries and protect your space.
Shining a light in your third house of communication, this month's wolf moon pushes you to be unafraid of growling. While Cancers are known for being emotional, as the bull of the zodiac, you're a bit more pragmatic. This may lead you to holding your tongue in an effort to "keep the peace." However, by staying silent, you're unwittingly disturbing your inner peace. Utilize the energy of the full moon to identify ways you can better advocate for yourself.
Money is usually top of mind at the beginning of the year, so take advantage of the full moon's position in your second house of income. Time away from work may have given you the clarity you need on your professional life, inspiring you to put your energy towards passion projects that give back as much as you put in.
The wolf full moon is in your first house of self, heightening your emotions and intuition. Harness la luna's power to do the vital shadow work you need to in order to walk into 2023 stronger. While you may currently feel like the pleading face emoji, hunker down Friday night and wade into the deep waters of your spirit. Journaling is a great tool to unlock your suppressed feelings and take stock of what's going on.
Spirituality is your focus as the moon is in your twelfth house. Work is probably piling high as we're having to deal with all of the tasks we put off before the holidays. Rest and recharge your soul on January 6 so you're operating on a higher vibration.
With the full moon in your eleventh house of networking, take a cue from the watery Cancer and nurture your closest bonds. A sister circle is an age-old way of honoring the celestial planet, so hit up your best friends and spend some quality time with them on Friday night.
Your work-life balance comes into full view on January 6 as the moon is in your tenth house of career. Rather than setting cliche resolutions that may prioritize monetary success and external achievements, instead imagine a career path that fills both your cup and your wallet.
Blue waters and palm trees may be on your 2023 mood board as January's wolf full moon is in your ninth house of adventure and travel, encouraging you to shake up your daily routine and be a bit spontaneous. While you may not be able to venture off to an exotic island, take the initiative to break out of your comfort zone to create an exciting start to your new year.
Getting up close and personal is the goal as the Cancer full moon is in your eighth house of intimacy. Whether you're cuddling up to your significant other or getting to know yourself more, embracing your vulnerable side will serve you well on the night of the full moon.
The moon is in your seventh house of partnership, urging you to reflect on the company you keep. As a goal-driven sign, think carefully about who you're bringing into the new year with you and if they are helping or hurting you in the long run.
Gone are the days of fad diets and back-breaking workouts, so consider it a blessing to find that the full moon is in your sixth house of wellness. Adopting a holistic routine that improves your emotional, mental and physical health will be the most sustainable option and help you stay consistent in your journey.
Pisces
Sitting in your fifth house of romance, the January wolf full moon brings Valentine's Day a bit earlier and encourages you to look at all of your life through rose-colored glasses. Rather than focusing solely on your romantic relationships, romanticize even the small moments.
---
Share this article