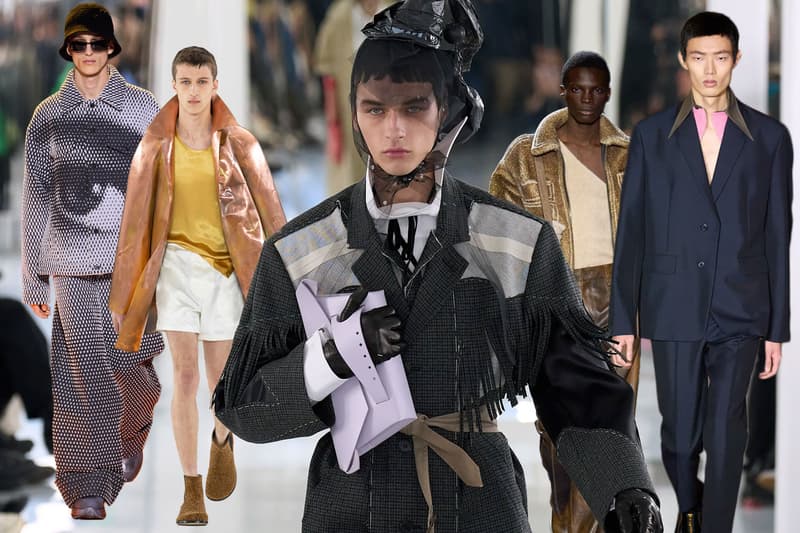 Fashion
The Top Shows and Runway Trends at Milan and Paris Fashion Week Men's FW23
The best from Maison Margiela, Louis Vuitton, Loewe and more.
The Top Shows and Runway Trends at Milan and Paris Fashion Week Men's FW23
The best from Maison Margiela, Louis Vuitton, Loewe and more.
Milan and Paris Fashion Week Men's kicked off Fashion Month for the Fall/Winter 2023 season, and as our eyes look to Paris Couture Week, we've rounded up all of the best shows from the French and Italian fashion capitals.
In Milan, Silvia Venturini Fendi presented a playful take on Fendi's iconic Baguette bag, while Raf Simons and Miuccia Prada co-created another successful Prada show. In Paris, Emily Adams Bode Aujla made her womenswear debut, and Kim Jones brought fluid, neutral looks to the runway for Dior. Maison Margiela, Marine Serre and Loewe were just a few of our favorites throughout the weeks.
Continue scrolling to see all of the best shows from Paris and Milan Fashion Week Men's for the FW23 season, and stay tuned for our coverage of Paris Couture Week.
Jonny Johansson explored the changing rules of masculinity for FW23. The Acne Studios creative director explained in a press release, "When I work, it's sort of like therapy. I've been thinking a lot about the masculine baggage that we drag along as guys, boys, men and I wanted to explore it for fall. The so-called rules of masculinity are changing. The contrast I built the collection on is simple: ultra-masculine versus ultra-feminine." He continued, "I felt inspired by the new man, the new way of looking at things, and by men who can show vulnerability aesthetically. I was intrigued by the thought of a caveman being the most masculine thing and I used that as a contrast." The intention and inspiration were clear in his latest collection with items such as second-skin tees, leather biker pants and stretch tops, while contrast was added with the use of materials like sheer lace versus shearling.
Shortly after making the big announcement, Emily Adams Bode Aujla presented her first-ever womenswear collection for her eponymous label BODE. The award-winning designer headed to the Theatre du Chatelet to showcase her presentation, where models walked out of a cottage set built on stage. The creative took inspiration from her mother's side of the family, including everything she remembers from her childhood, including the Christmas tree dress decorated with baubles. Aside from the statement piece, the collection featured sequined numbers alongside plaid trousers with fuzzy vests, patchworked jackets and fringe detailing on the dresses and outerwear.
Following their buzzy Spring/Summer 2023 moment featuring condom gloves, Botter's Lisi Herrebrugh and Rushemy Botter returned to the runway with a lineup inspired by the Caribbean diaspora. Titled VENUS COMB, MUREX SHELL, the show continued to explore the question, "Who am I?" with a range of colorful pieces signature to the Botter brand. Green jumpsuits were paired with bright blue sweaters, rings and shoes, while trompe l'oeil bikinis were printed atop shirt dresses. Cut-out details were spotted on trousers while "CARIBBEAN COUTURE" branding was found on rugby shirts. The garments were paired with car-shaped pendant necklaces as well as footwear, which marked one of the most talked about moments throughout the presentation. Appearing to be 3D-printed, the sneakers were actually created in partnership with Reebok using HP MultJet Fusion technology, taking inspiration from the shells of sea snails.
Nicolas de Felice may not have shown a physical presentation for Courrèges, but he certainly marked a moment on social media with the brand's feed being taken over with video clips of models scrolling through their phones as Grindr alerts played in the background. The designer told Vogue that he was particularly intrigued by the slouching position we often get stuck in as we get sucked into our computer monitors or phone screens. "I'm really working on kind of a new silhouette that is really, like—bending. It really seems like nothing, but actually it's something, this reflection of us on our phones." The resulting lookbook featured models staring into their phones while wearing simple, clean silhouettes. Courrèges' signature logo was stamped onto handbags, accompanying coats and leather jackets worn atop chic, sheer skirts, knee-high boots and more. Illustrations of eyes were spotted on mini dresses in addition to single-shouldered tank tops, and trousers were highlighted with button detailing applied to the inseams.
It's only been about a month and a half since Kim Jones showcased his Dior Men's Pre-Fall 2023 collection featuring a capsule with Tremaine Emory of Denim Tears, but the designer continued to mark one of the standout shows throughout Paris Fashion Week Men's. With the house's new ambassador BTS Jimin, alongside his bandmate J-Hope, in attendance, the collection was all about movement and fluidity. The designer tapped Robert Pattinson and Gwendoline Christie to recite T.S. Eliot's poem The Waste Land to open the show, which featured a range of pale, neutral colors with relaxed silhouettes. Cableknit sweaters and wool cardigans were paired with Saddle waist bags and bucket hats arriving in a variety of colors. Jones paid homage to Yves Saint Laurent's time at the house with wool tunics and raincoats with vents.
Dries Van Noten took a closer look into nature and its beauty for FW23. The show's notes revealed that the collection was inspired by everything from flora and fauna to rave culture, with the presentation opening with a series of all-black looks featuring a deep neckline tee paired with triple belts. This detail was continuously seen throughout the collection, which progressed onto carefully tailored suits and coats, with standouts including a set with abstract patterning, while single-breasted jackets were contrasted with loose hoodies layered underneath. The prints were influenced by the Meise Botanic Garden in Belgium with tiger lilies, snakes and eagles making appearances on jackets, trousers and more.
Silvia Venturini Fendi focused on "sophisticated comfort" for Fendi's FW23 menswear collection. The designer was a mix of relaxed silhouettes and playful details, which were seen through the literal renditions of Fendi's iconic Baguette bag — reimagined as pouches and umbrella holders in the shape of the bread. Elsewhere, the original Baguette silhouette was seen in waist bag styles with multiple mini-Baguettes attached on the front, while the garments comprised shearling jackets, cashmere knits and monogram pieces all dressed in earthy, neutral tones.
Jonathan Anderson looked to his past for his eponymous brand's latest collection. The show opened with models, wearing nothing but knit briefs and colored ankle boots, walking out while holding scrolls of fabric. The runway continued with more simple looks with comfy pillows paired with realistic tomato body painting as the collection proceeded to feature frilled details on leather shorts and dresses — a reference to Anderson's collection back in 2013. Continuing to play with surrealist themes, the designer printed T-shirts with trompe l'oeil detailing, while looks were accessorized with googly-eyed frog clogs created in partnership with Wellipets, a design that also made its debut in the form of a clutch.
Although John Galliano showcased his latest Maison Margiela show during Paris Fashion Week Men's, the collection was actually co-ed. An extension from the label's Fall/Winter 2022 Couture show "Cinema Inferno," which was essentially a film shoot acted out live on stage, the runway began with a video clip shot in first-person POV of Maison Margiela's newly-opened headquarters in the city. Models dramatically stomped down the catwalk while holding clutches in their hands, with tulle and fishnet tights some of the mainstay details throughout the entire presentation. Coats were worn backward, while vintage-style Disney tees made their debut on the runway in addition to a new Gentle Monster collaboration.
Marine Serre planned a zero-waste show for her FW23 collection. As explained in the show's notes, "all elements" of the presentation used "found elements" while an eight-meter-tall pile of deadstock textiles was "destined to provide the raw materials of future house designs." The designer used tote bags to create the first eight looks, delivering the message that these totes, marketed to be "environmentally friendly," actually take 20,000 times in order to offset the environmental impact caused by their production. The collection then moved on to denim pieces, followed by motocross looks using recycled garments. Marine Serre's signatures such as the crescent pattern were seen throughout the presentation.
Shortly after his buzzy collection for his eponymous brand, Jonathan Anderson headed to Paris to showcase his latest creations for Loewe. The collection was simplistic yet out-of-the-box at the same time, as the designer played around with silhouettes throughout the presentation. The show opened with a garment that seemed like a seamless coat with one hand holding the opening, while full metal jackets were made out of copper and pewter. Unusual shapes were additionally found on coats with oversized, bell-shaped sleeves, which were simply worn with buttoned boxers and loafers. These unexpected garments were balanced out with minimalist, maxi-length coats and clean-cut trousers paired with wool sweaters while angel wings accessorized select looks.
As the spot for Louis Vuitton's menswear creative director still remains vacant, the house invited KidSuper's Colm Dillane to guest-design its FW23 collection. The show marked one of the buzziest throughout the week with Rosalía taking the stage on top of a car to open the collection. The catwalk featured a number of childhood rooms, going from a hospital room all the way to a teenager's bedroom. Dillane worked with neutral colors with occasional bold prints and colors taking over, including looks asking the question "Fantastic Imagination?" along with colorful apples printed throughout. Elsewhere, sets featured oversized eye and face patterns, while fringes were applied to the lapel and sleeves of a jacket. Louis Vuitton's signature monogram peeped through these design elements on everything from denim separates to clutches.
Raf Simons and Miuccia Prada marked their third anniversary since being named co-creative directors with their FW23 runway. The venue was packed outside with fans of the K-pop group ENHYPEN who were in attendance, while the collection kicked off with tailored suits with detachable pointed collars arriving in a wide range of colors. Instead of utilizing the signature triangle logo, Simons and Prada kept it minimalist with the house's branding simply embossed on tote bags and crossbody purses, with further standouts including pillowy tops and tanks, which were teased ahead of the show as part of the show's invite.
Chitose Abe debuted a few collaborations on the runway for sacai. Models walked out in Carhartt's chore jackets reimagined as knit pieces, featuring the brand's logo alongside sacai's branding on the front pockets. Inspired by Interstellar, the collection featured references to the film on multiple looks, including Murph's bookcase reimagined as a print as well as a morse code pattern. Following the collaborative Carhartt items and layered looks, Abe went on to feature her signature style with deconstructed elements on shearling jackets, coats and more. In footwear, models were spotted wearing a new Nike collaboration that seems to arrive in brown and blue colorways.
With stars like Jenna Ortega in attendance, Anthony Vaccarello featured slender, chic fits on the Saint Laurent runway. "I really want them to be almost one person. So women could be the men, and the men could be the women. No difference. I want more and more to put them at the same level. No distinction," he spoke of the collection, noting the growing crossover between women's and menswear, a common theme spotted throughout the men's Fashion Weeks. Looks featured everything from dramatic bows and straight-fitted trousers, to knit dresses with extra-high collars and maxi-length coats in stripes and leather.
---
Share this article