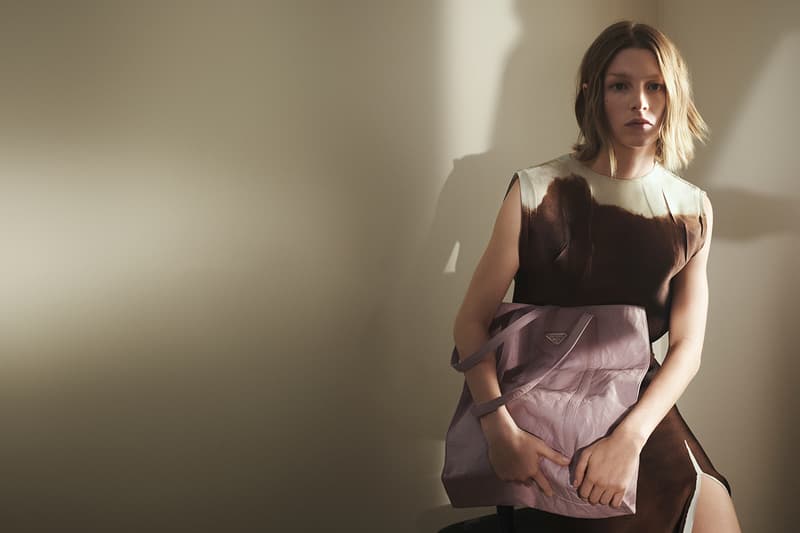 Hunter Schafer Stars in Prada's SS23 Campaign
Celebrating the nuances of womanhood.
Prada has tapped Hunter Schafer and a cast of iconic actors in its Spring/Summer 2023 campaign short film, Touch of Crude, as the brand takes a deeply cinematic approach to its latest collection.
Captured by film director Nicolas Winding Refn, the visually dynamic film features Vincent Cassel, Letitia Wright, Jaehyun Jeong, Louis Partridge, joining models Guinevere van Seenus and Rachel Williams. First premiering at the Lyon Lumière Film Festival last October as well as at the Geneva International Film Festival and the Stockholm Film Festival in November 2022, Prada's campaign takes a closer look at the intricacies of women's lives and celebrating the many forms femininity inhabits.
The short film explores the feelings of possibility and newness as a woman moves into a new house. The protagonist soon discovers a mysterious entity, a Black Box, which provides accesses to a multitude of universes, experienced from another woman's point of view. Situated in an otherwise bleak industrial setting, the short film's lead attempts to make herself at home as she strolls through her new home in a crisp blue two-piece skirt set, utilitarian-esque camel jacket, mysterious over-sized sunglasses and imposing black platform heels. Upon opening her new wardrobe, she discovers a demure soft pink baby doll dress, along a vanity full of makeup, tangible reminders of the lives once lived within the four walls she now owns.
Take a look at Prada's short film Touch of Crude on the brand's website.
---
Share this article