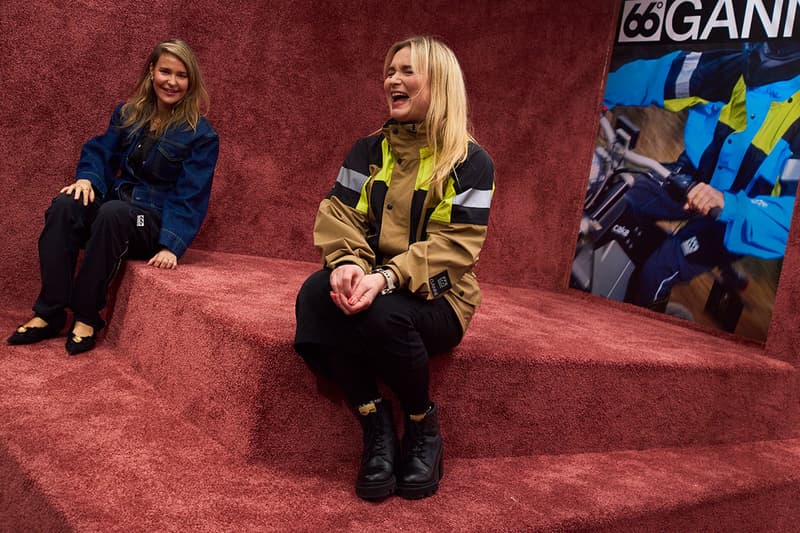 Fashion
INTERVIEW: GANNI and 66North on Responsible Design and the Great Outdoors
"Lockdowns have taught us how important it is to stay grounded and reconnect with nature."
INTERVIEW: GANNI and 66North on Responsible Design and the Great Outdoors
"Lockdowns have taught us how important it is to stay grounded and reconnect with nature."
More and more of us are falling back in love with the great outdoors. Evidenced through the rise of gorpcore and the resurgence of activities like hiking, birdwatching and taking long walks, it's clear that our affinity for open air is only continuing to grow and as a result, our fashion choices need to reflect that.
Firm believers in the importance of functional clothing, GANNI and 66°North have continued their longstanding partnership with a third collaboration, echoing our revitalized love of nature and the world around us. Fusing the Icelandic brand's technical fabrics with GANNI's scandi minimalism, the collection draws on deadstock materials to demonstrate responsible design methods and aims to encourage its wearer to limit their consumption.
We caught up with GANNI's Creative Director, Ditte Reffstrup and 66°North's Co-CEO, Bjarney Harðardóttir, to find out more about what makes their growing partnership so successful and how lockdown helped them to fall back in love with the outside world.
Scroll down for the full interview and while you're here, take a look at the new collection.
It's not the first time that GANNI has teamed up with 66North. What continues to make this partnership so successful? 
Bjarney Harðardóttir, Co-CEO 66°North: Both brands want to be responsible and want to create a new approach to solving the problems we face in our industry. We also understand where each other is coming from and while our brands are quite different, there is a common ground in the middle — both companies exist to make our customers' lives better in some way.
Ditte Reffstrup, Creative Director at GANNI: I can't believe we just launched our third collaboration together. I love that we can continue to grow and learn from each other as brands, as we're just so aligned as people and as brands, we share the same sense of pride in where we come from and the same approach to responsibility. 66°North does the best technical outerwear that you just want to wear everywhere, so it's always a big learning experience for us working with their team.
How does this drop differ from previous collaborations? 
Harðardóttir: When we first collaborated in 2018 we explored the use of deadstock a bit. This latest collection is made entirely from deadstock. We worked with what we already had and that's why it is strictly limited to just 100 pieces of each style. This collection is inspired by Kria, a design that's part of our heritage, and it's made in 66°North's own factories which makes it even more special as we have complete visibility over the process.
Reuffstrup: The more we work together, the more we learn from each other and there's a great level of trust when it comes to experimenting and trying out new responsible solutions. This collection is entirely made of unused fabric rolls from 66°North's production facilities, which makes this collaboration extra special and super limited. Also, I love how the colours are inspired by Iceland, truly one of the most beautiful places on earth.
Increasingly, today's consumer appears to be more and more enthralled with the great outdoors. How do GANNI and 66 North hope to encourage outdoor exploration through their designs?
Harðardóttir: There is an Icelandic word, "ulpa," that means one jacket for everything — this idea is embedded in our design philosophy and it is brought to life in this collaboration where we blend technical performance with style — we believe that you shouldn't need different clothing to be outside in nature than you do in your daily life in the city or to ski in. I wear my jacket for everything — this hybrid approach makes it easy for you to be outside without needing a different jacket for each activity.
Reffstrup: 66°North has really mastered technical outerwear that can take you comfortably through most weather. Wearing high-performing clothes makes such a huge difference when being outside. We've injected the signature outerwear styles with contrasting colours to bring the GANNI energy.

What do you think has contributed to the rise of the outdoors in fashion?
Harðardóttir: I think having our freedom restricted during covid made us crave it even more. Getting outside and breathing fresh air was our escape and it created an opportunity to reconnect with nature. The mental health benefits and healing power of nature are undeniable — by being forced to slow down many people started to appreciate it more.
Reffstrup: If anything, these past years' lockdowns have taught us how important it is to stay grounded and reconnect with nature. When designing this collection, I was very inspired by past summers spent wild camping in the North of Denmark with family and friends.
Finally, what can you tell us about the future of GANNI and 66 North?
Reffstrup: At this point, 66°North truly is part of the GANNI Family. We've collaborated for so many years now that the relationship feels super organic. We're really excited to show some amazing pieces at our Fall Winter 23 show this season which will launch later this year!
---
Share this article