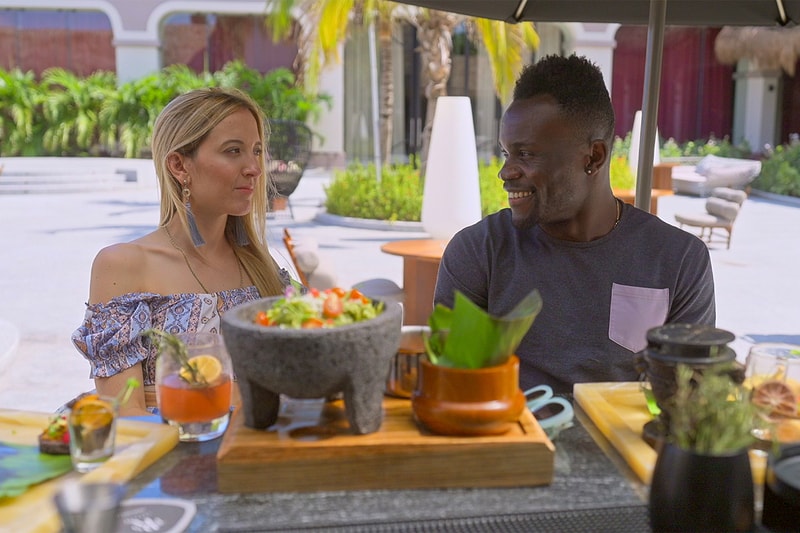 Sex & Dating
'Love Is Blind' Season 4: Kwame Goes Viral After Revealing His Views on Race and Dating
How far are you willing to go to be loved?
'Love Is Blind' Season 4: Kwame Goes Viral After Revealing His Views on Race and Dating
How far are you willing to go to be loved?
Netflix hit series Love Is Blind returns for Season 4 and so far, fans on social media are up in arms over a certain cast member and his relationship with his race.
It's no secret that racism infiltrates every aspect of the average person of color. Throw in dating, and the differences seem insurmountable. Kwame Appiah, a former professional football player turned sales development manager, expresses this from Episode 1. According to him, his race has hindered his ability to not only love but feel loved, dating as far back as not being able to take his date to the prom in high school. Kwame has clearly been judged for who he is — wrongfully — and in the pods, he admits that he almost considered introducing himself as "Alex," so his race was not immediately given away.
View this post on Instagram
Twitter and TikTok have since been up in arms since the launch, as they believe series from Love Is Blind to Love Island and Perfect Match never seem to prioritize love for Black women — and even cut their scenes out. Lauren Speed-Hamilton from Season 1 of Love Is Blind as well as many women of color and publications have pointed out this very issue.
Love is blind is already pissing me off. Kwame basically said he wanted to use the name Alex so they wouldn't know he was a NEGRO!

Why would you want to date someone who your race is a surprise to. Get him out of here man kmt.

— Tolly (@tolly_t) March 25, 2023
Well, it appears the Love Is Blind team got the memo as Nick Lachey retorted back at Speed-Hamilton and opened Season 4 with Kwame navigating race and dating. However, Kwame's perspective is laced with anti-Black narratives — that we are in no way blaming him for. If something seems to hinder your ability to date, you either embrace it wholeheartedly as a piece of your authentic self or reject and hide it in shame. Unfortunately, the very thing that Kwame wants to hide is something many viewers proudly lead with, which left viewers turned off.
As TikTok user Crystal Uncut shared: "My question to Kwame is, why would you even want to lay your head next to someone who prefers your name is Alex? At your big age? Of over 30?" Well, it appears he's trying to heal that wound from high school prom…
In other news, Black women are ditching the dating rulebook – here's how.
---
Share this article