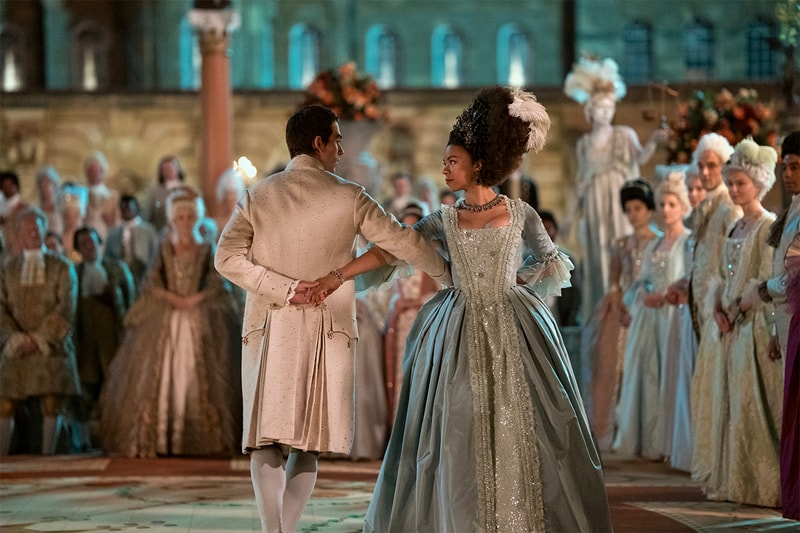 1 of 2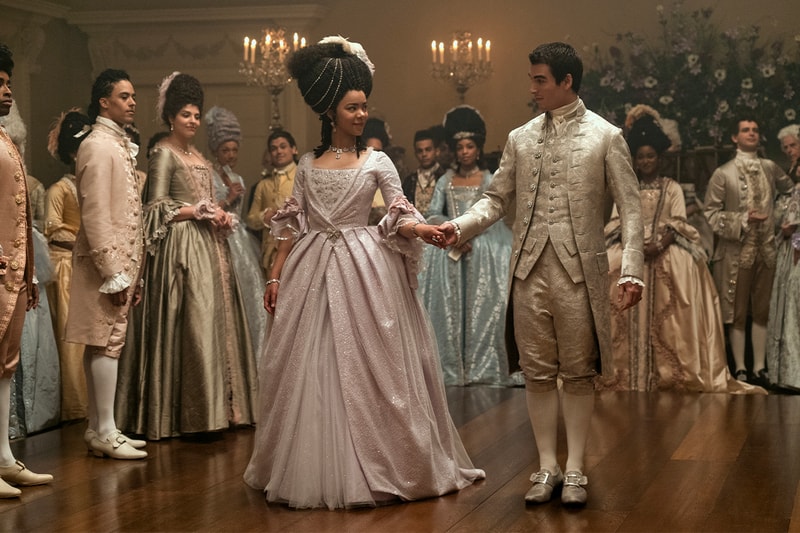 2 of 2
Sex & Dating
'Queen Charlotte: A Bridgerton Story' Elevates Iconic 'Bridgerton' Sex Scenes
A review of the spinoff's approach to love, sex and intimacy.
'Queen Charlotte: A Bridgerton Story' Elevates Iconic 'Bridgerton' Sex Scenes
A review of the spinoff's approach to love, sex and intimacy.
As Netflix prepares to launch Queen Charlotte: A Bridgerton Story, we review the season and answer the question you're all wondering: will the series reinstate the iconic sex scenes we've come to love?
This post contains spoilers.
Launching May 4, Queen Charlotte: A Bridgerton Story follows a young Charlotte (played by India Ria Amarteifio) as she marries King George (played by Josh Cuthbert). Unbeknownst to her, the King's family has grand secrets of its own and soon, the arranged marriage sparks "both a great love story and a societal shift, creating the world of the Ton," the series descriptions read.
It's no secret that Season 1 went viral due to its outstanding plot, costumes, and of course, sex scenes. But one of the most appealing elements was the love-hate relationship between main characters Daphne (played by Phoebe Dynevor) and the Duke (played by Regé-Jean Page). The appeal of the series was so intoxicating, that even the Duke's spoon had a fan page. As Season 2 premiered, viewers were bewildered by the lack of sex that Season 1 perfected. If you were disappointed, Queen Charlotte not only delivers more realistic sex — but enough feminist discussion for the ages.
Similar to Daphne and the Duke, Queen Charlotte and King George have a love-hate dynamic, with a lot more to lose. As the newlyweds navigate marriage and mental health, they come together in key moments of vulnerability and softness which further intensify not only the overall relationship but their sex scenes, too.
On a controversial note, other notable characters from the series navigate cheating, "taking another lover" as a widow and generation-long secrets hidden within the boudoir. Yet, none of these conversations carry shame. Instead, these women — aside from one — meet each other with grace, creating true safe spaces for each other — unlike Season 1 of Bridgerton which prioritized gossip for the sake of having something to discuss.
The series is undoubtedly sex-positive and inclusive within its intimate scenes. It's not about creating the perfect, orgasmic fairytale, with buzzy sex scenes. It's about the journey of nurturing romantic and platonic love as well as pleasure amidst duty, racism and sexism. In Charlotte's "Ton," sex is approached as a natural desire one can explore, not one fitted solely for marriage. From this approach, the spinoff's characters, male and female, can explore desire no matter their age, marital status or gender.
For Rhimes, sex scenes act as a vehicle for telling a story within a story: the silencing of marginalized individuals, on account of pleasing the men around them. How can they create authentic pleasure and connections in a society that is primed to overlook them? Ironically, its intimate scenes are a vehicle for driving this point home.
Through these interactions, hilarious undertones carry each scene, painting an accurate picture of the patriarchy's horrors. Speaking of the patriarchy's horrors — the series also explores queer love and sex but for the sake of keeping a worthy surprise, we'll remain hush on that.
In short, Queen Charlotte revives the seductive essence of Bridgerton Season 1, with an added touch of chaos and relatability, narrated by Lady Whistledown. Through that same level of chaos, Rhimes delicately taps into the female gaze gifting a season of vulnerability, feminist discussion and intimacy the male gaze wishes it could live up to.
For more sex on TV, Netflix's new BDSM-thriller delivers a kink-inspired lesson.
---
Share this article