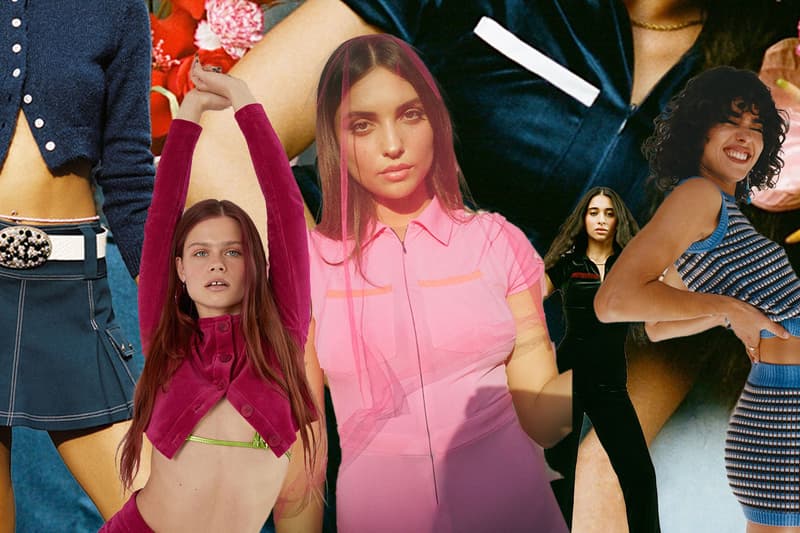 Fashion
How Peachy Den Went from IYKYK to Cult London Label
We caught up with the brand's founder, Isabella Weatherby, to find out more.
How Peachy Den Went from IYKYK to Cult London Label
We caught up with the brand's founder, Isabella Weatherby, to find out more.
If you've ever come across a slinky velvet jumpsuit with contrast pockets on your Instagram feed, it's likely that you'll be familiar with Peachy Den. Founded in 2019, the London label rose to fame during lockdown after the release of its best-selling product, the Kernel jumpsuit. It's since gone on to create a whole host of sellout styles like the Mimi Cargo Bottoms, Celeste Cardigan and Slinky Trousers, alongside releasing its debut swimwear offering and first-ever brand film this year.
Despite being a London-based brand, Peachy Den transcended its humble U.K. beginnings pretty quickly, too. Since its inception, the brand has dressed the likes of Bella Hadid, Olivia Rodrigo, Kaia Gerber and Addison Rae, hosted a pop-up store in Paris and debuted two new collaborations with global stars Luna Blaise and Sav Hudson.
What contributes to Peachy's rise is a multitude of factors. With an aim to create pieces that last and styles that suit everyone, the brand holds a strong belief in responsible and inclusive design, part of what makes it so desirable. "Each product goes through a rigorous approval process, including vetting by each member of the team to ensure we're all truly invested in it," Peachy's founder, Isabella Weatherby, tells Hypebae. From the brand's unmistakable, figure-hugging designs and empowering ethos to it-girl ambassadors and Gen Z aesthetic, Peachy Den has it all and it's clear that it's only getting bigger.
We caught up with Weatherby to find out more about the secrets behind Peachy's success and her plans for the future.
Check out our interview below.
View this post on Instagram
Tell us a bit about the idea behind Peachy Den, what was the initial aim for the brand?
The initial idea was simple; to create clothing that my friends and I wanted to wear. I wasn't bound by archetypical fashion structures or seasons, instead, Peachy was born from a youthful energy and a rebellious spirit. Definitely naive at inception, but deeply passionate! It has been my aim since day one to ensure that Peachy Den reflects its essence as a born-and-bred London brand.
How has that aim changed since you first started out?
A number of different challenges have been introduced since the start, but it's still fundamental to the success of the brand that I continue to nurture that feeling of why Peachy started. It's playful, nostalgic, sexy, sporty, feminine and flirty all at once, and continues to be.
Why do you think that so many people love the brand as much as they do? What would you say you're doing differently?
I think the brand feels aspirational and accessible at the same time. You might have to save up for your peachy piece, but when you receive it, it exceeds your expectations. We recently held a customer focus group and the main thread of positive feedback was that we make clothes that they want to wear month on month, year on year. We were so happy to hear this as we always try to design with an all seasons approach in the hope of everlasting appeal.
View this post on Instagram
The Kernel Jumpsuit was one of Peachy's most iconic silhouettes, what can you tell us about the design process behind it? Why is it so successful?
It's wild! The Kernel truly transcends age, shape, style and gender. I worked with a freelance pattern cutter in Brixton called Erzumah and we used our bestseller at the time, The Slinky's, as a block for the bottom half of the pattern. It took many a round to get her perfect.
It's hard to pinpoint the source of the signature contrast pocket detail, sometimes in the design process, you have little sparks of creativity and I think this is how The Kernel came about. I wore it for the first time in a while on the weekend and instantly remembered why it appeals to such a wide audience. It does truly make you feel extra special. The Kernel is still the product we get the most messages about from our customers, we love hearing how gorgeous they feel and how much they get complimented.
Inclusivity and celebrating the female form have been a big part of the brand since its inception, why is that important to you?
We're a brand run by women. The attitude of inclusivity and celebrating the female form is integrated into the fabric of the company and it's integral to our belief system.
Since the Kernel, Peachy has become known for so many different signature styles like the Mimi and the Celeste. How do you decide when to create a new style?
New styles are often inspired by something we feel is missing in our own wardrobes. This, accompanied by a 'must-have' gut feeling, has landed us some of our signature styles. I'm also so grateful to have an amazing team of intuitive designers. We always aim to strike the balance between sexiness and comfort in each style we release and this underpins our design process.
View this post on Instagram
One of the biggest issues that today's consumers face is striking the balance between shopping/consuming sustainably with the constant need for newness. How does Peachy respond to that issue?
Firstly, we are consolidating the number of pieces we have in each drop. Each product goes through a rigorous approval process, including vetting by each member of the team to ensure we're all truly invested in it. Each product we create has to make sense and we want to feel confident that it's an additional piece our customer needs in their wardrobe.
Secondly, more mindful manufacturing. Next year, our goal is to manufacture 65% of our product in the U.K. I much prefer working with a local factory, because you're able to minimise your carbon footprint and waste, build deeper connections with the seamstresses in your factories and limit overproduction. We've also recently introduced 'Deadstock Drops' which contain products that have been made from surplus or end-of-the-roll fabric and are based on existing, or iterations of, existing patterns in order to help reduce fabric waste and sampling.
Finally, what are Peachy's plans for the future?
Our imminent plans are to continue popping up in different parts of London, with our next stop being Covent Garden. I'm also really keen to explore our first brand collaboration. We're speaking to a few brands currently so we'll see where that takes us.
---
Share this article