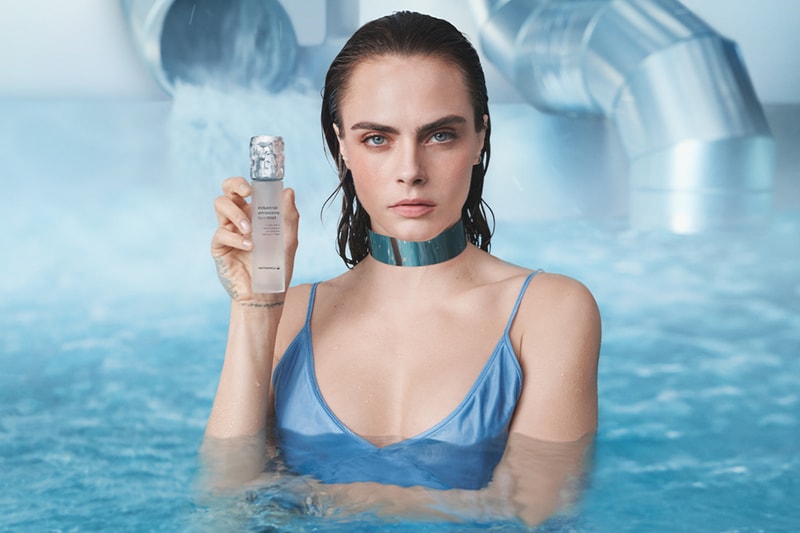 Beauty
Cara Delevingne Morphes Into a Chic, Eco-Activist With Environmental Face Mist Campaign
However, there's a catch.
Cara Delevingne Morphes Into a Chic, Eco-Activist With Environmental Face Mist Campaign
However, there's a catch.
Cara Delevingne is known for serving. She serves endless hair, makeup and style inspiration — but now she's serving a different message about environmental change through a simple yet universal product: A face mist.
Delevingne appears to advertise a new face mist in collaboration with European energy company Vattenfall. We said "appears," as it isn't a real beauty campaign. In the promo video, she is seen diving into a pool, dressed in a campy, slinky silver dress. The spoof highlights the importance of fossil-free hydrogen as a clean energy source. Vattenfall teamed up with Delevingne to showcase a limited-edition "Industrial Emissions" Face Mist made from industrial wastewater to prove how clean this way of emissions is.
The Mist isn't a product you can buy, so you don't need to get your wallets ready to emulate the "Delevingne" effect. It is to be seen as a bottle of systemic change — changing the POV of everyone's lens on emissions.
Take a closer look at the full video ahead.
View this post on Instagram
---
Share this article