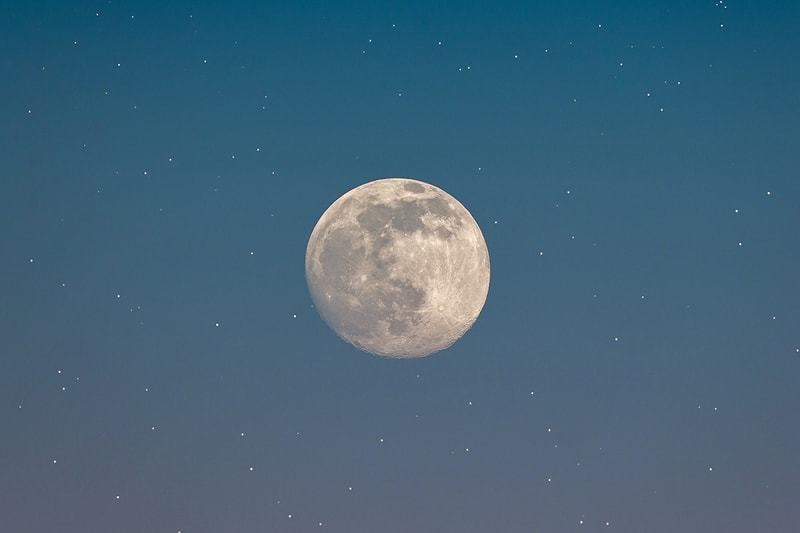 June's Sagittarius Full Moon Forces You To Be Real
Delivering a season of authenticity.
This summer is starting off with a bang as a full moon in Sagittarius sets the tone for an authentic and abundant season.
Following Jupiter's conjunction with the North Node of Destiny on June 1, the cosmos are overflowing with positive energy. Ruled by Jupiter, the planet of luck, a Sagittarius full moon is an astrological gift as the lunation sprinkles a bit of good fortune on us all. While it oversees the spontaneous fire sign, Jupiter is currently in Taurus, which strives for security and stability. The planet is also teaming up with Saturn, which you can think of as the grandfather of the solar system, dispensing divine wisdom at the right time.
It's worth noting that a full moon always sits opposite of the sun and this time, the glowing orb is in Gemini, providing a bit of balance. Geminis and Sagittarius are opposite sides of the same coin, which makes sense, considering air fuels fire. While the twins of the zodiac tend to get caught up in the minute details, easily overthinking, Sagittarius are able to rise above and capture the bigger picture. This particular planetary conjunction may result in some groundbreaking epiphanies, bringing you closer to your life's purpose as you're reminded of the power you possess to change your own life. Tauruses are all about hard work, while Sagittarius, ruled by the planet of luck, are adventure-seeking and deeply charismatic. Opposing, Geminis, the nuanced social butterflies of the 12 signs, June is bound to have some game-changing events in store.
Not to mention, the full moon forms a trine with Mars in Leo, supercharging your sense of confidence and giving you the courage you need to pursue your dreams, full steam ahead.
Continue scrolling to learn what June's Sagittarius full moon has in store for you.
The Sagittarius full moon lights a fire in your ninth house of travel and adventure, igniting your wanderlust. As a fellow fire sign, go with your gut and see where the wind takes you. If international travel isn't in the cards for you, give yourself the delight of spiritual and intellectual travel.
Falling in your eighth house of intimacy and legacy, Saturday's full moon pushes you to take calculated risks for the highest reward. As an earth sign, your feet are planted firmly on the ground as you have an eye towards stability. However, the Sagittarius full moon will inspire you to imitate the fire sign's energy and just go for it.
We're in the full swing of your season, Gemini and the Sagittarius full moon is in your seventh house of partnership. Whether you're in a long-term relationship or are in your healing girl era and are solo dating, think about how you can re-commit yourself to what's truly best for you. Maybe it's time to say goodbye to that lackluster situationship or tell your toxic boss how you truly feel — either way, relationships will show their true colors over the next few weeks.
It's time to get physical as the Sagittarius full moon is in your sixth house of health and well-being. Take some time on Saturday evening to identify your personal goals and don't get bogged down in "bikini body" noise. Instead, create a sustainable system that most aligns with what you truly want and need for not only your physical growth, but your spiritual growth as well.
Saturday's full moon turns up the heat in your fifth house of creativity and romance, giving you the courage and confidence to be bold about what you want. Don't waste time beating around the bush, use your prideful roar and be clear and articulate, using Sagittarius' blunt nature as inspiration.
Resting in your fourth house of domesticity, the Sagittarius full moon will trigger you to get honest with those closest to you. While you tend to be reserved and play your cards close to the vest, now is the time to get vulnerable with those you trust most to further deepen your intimacy.
The Sagittarius full moon falls in your third house of communication, paving the path for your inner circle to widen. Perhaps its a creative collaborator or a new summer romance on the horizon, but keep your heart open to new possibilities.
It's all about the Benjamins, baby as the full moon is cashing its checks in your second house of income. While the summer usually results in overspending, it would be wise to lay low and stay frugal, prioritizing long-term benefits over short-term rewards.
The full moon is in your first house of self, so let your light shine brightly Sagittarius. Your naturally magnetic energy draws people in, so bask in the spotlight you so rightly deserve and be your unapologetically free-spirited self.
The Sagittarius full moon is tying up loose ends in your twelfth house of surrender and subconscious, urging to give into the universe's cosmic flow. While you prefer to control your own fate, if you relinquish your need to plan everything and allow the stars to guide you, you just might encounter something short of a miracle.
Sitting in your eleventh house of networking, the Sagittarius full moon encourages you to form friendships that push you to be your best self. Entering the second half of the year, it's time to reevaluate the alliances you have, making sure those around you inspire you to operate at your highest vibration.
With the Sagittarius full moon shining a light in your tenth house of career and success. You've been working hard over the past few months, planting the seeds for your own professional growth and now its time to sow the fruits of your labor. Don't be afraid to speak up as sharing your wealth of knowledge and skillset may lead to your big break.
---
Share this article