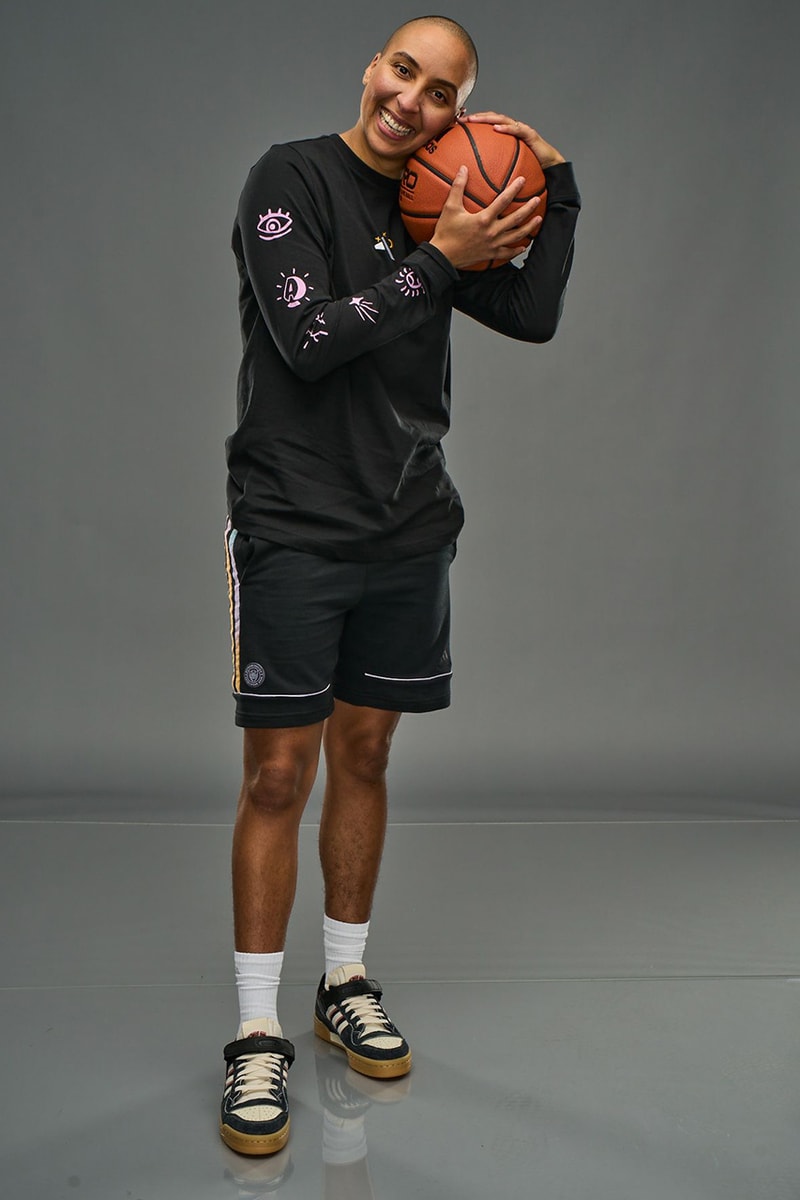 Layshia Clarendon Shares POV on the Beauty Industry's Current Athletic Obsession
"Everything we fight for in society, we fight for in our league."
Beauty
Layshia Clarendon Shares POV on the Beauty Industry's Current Athletic Obsession
"Everything we fight for in society, we fight for in our league."
There's so much to admire about Layshia Clarendon, a WNBA veteran of nine years. They have made history as the first nonbinary player in the women's league to use interchangeable they/he/she pronouns. This alone has paved the way for upcoming generations of athletes from all walks of life to embrace their true identities and shine bright like Rihanna's diamonds on and off the court.
It's interesting to note how the beauty industry's focus has shifted to women athletes in recent years, particularly before the pandemic hit. Brands like Glossier were closely watching WNBA players like Sue Bird and Amanda Zahui, tapping them to lead major campaigns and features. Towards the end of 2022, Black collegiate women started to become part of these conversations as well, with rising stars such as Angel Reese and Flau'jae making waves not just on the court but also signing big deals with viral haircare brand Mielle Organics. Reese, in particular, was signed on as an ambassador and Mielle Organics and the brand recently became the first textured haircare partner of the WNBA. However, it's worth asking where players like Clarendon fit into this picture, given their unique position in their respective fields.
The Hypebae Beauty team recently had the pleasure of getting a first-hand account from Clarendon on their POV of where WNBA athletes stand with the beauty industry — and the tea on what keeps their skin in shape while on and off the courts. Keep reading on for all the deets.
What are your thoughts on the beauty industry finally recognizing the value of Black women athletes?
After legit 5+ years of not stepping into a beauty store, I recently walked into a Sephora, and my jaw dropped at all of the skin tones available. I instantly went up to the Fenty Beauty section and ran my hand over the shades from darkest to lightest, marveling at how my mom's shade and my dark-skinned best friend's shade were actually represented.
As a light-skinned person, my shade has been available for years, but for folks who need gold undertones to highlight and shades to cover the multitude of dark skin tones, I felt proud and emotional. It's important that dark-skinned people are finally being represented in the beauty industry and it's not only the token light-skinned black girl with long curly hair. That true representation makes me proud.
For athletes in women's sports, it's just a microcosm of larger society. Everything we fight for in society, we fight for in our league. Black women have been at the forefront of shaping and driving culture forever and athletes are no exception. Our league has done so much work that went undervalued and under-credited. To see black women in sports finally given the space they deserve within a culture they built is bittersweet. It's beautiful and it's long overdue.
As the first openly non-binary player in the WNBA, how did it feel to "come out" per se and be candid about your most authentic self?
It felt cathartic to be my whole a** self. Being me continues to be my greatest gift to myself and the world. I'm a living, breathing example that gender is literally made up — and you can be, dress, express and identify however you want. F**k the binary.
When on the court, what is your beauty regimen pre-game and how do you take care of your skin and body post-game?
Okay, so I want to start wearing makeup in games. I need some tips from Jasz Thomas and Lexie Brown because their faces are BEAT during games.
Right now, my pre-game routine consists of showering and moisturizing. We travel across many different climates and I have dry skin and eczema flare-ups — which sweating in workouts doesn't help, so I focus on keeping my skin moisturized with clean products that don't contribute to skin inflammation.
What are your must-have beauty products that you absolutely need to have when traveling for a game?
I am a big fan of Kiehl's products. I love their "Midnight" Recovery Cream and "Ulta" Facial Cream. For daily coverage and sun protection, I love the ZO Daily Defense; it's literally magic, and the brand's Instant Pore Refiner is a product to keep my skin tone looking even but not inflaming my skin.
I also have been using the Merit 5-minute Makeup Routine for quick makeup when I'm on the go. It's all vegan and natural ingredients that don't make me feel like I have a ton of makeup on my face but have me out here looking cute as ever.
Lastly, Urban Decay has great easy eye makeup kits that are perfect for traveling and don't require purchasing multiple products to achieve a look. I love their "Naked" Mini Palettes in bronze tones that are perfect for darker skin.
What would a dream collaboration with a beauty brand look like for you?
A dream beauty collab would be one that shows the full range of my gender. I am learning that the more masculine I've become, the more I can really embrace my femininity again. My femininity had caused my dysphoria for so many years and it's been something I have run from.
Now, I feel so balanced in both my masculinity and femininity. I've worn a skirt for the first time in over a decade. My dream would be a collaboration displaying the spectrum of my gender from something super masculine to hyper-femme — and how both are truly me. My recent beauty journey is coming out to myself that I am still a girl. We all have a full self outside of the binary that embraces the many facets of our soul.
A beauty brand can lead this all with representation, honoring that in each of us. I actually dream about this often.
---
Share this article