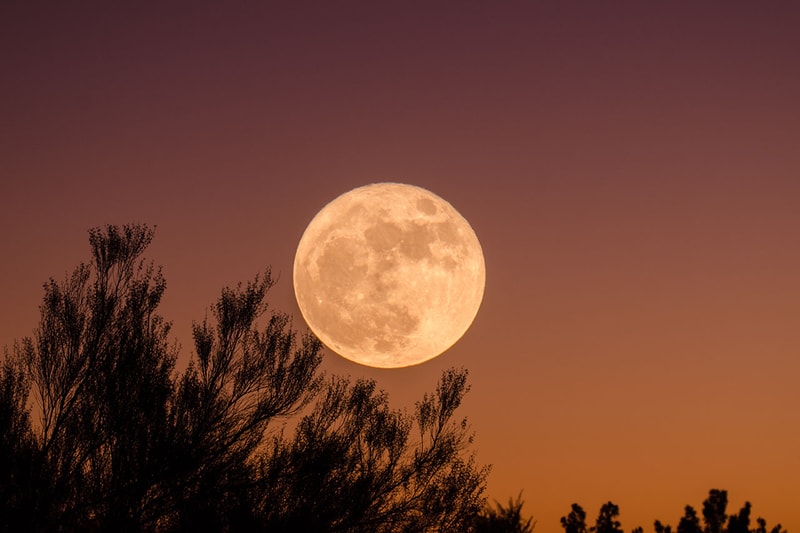 Culture
August's Full Super Moon in Aquarius Wants You To Be a Rebel With a Cause
Don't be afraid to defy the norm.
August's Full Super Moon in Aquarius Wants You To Be a Rebel With a Cause
Don't be afraid to defy the norm.
August is giving us a supercharged head start as the first of the month welcomes a full moon in Aquarius.
Not only is tonight's lunation the year's only full moon in the air sign, it is also a super moon. Known as the Sturgeon Moon, according to The Farmer's Almanac, la luna will appear brighter and bigger as it is closer to our dusty planet. A super full moon will only heighten our emotions and push us into the deep end of our psyche.
Although Aquarians are represented by the water beaver, they have a distinct air placement, lending to their adaptable nature and higher level of thinking. Think of Aquarians as the free-spirited activists of the zodiac — they're never afraid to defy the status quo if it means standing up for what's right. Their strong convictions and calculated risk-taking often makes them trendsetters, usually pointing to injustices and inequalities long before others catch on. Embody the Aquarius' confident attitude and become a rebel for your cause.
Continue scrolling to discover what the Aquarius full super moon has in store for your zodiac sign.
Resting in your 11th house of networking, the full moon is turning your attention to your social circle. As a fiercely independent sign, you tend to shoulder a lot on your own, but remember that having the right crew with you can make all the difference, so choose wisely.
The full moon is in your 10th house of career, shining a light on your accomplishments. While you're usually a humble sign, preferring to put your head down and get to work, tonight's super moon wants you to flex your accomplishments. Doing so could come in handy for a future promotion or new venture as sharing your achievements is a great way for people to take notice.
The Aquarius super moon is brightening up your ninth house of travel and higher learning, encouraging you to put your innate thirst for knowledge to use. Is there an entrepreneurial pursuit that's been keeping you awake at night? Don't be afraid to dive head first into your interests and push yourself out of your comfort zone to see results.
With the full moon falling in your eighth house of intimacy, your powers of seduction are at an all time high. Whether you're in a relationship or single, the Aquarius full moon is turning up the heat. Crafting a sensual self-care routine can help create an atmosphere of love around you, deepening your connection to yourself.
The Aquarius full moon may be calling you to grow your pride of lions as the celestial body is in your seventh house of relationships. As a loud and proud sign, you never hesitate to do things your way, so why should creating your chosen family be any different? Channel Aquarius' unique spirit and create your own rules around relationships.
The full moon is in your sixth house of well-being, inspiring you to reevaluate how you think about your health. Oftentimes, it can be all too easy to focus on numbers without considering how you actually feel. Adopt a holistic approach to your overall well-being and pay attention to your quality of life rather than your waistline.
The Aquarius full moon is in your fifth house of creativity and romance, lending you a pair of rose-colored glasses. It might be the perfect night for a candle lit date with your special person or a solo lunch with yourself. Don't hesitate to buy yourself flowers regardless of your relationship status as love always starts from within.
The Sturgeon moon is in your fourth house of domesticity, compelling you to clean out your space. Decluttering is one of the best ways to spend a full moon as resetting your environment can help reset your mental space.
Your third house of community comes into full view as the Aquarius super moon shifts your attention to your inner circle. As an independent thinker, you're fine doing things alone, but Aquarians are all about the power of communal healing. Harness that energy and cast a discerning eye on your contact list, making a mental note to bring like-minded spirits closer.
The full moon is in your second house of income, adding a touch of abundance and good luck to the financial aspects of your life. Although we're all screaming in poor, thanks to rising prices, it is still imperative to save, even moreso now than ever. Be sure to take any extra earnings and put them in your piggy bank — you'll be thankful you stored away a few extra nuts come winter.
The universe's spotlight is in your Aquarius as tonight marks the only full moon in your sign. Coupled with the fact that it is also a super moon, carve out plenty of time to visualize what you would like your future to look like, manifesting with a vision board or an intense journaling session. August 1 is all about you.
The full super moon in Aquarius is in your 12th house of subconscious, supercharging your already awesome intuition. You may have been burning the candles at both ends this summer, going full force behind your creative goals. If you've been feeling like giving up and are looking for a sign to keep going, this is it. The Aquarius full moon is nudging you in the right direction, don't be afraid to surrender.
---
Share this article