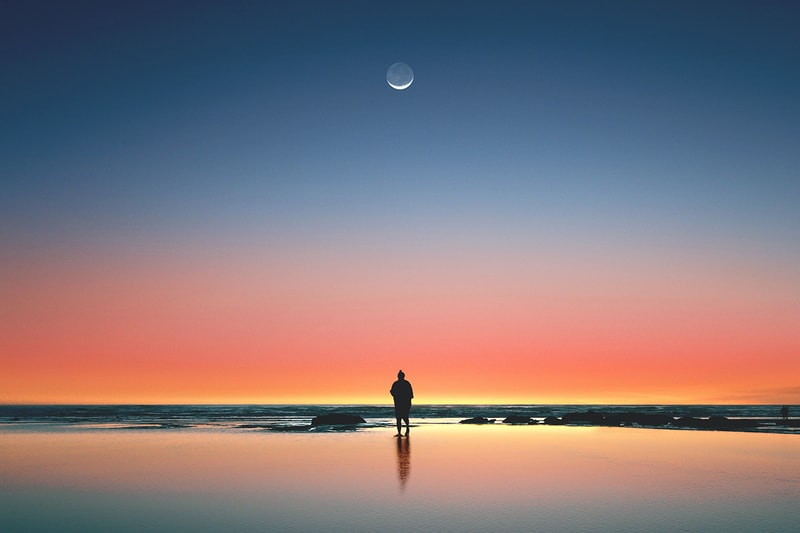 August's New Moon in Leo Will Inspire You To Be Your Most Authentic Self
It's time to roar.
Leo season is starting in earnest on August 16 as the new moon is in the sign of the lion.
Represented by the fiery star, Leos represent authenticity, courage and creativity, exuding a confidence that comes from within. While many mistake Leos' energy for arrogance, the fifth sign of the zodiac's strong sense of self comes from a place of sincerity. Leos are able to shine so brightly because they're unwilling to let anything or anyone dim their light. The fire sign isn't afraid to roar because they believe in themselves enough to show up as their fully authentic selves in any room. Leos are driven by the sun, which in many ways, is the source of life and all creation, motivating us to take action. A new moon in the sign will inspire you to dive head first into your soul's purpose, bravely and boldly.
Although the new moon may not be visible in the night sky, the beginning of the lunar phase is a fertile time for the cosmos. A new moon takes place when the celestial planet joins the sun in the same degree as the zodiac sign.  La luna is asking you to reflect on the past six months. Coinciding with Venus in retrograde, your attention will be turn to your relationship with yourself and others, as well as your creative pursuits. The new moon and Venus retrograde also forms a square with Uranus, which is known for disrupting the peace as the planet represents creativity, innovation and revolution. The universe is setting the stage for some major self-discovery — now is the time to put in the work.
Continue scrolling to discover what's in store for your zodiac sign for August's new moon in Leo and make sure you check your moon and rising sign.
The new moon in Leo falls in your fifth house of creativity and romance, encouraging you to turn the heat up, whether it means in your love life or with your side hustles. You may have to venture outside of your comfort zone, but channel the energy of the new moon and seek out what brings you the most joy for the highest rewards.
Resting in your fourth house of domesticity, the new moon is offering you a clean slate. Home may be a physical place, but it is also reflective of your inner world and emotional foundations. With Venus in retrograde, you may be feeling the urge to change things up as the planet also rules your sign. Decluttering is always a good new moon ritual, but take it one step further and get your thoughts onto the page to clear out your head and heart.
The new moon in Leo lights up your third house of communication, urging you to streamline your normally chatty nature. As an intellectual and cerebral sign, you're never short of things to say, but now is the time to reflect on how you've been communicating with others. Harness Leo's energy and utter each word with confidence, knowing that you're showing up as your authentic self.
Your finances are coming into full view as the moon is in your second house of income. Often thought of as a meek and mild sign, the new moon in Leo is inviting you to step into your own as a leader. Use your gifts to get a bigger bag or speak up for yourself at your current gig for the promotion you know you deserve.
It is your time to shine as the new moon is in your first house of self. Spend Wednesday night digging deep and taking stock of what's currently going on in your life, identifying where you may be holding back. If things are feeling a little lackluster, let your voice be heard.
The new moon in Leo is in your twelfth house of subconscious and intuition, pushing you to peel back the layers of the mask you may be putting on and reveal your true self. Shadow work is the perfect new moon activity for you, whether it be embodied movement or meditation.
Sitting in your eleventh house of networking, the new moon is asking you to branch out. Keep in mind that Venus rules your sign and with it orbiting in reversal, your social circle may no longer be serving you. If you are no longer feel aligned with your current connections, harness Leo's bold spirit and form bonds that encourage you to be your truest self.
The new moon in Scorpio is your 10th house of career, nudging you to put yourself in the driver's seat. When the cost of living is skyrocketing and it feels like people are being laid off left and right, making your passion your profession can seem daunting. Embrace Leo's fearless energy and tap into your special talents. This could look like monetizing your craft or pitching yourself for creative projects at work.
Expanding your horizons, both mental and physical, is top of mind for you as the new moon is in your ninth house of travel and philosophy. It's time to rid yourself of self-limiting beliefs and dream big. Push yourself to learn new hobbies or adopt a different perspective to put you on a new path of self-discovery.
The new moon is in your eighth house of intimacy and investments, compelling you to kick your already ambitious nature into high gear. As a level-headed earth sign, you love to take charge, especially when it comes to investments. With Venus in retrograde, it's imperative to be extra cautious when committing to either financial matters or affairs of the heart. Whenever in doubt, operating from a place of love and confidence rather than fear will serve you well.
Resting in your seventh house of partnership, the new moon in Leo is gifting you a new slate when it comes to love. This could result in a budding new romance or an earnest push to take your self-care seriously and prioritize your relationship with yourself. Before jumping into anything new, think about your past affairs. If you found yourself playing small or deferring to your past partners' preferences, it's time to do something different and cultivate connections that allow you to be you.
With the new moon in your sixth house of daily routine and well-being, la luna is lighting a spark within you to change your everyday regimen. If your life has been looking a little gray, embrace Leo's fiery spirit and seek out ways to transform your mundane routine into one that excites your inner child.
---
Share this article