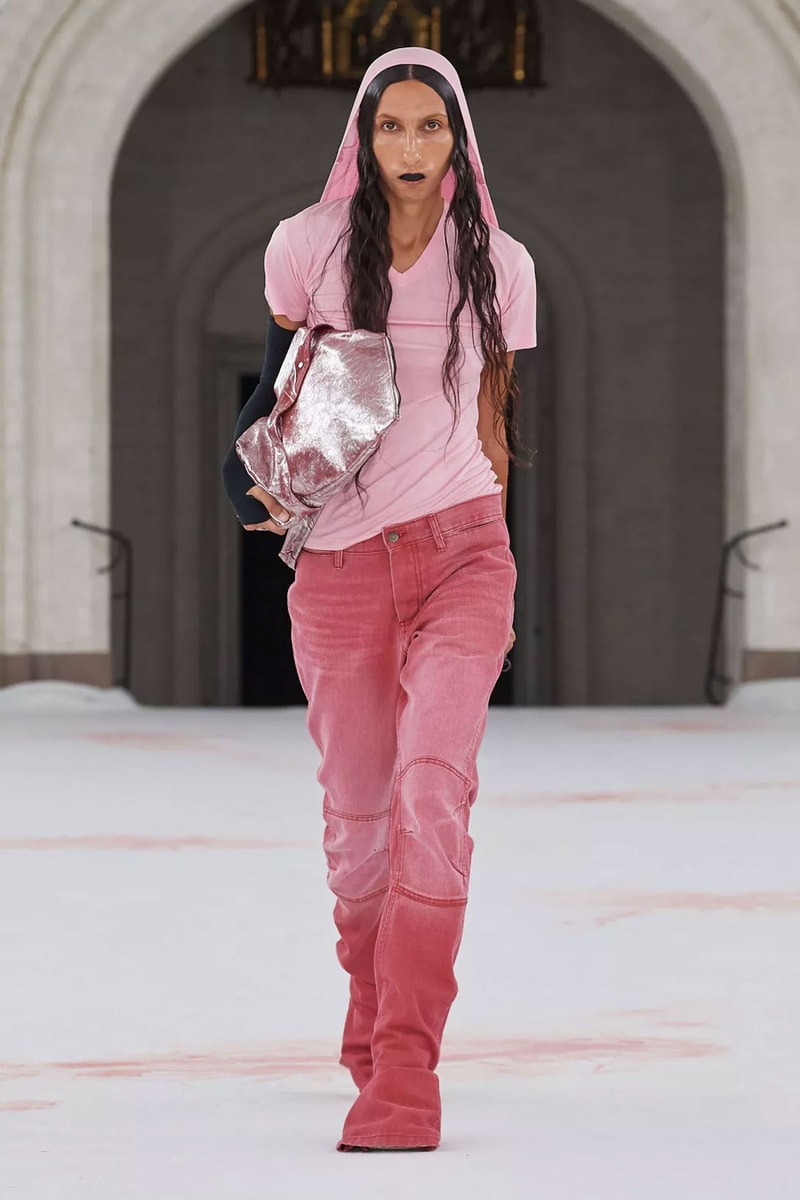 People Couldn't Stop Talking About These Emerging Designers at Copenhagen Fashion Week SS24
From award-winning names to the graduates of The Royal Danish Academy.
Fashion
People Couldn't Stop Talking About These Emerging Designers at Copenhagen Fashion Week SS24
From award-winning names to the graduates of The Royal Danish Academy.
Copenhagen Fashion Week celebrated its biggest edition yet this Spring/Summer 2024 season, with an extra day added to the schedule with more international guests and a larger trade show. In addition to mainstays like GANNI and ROTATE, attendees were able to explore the exciting, young wave of designers emerging from the Danish capital.
A. Roege Hove showcased its first collection as an alum of the CPHFW NEWTALENT program with added materials to the brand's signature knit. P.L.N. marked its third runway this season, introducing ready-to-wear pieces for the first time, while Nicklas Skovgaard made his runway debut with only one model on stage. Another name showing for the first time was London-based Paolina Russo, with more young designers presenting their work through The Royal Danish Academy's graduate presentation.
Continue reading to learn about the emerging designers from this season's CPHFW. For more coverage, check out GANNI's runway led by Paloma Elsesser and Marimekko's colorful presentation.
You can keep up to date on more SS24 Fashion Week news to come on Hypebae.
Since the launch of her eponymous label in 2019, designer Amalie Røge Hove is becoming more and more recognized for her work in craftsmanship. In 2021, she won The Wessel & Vett Prize. After graduating from the CPHFW NEWTALENT program, she was awarded the Karl Lagerfeld Award for Innovation earlier this year at the International Woolmark Prize.
Marking the rising label's fifth runway presentation, the SS24 season was a further expansion of A. Roege Hove's signature stretchy knits. Adding to the original cotton and nylon materials, this time around the creative incorporated new materials such as Circulose, which is made from 100% textile waste. Sheer looks returned once again to the runway, while select pieces were adorned with beads created in collaboration with Georg Jensen.
Finnish label Latimmier's Ervin Latimer isn't afraid to step on stage to deliver the stories behind his collections. Last season, the designer narrated his 11 looks in an intimate presentation (where he opened up about the realities of burnout as a young designer), and for SS24, he opened his show as his drag alter ego Anna Conda.
Titled "Positions of Power," Latimmier's fourth collection was evidently corporate-themed as models walked out with tailored suits and striped shirts accessorized with office supplies like ball pens and binders. More specifically, the show was a message on the archetypes of men with inspiration from Martin Scorsese's 2013 film Wolf of Wall Street. Key details included fringed shirts that looked as if they were put into a shredder, as well as quite literal prints based on invoices from debt collection agencies as well as striped details referencing the 2008 market crash.
Nicklas Skovgaard's SS24 collection was special in that it was the designer's debut runway show, and also that the presentation featured only one model — Amsterdam-based performance artist Britt Liberg. The show opened as a set of black curtains unveiled the stage decorated with mannequins wearing Skovgaard's dresses. Liberg stepped onto the set, walking over to a rack of garments, theatrically wearing and taking off each handwoven piece including lace dresses, draped jersey dresses and skirts with smocked details.
"Britt Liberg's showcase of 'Collection 07' together with all the vintage sourced mannequins is my idea of Britt being the ultimate muse for the collection. She presents the dreamlike state and fantasy that clothes can inspire in a very real setting being my first fashion show," Skovgaard spoke of the collection, which was inspired by the relationship between the Danish painter Gerda Wegener and her wife Lili Elbe. "I really see the interplay between Britt reflecting life into the mannequins wearing the collection, and I see the mannequins reflecting life back into Britt."
London-based label Paolina Russo took to CPHFW to showcase its first-ever runway show. The winner of the Zalando Visionary Award — a sustainability-first award with criteria covering social impact, design and innovation — leaned into folklore for its SS24 collection titled "Monolithics." With inspiration from prehistoric cave drawings, the show was an exploration of the passage of time, including the garments highlighted with prints as well as the structures on the runway made out of upcycled bottles.
Denim was one of the highlights for Paolina Russo this season, arriving in gradient colors with airbrushed and laser-etched details in the form of boleros, miniskirts, jackets, jeans and more. Created with low water-intensity materials, the garments are created in partnership with Pizarro, a sustainable denim laundry in Porto. The pieces were accompanied by technical activewear pieces featuring lycra separates and swimsuits using tie-dye as a nod to surfwear of the '00s.
SS24 marked the third and final runway show for P.L.N. as part of CPHFW's NEWTALENT program. The brand, which will be taking a break from runway presentations next season to focus more on direction and strategy, is preparing to expand from its made-to-order model, now offering select ready-to-wear items in small quantities. As such, in comparison to past seasons, Peter Lundvald Nielsen included more pieces for the everyday wardrobe — ranging from loose-fitted trousers and colored jeans to hooded T-shirts and biker jackets. Models walked out with extra-glossy makeup while biting mouthpieces, accompanied by bandage-inspired boots to add a stark contrast to the venue located inside of a church. A demonic version of "Hopelessly Devoted to You" from Grease produced by the sound artist Sausha De La Ossa played in the background as the show closed with an all-white bridal look.
Rolf Ekroth's SS24 presentation was all about roses. Set in an indoor skate park, the collection was accompanied by "I Never Promised You a Rose Garden" playing on the soundtrack to accompany the rose motifs found throughout the lineup.
The SS24 season was Ekroth's way of expressing nostalgia — his desire for his youth in the '90s, in addition to his parents' memories of the '60s and his grandparents' earlier days in the '30s. Hand-painted rose patterns referenced traditional paintings, emerging on workwear-inspired dresses and utilitarian aprons. Highlights included a crocheted rose dress and oversized jackets, as well as the finale suit woven with actual roses.
Andreas Hermann Bloch, Alberte Fischer, Xiu Zhang, Sofie Axters, Sophie Linnemann, Raquel Lancheros Garzon, Sarkis Dersahakian, Andrea Ashworth, Mai Kaminaga, Shengnan Huang and Tilde Herold were the 11 "Fashion, Clothing & Textiles—New Landscapes for Change" master's students at the Royal Danish Academy showcasing their graduate pieces this CPHFW. The designers decided to name their collective presentation "PANOPTICON" as a message on the digital age and the control it has over our lives. "As designers, we are deeply affected by the way public control has become systemic and integrated into everything we do. With 'PANOPTICON' we want to show our opposition to current norms and rules and to celebrate the beauty of diver sity and uniqueness, regardless of our bodies, cultural background or per sonal motivation," Dersahakian and Fischer shared of the collection.
---
Share this article