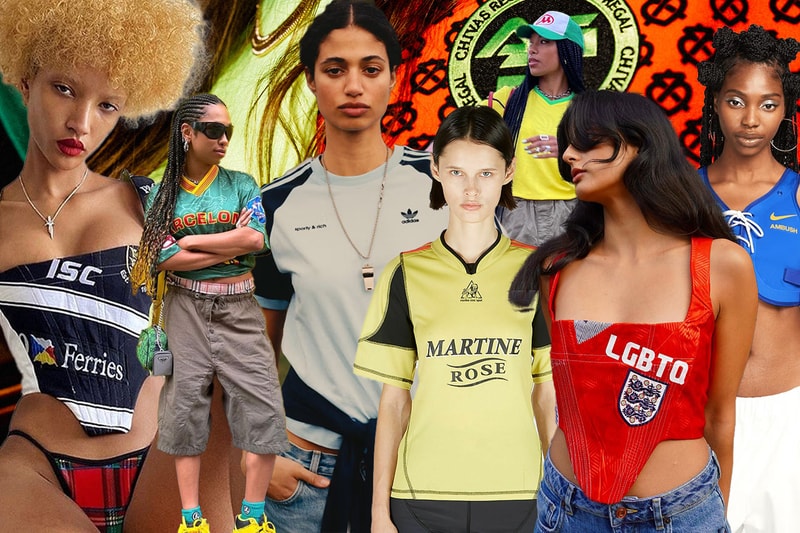 Fashion
How Women Made Football Fashionable Again
Thanks to brands like Martine Rose and Wales Bonner, upcycling designers and most importantly: the pioneering players themselves.
How Women Made Football Fashionable Again
Thanks to brands like Martine Rose and Wales Bonner, upcycling designers and most importantly: the pioneering players themselves.
Grab your phone and scroll down your Instagram feed for a few seconds. Right now. We dare you.
It's guaranteed you'll see more than a few faces dressed in football jerseys, athletic zip-ups or sports shorts, a uniform that's since culminated in the rise of the blokecore movement. To some, the concept of blokecore is entirely new and to others, it's another freshly-coined, social media-generated label created to describe something that's actually been in existence for a while. We're firm believers in the latter but whichever way you look at it, one thing's for sure: women are spearheading the movement.
We'll admit it, styling a sports top or shoes with non-sporty clothing isn't exactly new, but the virality of the style is something that's been on the up in recent years — most notably since the 2020 Euros. For those of us who weren't football fans at the time, that pivotal championship piqued our interest in the sport and led us to consider a different avenue of thinking. What does one wear to a football game?
Countless articles and how-tos began to surface, with notable celebrities and Instagram influencers offering their own response and thus, the early adopters of the blokecore movement were born. During that time, comedian Amelia Dimoldenberg shared an image of herself on Instagram in a football-inspired corset, created by rising designer and London College of Fashion lecturer, Hattie Crowther. The designer kickstarted her upcycling journey during lockdown, utilizing existing football kits to create new corsetry silhouettes, and has since become one of the go-to labels for football-inspired fashion.
"A surge in orders typically coincides with major football events of global magnitude like the Euros and World Cup," she tells Hypebae. In her mind, the rise of blokecore is a natural progression in fashion, given the representation of the Lionesses' consistent and continual success. "The heightened spotlight on the sport is remarkable because it presents aspiring young female football players with unprecedented role models to look up to. The Lionesses have emerged as an influential force in championing gender equality within the realm of football," she adds.
Similarly, designer Martine Rose has long been associated with sportswear and in 2021, she dropped the "Lost Lionesses" tee, a celebration of the humble football jersey and all it stands for. In 2022, she took her love of the sport one step further, releasing the collaborative Nike Shox MR4 silhouette — the ultimate crossover of football and fashion. Since the first release of her Nike collaboration, the London-based designer has gone on to create multiple football-inspired collections, including her most recent kit release, designed exclusively for the 2023 FIFA Women's World Cup.
Back in 2008, designer Yoon Ahn started her own label, AMBUSH, which has also gone on to develop multiple collaborations with Nike over the years. Ahn's most recent collection for Nike was a tribute to the beautiful game itself, pairing football jerseys with pleated mini skirts, sequin tops and her own footwear collaboration.
Drawing inspiration from brands like Wales Bonner, AMBUSH and Martine Rose, more and more emerging designers and upcyclers have been taking to social media platforms to share their creations, not only providing female football fans with impressive, one-off outfits for games, but also offering a solution to fashion's irrefutable waste problem. By taking existing (and often, discarded) football clothing and making them into wearable pieces, these designers are doing far more than just making sportswear cool again.
Alongside designers and creatives, a new realm of influence is emerging, and it stems from the players themselves. As football has traditionally paved the way for male players like Hector Bellerin or Marcus Rashford to immerse themselves in the world of fashion, players like Alisha Lehmann, Chloe Kelly, Ellie Roebuck and Leah Williamson are carving out their own path — celebrating the duality of women in sport and proving that not only can they do it all, they are doing it all.
Art of Football is a community that centers around creative expression, originality and togetherness. The label recently released its first-ever lifestyle collection, dedicated to the athletic prowess and persistence of England's Lionesses. Brand ambassador Debra Nelson explains, "The lionesses are becoming household names. Within the past year we've seen Chloe Kelly feature in a Calvin Klein campaign, Leah Williamson in GQ and Lauren James — she just always looks fly. We're seeing what players are wearing to events and we are generally seeing a lot more cultural crossover within fashion. Through fashion we are getting to connect and get to know our lionesses a lot more. They are becoming lifestyle icons and that's influencing a new generation of fans."
Similarly, Lehmann believes, "It's not a bad thing to want to look like a girl and play football. I really support that, and I want everyone to be themselves when they play the sport." It's that authenticity and desire to stay true to themselves that really underpins the football fashion or blokecore movement, as more and more players are given the opportunity to showcase their whole selves, not just the self that we see on the pitch.
As a result, the rise in football fashion is two-fold. One the one hand, it's those at the core of the fashion industry, the ones with the power to influence trends and re-write the rules of style, who are first-hand witnessing the passion translate from the pitch to the streets and responding with solutions. But on the other? It's a new generation of players that consistently show up being unapologetically themselves and refuse to be put in a box, no matter how much society wants them to be.
---
Share this article