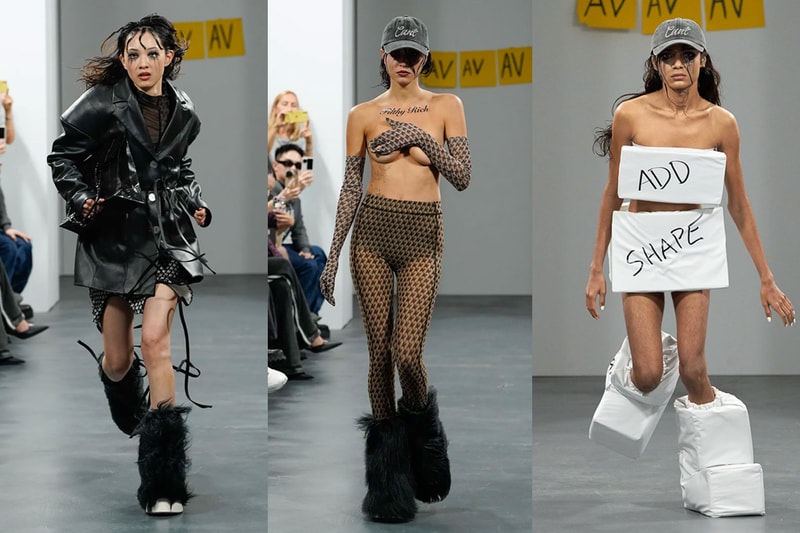 AVAVAV Said Stressed and Half-Dressed for SS24
The viral Milan Fashion Week show returns.
Every season, Stockholm-born designer Beate Karlsson presents a viral runway show for AVAVAV, with last season's collection intentionally falling apart on the runway. For Spring/Summer 2024 at Milan Fashion Week, the distinctive designer presented a half-baked showcase, in which stress-induced models rushed down the runway while still putting the finishing touches on their fits.
Kicking things off, backstage staff pasted AVAVAV-scribbled post-it notes onto the wall to signal the show starting, before physically pushing a model onto the runway to get the show on the road. The model took approximately two steps before heading backstage in a fluster.
View this post on Instagram
The next model appeared wearing a graphic T-shirt which appeared to be pinned at its sleeves with the words "ADD BACK?!" scrawled across it, seemingly in a nod to the unattainable turnaround times associated with putting on a showcase. Elsewhere, remaining models presented mascara-filled tears across their faces, alongside "NO TIME TO DESIGN"-emblazoned hoodies that once again nod to the SS24 theme.
Overall, the collection aimed to represent the industry's unrealistic standards and timeframes, characterized by topless looks, post-it dresses, sharpie slogans and mascara tears.
Take a closer look at the collection above and while you're here, check out BOSS' technotopia at Milan Fashion Week.
---
Share this article