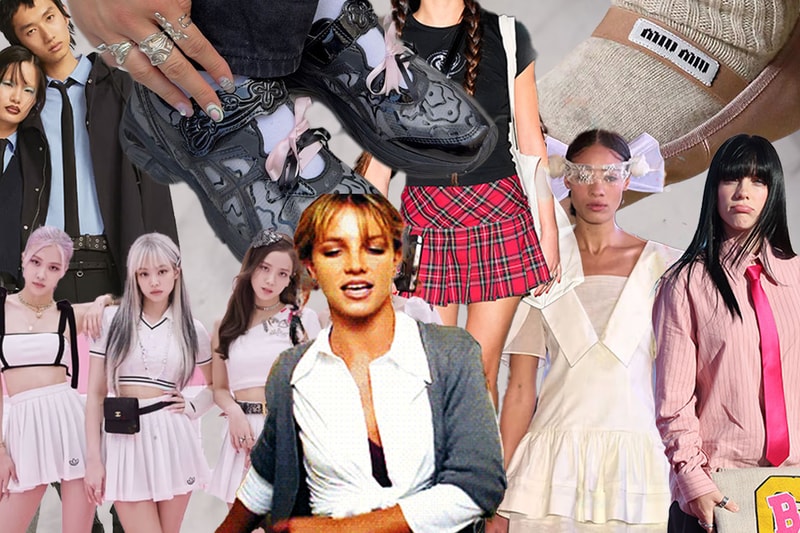 Fashion
When Did We All Start Dressing Like School Kids?
From Britney Spears to Cecilie Bahnsen, we unpack the evolution of the school girl trend.
When Did We All Start Dressing Like School Kids?
From Britney Spears to Cecilie Bahnsen, we unpack the evolution of the school girl trend.
Picture this. It's 1999 and Britney Spears' "Hit Me Baby (One More Time)" has just come on to MTV. You spot the fluffy pink pigtails and the cropped, tie-front white shirt paired with a pleated miniskirt and you think, you know what? This is a lewk. Well, you weren't alone.
Now, we're not saying that Britney pioneered the schoolgirl fashion trend. After all, we have to give credit to The Princess Diaries, St Trinian's and essentially, the entirety of Disney Channel's '00s repertoire – but for many of us, Britney's '90s fit signaled the start of a much wider and more commercial movement.
Fast forward two decades and schoolgirl fashion is well and truly a part of the mainstream trend cycle – only now, it spans multiple different categories of fashion, has far more inclusive ways of wearing and has since been adopted by designers like Yoon Ahn and AMBUSH, Sandy Liang and Cecilie Bahnsen.
Jive Records
So what exactly happened between Britney's iconic video and now, that made the school girl trend something we all aspire to? Let's dive in.
Previously, the "sexy school girl" trope was one that lent itself to Halloween costumes and Valentine's Day outfits, but it's since evolved into an acceptable form of dressing for any time of year, and any purpose. In recent years, the relationship between fashion and sex has only gotten stronger, resulting in a slew of sex-positive trends hitting the runway (evidenced through recent collections from JW Anderson, Diesel and Edward Crutchley.)
As a result, we're seeing an increased reclamation of sexuality within fashion, resulting in looks once reserved for Halloween (or let's be honest, the bedroom) becoming more widely accepted and worn in everyday life.
That being said, alongside the rise of sex-positive fashion, there's become a growing space within the industry for the opposition, too. "Ugly" fashion, dark academia and nerd chic (think rectangular eyewear, Miu Miu cardigans and plaid skirts) are among the rising cores that have contributed to the more inclusive side of this trend, all centering around the concept of the uncool becoming the cool. With shows like Netflix's Wednesday gaining popularity alongside rising representation within gaming, anime and sci-fi, it's those of us who weren't the Britney, the mean girl or the Anne Hathaway (post-makeover) who are finding that it's our time to shine.
Nathan Congleton/Nbc Via Getty Images
Similarly, an element of reclaimed femininity plays a part too, one that existed long before Barbiecore and Margot mania – though it definitely helps. As a result, super-feminine styles like Maison Margiela and Miu Miu ballet flats, Sandy Liang-style bows and hair styles like pigtails – typically worn at school – are finding their way back into the cultural zeitgeist.
Secondly, the rise of formal dressing is one that we've seen growing rapidly since the end of lockdown, as more and more of us start to move away from casual silhouettes and loungewear, and instead lean towards "smarter" pieces like loafers and blazers. For those working in the creative industries, the traditional work uniform of a suit and tie is one that evades us and as a result, it can be fun to tap into what could've been by switching up our casualwear for shirts and ties.
On the flip side, current ways of wearing the trend are rooted in rebellion and nonconformity, too. As kids who grew up watching these '90s and '00s sitcoms and films, we've since grown into adults. Adults who have the distinct ability to wear whatever they want to wear, however they want to wear it. Those of you who used to wear your ties as micro-ties, roll up your standard-issue midi skirts to well above knee-length and frequently "misplace" your regulation blazer, you now have the opportunity to wear your school uniform exactly the way you weren't allowed to wear it – and you do.
Miu Miu
Finally, as with all fashion trends, a big part of it comes from the very people we look to for fashion advice and style inspiration. With major artists like Olivia Rodrigo and Billie Eilish entering the industry at a young age, it makes sense that collectively, youth-oriented styles would begin to infiltrate the trend cycles.
Off the back of stars like them, it's brands and designers that draw inspiration from what they see and translate them into collections. Take Yoon Ahn's most recent AMBUSH collection for example; the FW23 offering took inspiration from the school kids of Shibuya, showcasing a contemporary take on old-fashioned education-wear.
AMBUSH 
Overall, the school kids trend is one that's undergone a much-needed transformation in recent years and we've come a long way since the days of Halloween fits and role-play costumes. Expanding into midi skirts, full length shirts and oversized silhouettes, its welcome evolution can be attributed to the likes of Billie Eilish, AMBUSH, Maison Margiela, Cecilie Bahnsen and its adaptations within the streetwear realm – a place notorious for baggy, oversized fits and comfort-core.
---
Share this article