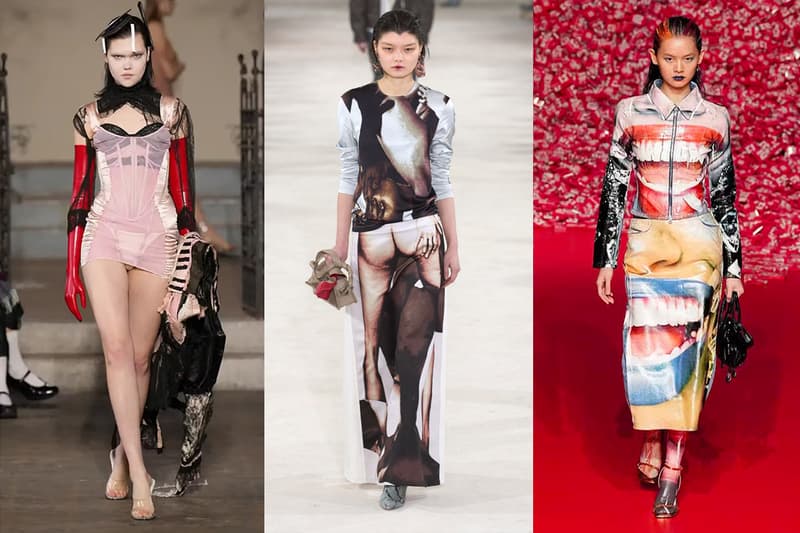 Sex & Dating
The Top Sex-Positive Trends From FW23 Fashion Month
From corsets to squeezed nipples, this season served sex galore.
The Top Sex-Positive Trends From FW23 Fashion Month
From corsets to squeezed nipples, this season served sex galore.
Kink and sex work-inspired looks, along with sex-positivity dominated Fall/Winter 2023 presentations from New York Fashion Week to Paris. The continued wave of boundary-pushing designs has become a staple for some brands, while others have been newly introduced to the trend. The result? An entire season of emotive and sultry collections that channel the experiences of women, and of course, deliver cheeky moments, as well.
Dominating this season's sex-positive edge is Glenn Martens, with shows for the newly-revived Diesel and Y/project. Diesel proudly made the theme of its showcase sex positivity and partnered with leading condom brand Durex to pull out all the stops. How? Through condom box invites and a huge mountain of condom boxes as a runway installation — 200,000 to be exact. During his Y/Project presentation, models donned attire with porn printed all over.
View this post on Instagram
For his Diesel show, Martens elaborated on the intersection of sex positivity and fashion: "Sex positivity is something amazing. We like to play at Diesel, and we are serious about it. Have fun, respect each other, be safe. For Sucsexful Living! We have to remind everyone that safe sex is still important, we cannot forget."
Keep reading for more sex-positive trends from Fall/Winter 2023.
Corsets
Corsets, an icon of sex appeal known for cinching the waist, have been trending since 2021 and as of FW23, continue to dominate the runway. Mugler's 2023 presentation tapped the corset trend, with sheer expose, which has also been trending for its "naked" appeal. Dilara Fındıkoğlu and Di Petsa also presented several variations of the corset, pictured above. Not pictured is Ottolinger's moto-inspired corset that taps this season's infatuation with everything metallic.
The iconic fur overcoat
As Versace perfected in its Versace Fall/Winter 1992 collection when channeling the energy of streetwalkers, FW23 delivered cozy fur overcoats with little to no undergarments via Lisa Rina's runway debut with ROTATE, Dilara FindikoğLu and Stella McCartney. This season, FindikoğLu challenged ideals of sex appeal with a gothic tone. Specifically pairing a white overcoat with a black, leather corset, the model strutted the runway and maintained contact with the viewer – whether the viewer was comfortable or not. By donning clothing that demands attention, FindikoğLu follows up with a tone of "you will respect me," challenging the concepts of ownership and patriarchy. On a more playful note, Stella McCartney took the iconic animal-printed fur overcoat to new heights with a live horse display at its presentation.
Leather and latex gloves galore
Channeling dominatrix-like energy, we saw a number of latex and leather-gloved looks. Which, if you don't subscribe to the kinky side of life, you may refer to them as opera gloves. Whichever side of the spectrum you prefer, latex gloves and opera gloves serve the same purpose: to add a dramatic touch. Latex gloves, more specifically, enhance the sex appeal of a domme's attire to exude dominance. Eckhaus Latta kept it androgynous with a neutral tone and gloves that exempt the thumb. Acne Studios combined the opera glove's elegance and the depth of the leather-latex glove to create an ethereal and deep mystique. Rick Owens on the other hand, reimagined them with pink sequins.
Honorable cheeky mentions:
Last but not least, is our favorite: sex positivity, just for the f-ck of it. This season was cheeky-moment galore from Mowalola's "Insert disc here," top, Coperni's squeezed nipple brooch and of course, JW Anderson's dick shirt.
In other sex-positive news, explore the Porn Conversation for the first time at SXSW Austin.
---
Share this article