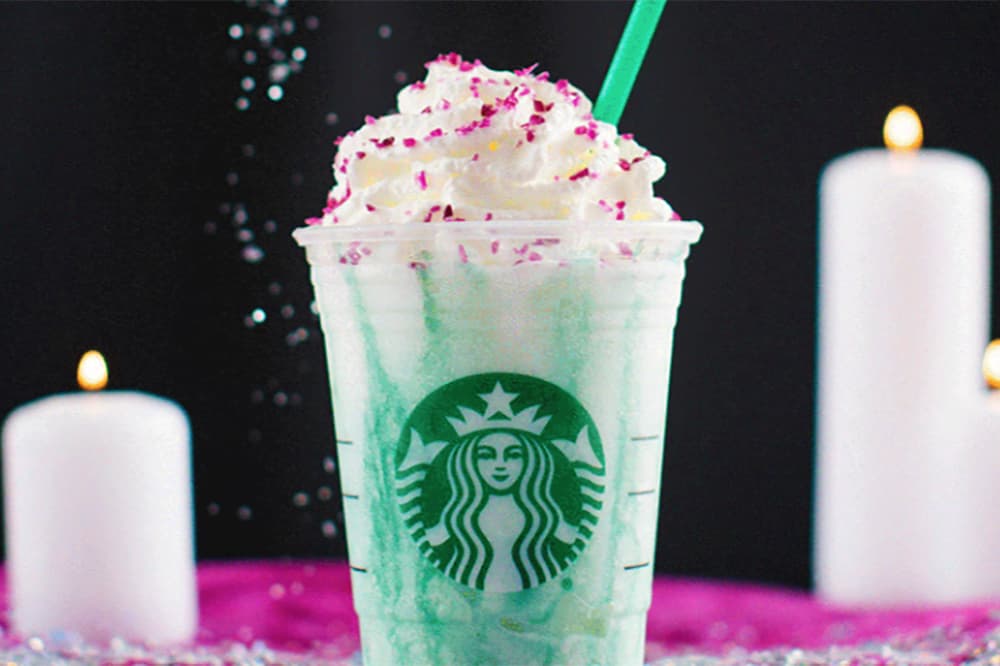 Culture
Here's What Those Mystical Sprinkles on Starbucks' Crystal Ball Frappucino Actually Mean
Get the lowdown on the flavor, too.
Here's What Those Mystical Sprinkles on Starbucks' Crystal Ball Frappucino Actually Mean
Get the lowdown on the flavor, too.
We recently reported that Starbucks was bestowing yet another quirky, Instagrammable drink upon us – the Crystal Ball Frappuccino – and now that the beverage has been released, we can at long last find out what flavors and ingredients it actually comprises of.
The mystical drink is a creme-based Frappuccino that's infused with peach flavoring and is topped with peach-flavored whipped creme. Every drink is swirled with vibrant turquoise "sparkles" to give it a marbled effect but the candy gems are where the real magic comes into place. There are three variations of gems that will adorn your drink, and your barista gets to play fortune teller and decide what your destiny holds. According to Delish, blue means that you're "destined for adventure," green confirms that "good luck is headed your way" and if your Frapp is topped with purple gems, well that means that you should "expect a dose of magic, wonder, and enchantment in your near future."
Of course, Starbucks baristas aren't generally trained clairvoyants, so the coffee chain has had to denote that they don't assume liability for any luck or misfortune that may come your way, but at the very least, your Instagram will be racking up likes by the bucketload. The Crystal Ball Frappuccino is only available in the U.S., Mexico, and Canada until March 26, and whilst supplies last so you better hope that luck is on your side if you want to try out this otherworldly drink.
For more limited-edition beverages, check out this Honey Blossom Créme Frappuccino and the Earl Grey Tea Cream one, too.
Share this article