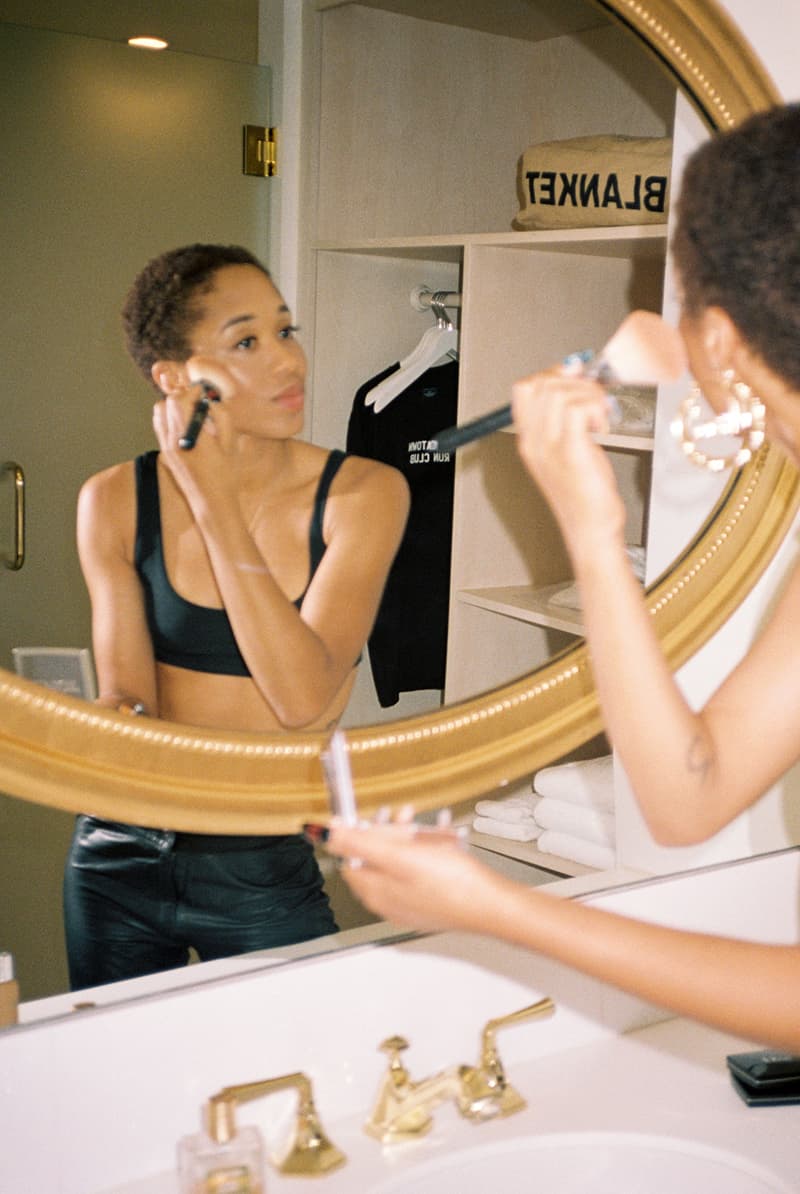 1 of 2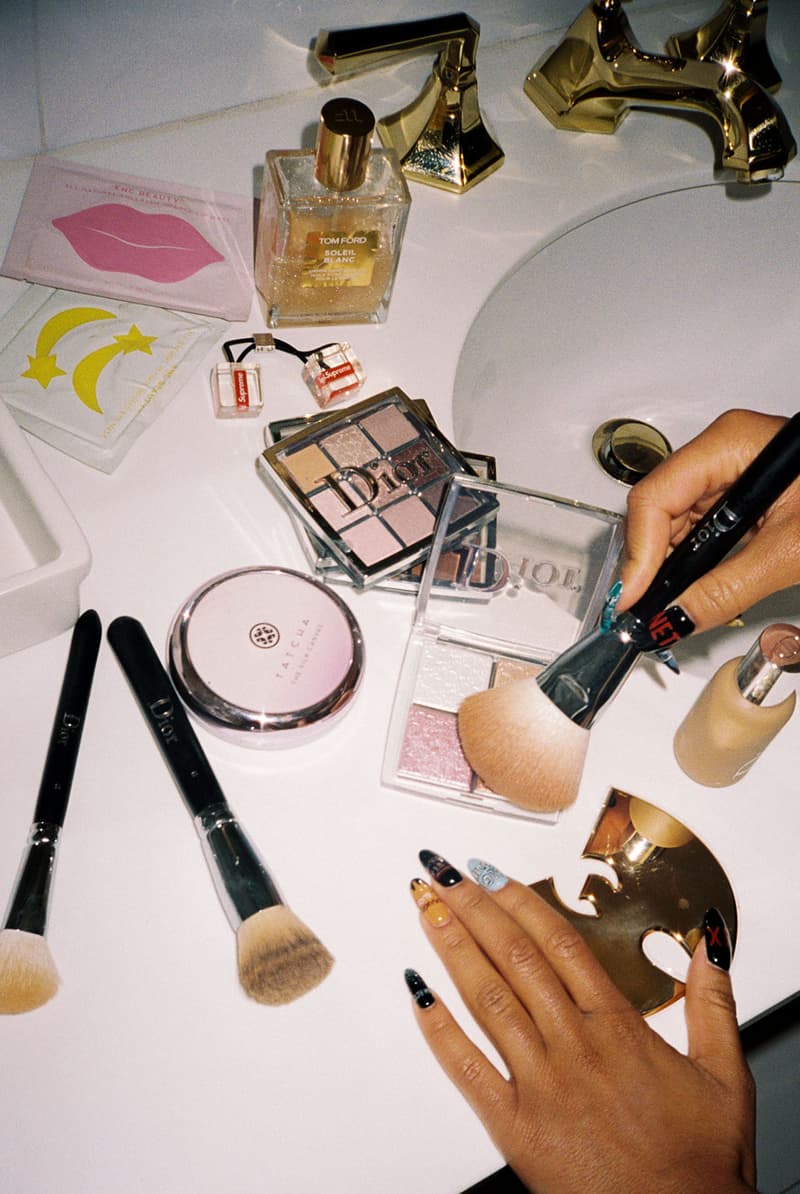 2 of 2
Beauty
DJ Kitty Cash on the 6 Beauty Habits That Keep Her Skin Glowing from the Inside Out
The globetrotter shares her best-kept skincare tips.
DJ Kitty Cash on the 6 Beauty Habits That Keep Her Skin Glowing from the Inside Out
The globetrotter shares her best-kept skincare tips.
Skincare is a balancing act that requires much attention and commitment, especially for those who travel a lot for work. As a globetrotting DJ, Kitty Cash can certainly relate to that. While she keeps her makeup routine fairly minimal, the Brooklyn native can talk about her go-to skincare products for hours. "I would say for skincare, I may be closer to high-maintenance, but makeup I am surely low-maintenance," the style chameleon admits.
Besides nourishing her skin externally with products she finds helpful, she also makes sure to take care of her mind with spa visits, and her body with regular juicing. Yes, it is a 360-degree skincare approach that ultimately makes you glow from the inside out.
Continue reading to see all of Kitty Cash's beauty essentials and tips.
Kitty Cash's Beauty Essentials
Fragrance
Tom Ford Soleil Blanc: I would say this is my signature scent. I try to have at least three bottles at a time so that I never run out. I remember when I first tried this, I was shocked because I usually like more masculine scents like an Oud Wood, but there is something about the softness that's refreshing to me. It is also extremely feminine and has a luxe and yummy smell that lingers when you leave the room.
Tom Ford Soleil Blanc Shimmering Body Oil: After being addicted to the perfume, I mean why not layer with some extra glow?
Skincare
Sunday Riley Martian Mattifying Melting Water-Gel Toner: After washing my face I love using this toner. It is actually one of my newer products but so far I do like the results. It has a lot of my favorite ingredients like bentonite clay (I also have pure bentonite clay that I use for masks sometimes), green tea and witch hazel extracts. My skin feels clean and cool after applying.
Mario Badescu Vitamin C Serum: I love this vitamin C serum. It helps with skin texture and feels very hydrating.
Dr. Barbara Sturm Glow Drops and MC1 "blood cream": I do not travel without my Glow Drops and custom cream. It is ultra-hydrating and the cream is a molecular cream infused with my blood that is just to die for. Beware, both items are very addictive.
KNC Beauty All Natural Collagen Infused Lip Mask: I really love this lip mask especially while traveling. Not only is the packaging adorable, it serves as a deep conditioner for your lips and as soon as you take it off you feel the difference.
Herbivore Botanicals Coco Rose Body Polish: I got gifted this product once at this event at The Wing in NYC. I really love using this body polish after a bath.
Haircare
Aveda Confixor Liquid Gel: After washing my hair, I usually use Carol's Daughter Black Vanilla conditioner and leave it in. After that I throw on this gel, let it air dry and go. I'm also a huge fan of OUAI and have really got into its Treatment Masque.
Gisou Honey Infused Hair Oil: My friend Fanny gave this to me. I would put a few drops in my hand and rub it in my hair. It smells so good and also does exactly what it's supposed to do.
Makeup
Tatcha Skin The Silk Canvas Primer: A makeup artist used this on me once and I bought it immediately after. I really love the buttery feeling of this primer on my skin.
NARS Radiant Creamy Concealer: My go-to concealer, in "Ginger." It's in almost every purse for just-in-case moments.
Glossier Boy Brow: I like to keep my eyebrows a little bushy but still somewhat tamed. Boy Brow is perfect because it pulls those loose hairs together and add hydration.
Dior Backstage Glow Face Palette: I love looking like I've just got back from holiday. This palette is perfect for that — all of the tones have an extra shimmer that adds that sun-kissed effect to my makeup look.
Dior Backstage Foundation: If you are into light/medium coverage, I would say this is for you. I use this from day to night and it lasts but doesn't get caked up.
Fenty Beauty Killawatt Freestyle Highlighter: If you have ever used this you know that "Trophy Wife" is the king of highlighters. All you need is a light tap with your brush and you are glowing all night long.
NARS Blush "Orgasm": My first blush and my main blush. Like the name states, it is orgasmic.
BECCA Ocean Jewels Eye Palette: I love using this for a little extra glow.
What are your secrets to achieving glowy skin? 
Commit to your skin: You have to be committed to your skin. No matter how tired and lazy I may feel, I try my best to make my skin a priority, and for me that means starting from the inside and keeping it clean.
Detox: I juice regularly at home and also drink apple cider vinegar daily with a bit of honey. Followed by a coconut oil cleanse, keeps it clean and hydrated.
Double-cleanse: I use Dickinson's witch hazel cleanse towelettes. It's an oldie but a goodie and helps to keep your pores small or non-existent.
The superfood: My vitamin C serum is a must. It helps to fight wrinkles and discoloration. Many WOC experience hyper pigmentation issues and this has helped me a lot. Also, vitamin C just helps give your skin that overall natural glow.
Let it go: I use peels to help exfoliate and help with the texture of my skin. Lately, I've been into Dr. Dennis Gross' Alpha Beta Universal Daily Peel. I love that the peel treatment has two steps — one that says "exfoliate and smooth" and two, "anti-aging neutralizer." I've noticed a huge difference and I love this brand.
The magic: A lot of laughs with my friends and being f*ckboy-free.
As someone who travels for work frequently, what are some things you like to do to combat distressed skin?
I would say the biggest key is hydration. I drink a lot of water! In terms of products, when I travel I usually travel with either my KNC Beauty under-eye masks or Peter Thomas Roth Cucumber De-Tox Hydra-Gel Eye Patches, Kiehl's avocado under eye cream, topped off with my Caudalie Beauty Exlir or Mario Badescu Aloe, Herbs and Rosewater spray.
Are there any beauty parlors or facialists that you keep going back to?
In LA, I frequent Skin Worship. In New York, I go to Soma Spa and always ask for Nessa. And when I am bouncing around I hope to catch a Dr. Barbara Sturm pop-up.
It seems as if you could pull off literally any hairstyle. What was your favorite hairdo in recent memory?
I have tried almost every hairstyle — well, at least it feels like it. I would say my favorite hairstyle was definitely my super low cut. When I first did the "big chop" it wasn't really intentional. I initially went for a bob (classic). I went from a magenta color to blonde, and to dark brown.
For any woman who has cut her tresses, it can feel like one of the scariest moments in your life. We are conditioned to feel like long hair, full hair and even certain hair textures symbolize beauty or define your beauty. When I looked in the mirror after that cut, I felt like I saw my face for the first time. I had a new found confidence and felt like I didn't need to hide behind anything.
Would you describe manicures as a part of your beauty routine that you cannot do without?
This is a must-have part of my beauty routine. I think it adds that extra touch of fun to everything!
How has the meaning of beauty changed for you from when you're younger to now being an adult?
As an adult I know the importance of both internal and external beauty. When I was younger, my mother would always tell me to get a skincare routine because as you get older and depending on you career you do have to work at maintaining the health of you skin. In terms of internal beauty, it is the most important part of healthy and beautiful skin. As an adult, self-care is very important and [it can] range from spa days to mediation.
Photographer

Sophia Li/@sophialmy
Location

The Line La