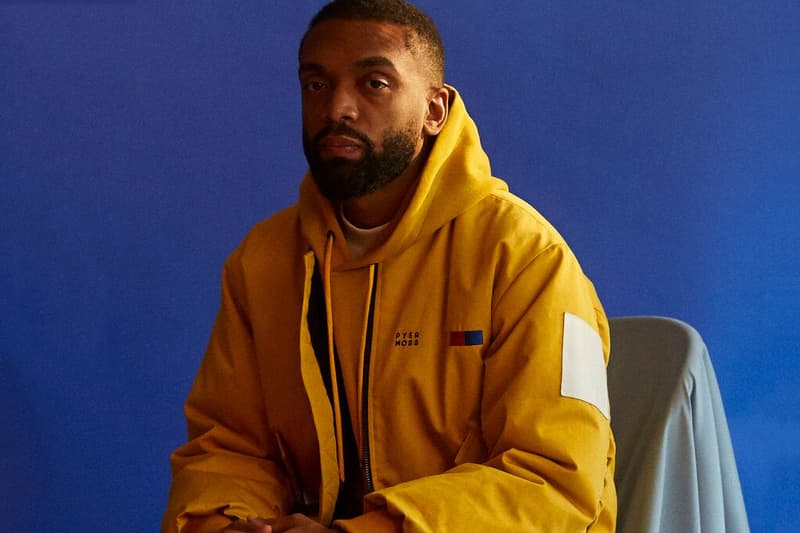 Fashion
Kerby Jean-Raymond Calls out 'BoF' 500 Gala: "Homage Without Empathy and Representation Is Appropriation"
In an open letter, 'BoF' founder Imran Amed apologizes to the Pyer Moss designer.
Kerby Jean-Raymond Calls out 'BoF' 500 Gala: "Homage Without Empathy and Representation Is Appropriation"
In an open letter, 'BoF' founder Imran Amed apologizes to the Pyer Moss designer.
UPDATE (October 2, 2019): In response to Kerby Jean-Raymond's statement regarding the BoF 500 Gala, Business of Fashion founder and editor-in-chief Imran Amed has issued an apology to the Pyer Moss designer.
In an open letter titled "Why I'm Listening to Kerby Jean-Raymond," Amed writes that while BoF respects Jean-Raymond's perspective, the publication isn't treating inclusivity as a mere trend:
"When we decided to focus our latest print issue and accompanying BoF 500 gala on inclusivity, we did so precisely because a superficial approach to inclusivity is indeed insulting — and wholly insufficient. The industry needs to go further and invest in the difficult work of genuine cultural change, and our issue is focused on going into this topic in-depth, from a variety of vantage points addressing the topics of race, ability and LGBTQIA+."
Amed goes on to share his personal experience of growing up as a minority in Canada. "This is one of the reasons why I set out to build an inclusive culture at BoF, where our 110 employees come from almost 30 different countries and many different races, genders, socio-economic backgrounds and sexual orientations," he writes.
The editor concludes his letter with an apology for making the designer "feel disrespected," asking for a chance to speak with him about ways the publication could improve in the future:
"I am deeply sorry that I upset Kerby and have made him feel disrespected. While we may disagree in our opinions on the gala and the details of our exchanges over the past year, Kerby has my complete respect and I would appreciate the opportunity to sit down with him and learn more about his concerns and how we at BoF can do better, especially as we try to address important topics like inclusivity. While we will not shy away from addressing challenging topics, I am committed to making this a listening and learning opportunity for myself and BoF.

Ultimately, I believe that what both Kerby and BoF are aiming to achieve is to bring people together — not sow greater division — and I hope that we can be allies in the pursuit of this goal."
You can read Amed's letter here.
---
Kerby Jean-Raymond, creative director of fashion label Pyer Moss, has penned a note condemning Business of Fashion and its editor-in-chief Imran Amed for their disingenuous take on diversity and inclusion.
"Business Of Fashion 500 is now 499," writes the designer in an essay, declining the honor of being named in the publication's annual list of leaders and talent shaping the global fashion industry.
While inclusivity was the theme of the publication's Paris soirée on Monday night, Jean-Raymond and his friends, including Brother Vellies designer Aurora James, were confused when they saw a black gospel choir-like ensemble greeting guests at the steps:
"I came in around 10pm and Aurora's face is like "did you see" and I hadn't "seen" anything because I was an hour late. But as we're talking, like literally on cue, here they come again, a black choir."
James, too, shared her disapproval on Instagram Stories:
"Not everyone gets to have a black gospel choir. I'm so confused. Aren't we supposed to be celebrating diversity? And inclusion? Not appropriation? We are at a fashion awards show. Fashion exploits more women of color than any other industry. Why is there a black gospel choir?"
In his statement, Jean-Raymond also notes how Amed failed to recognize him and his peers at the party when giving a special shoutout to people that inspired BoF's diversity-focused new issue.
"I was like 60% 'had it' with this whole sh*t at that point then Imran gets on the mic and says something along the lines of 'I want to just shout out a few people who inspired us to focus our issue on Diversity and inclusion' and calls out the wildest names, maybe 20 names, including Olivier Rousteing and Pierpaolo Piccioli as leaders in 'Diversity and Inclusion.' I was excluded."
Jean-Raymond explains in his own words that this wasn't the first time he's had an unpleasant experience with BoF, citing examples of being "gaslighted," "excluded" and "insulted" by the publication over the past year. While the designer was initially invited to speak on a solo stage at BoF Voices last year and to appear on one of the three BoF 500 magazine covers, he was informed "at the very very last minute" that he would be be participating in a group panel where he was "lumped in" with other black designers instead, and the cover never came into fruition.
During the many exchanges they had about the originally proposed cover, however, Jean-Raymond recalls Amed "picking his brain" for names to be included in this year's BoF 500. He also spoke openly to the editor about projects he was working on, including his Artistic Director role at Reebok, which had yet to be announced at the time. "After our last meeting, he looked satisfied with the information he'd received and I left feeling chill but weird."
Jean-Raymond speaks out against the "exploitative" behaviour:
"Homage without empathy and representation is appropriation. Instead, explore your own culture, religion and origins. By replicating ours and excluding us — you prove to us that you see us as a trend. Like, we gonna die black, are you?

Was the intent all along to milk people like me for insight into our community, repackage it and resell it back to larger corporations with no intent of making real change? Was the choir the change?

I'm offended that you gaslighted me, used us, then monetized it and then excluded us in the most disrespectful way to patronize companies that need "racist offsets." And I'm offended that you all made those beautiful black and brown people feel really terrible to the point where some of my friends said "this is helpless", "this shit will never change" and others left in tears. I was fine until they weren't fine. So I hit 100%.

I'm all for people trying — even when it's not perfect. I appreciate the brands that are starting committees, reaching out into ignored communities, diversifying their influencer base and doing their best to be inclusive in their hiring processes. I don't believe in 'canceling' people in general because it's like putting a band-aid on a shotgun wound. I also tend to believe most people are good. I also know we need allies. Resourced allies.

But I'm not with the explicit exploitation of our plight, culture and struggles for the benefit of your bottom line."
Jean-Raymond first launched Pyer Moss in 2013. Within two years into his label's inception, the Haitian-American designer has already become an influential force on the New York Fashion Week calendar. By 2018, he was awarded with the top prize at the 15th CFDA/Vogue Fashion Fund.
Some may recall his label's Spring/Summer 2016 runway show, where the presentation opened with a documentary that highlights the black community and police brutality. In the seasons following the thought-provoking show, the Pyer Moss designer has continued to weave activism into his collections. Staged in Flatbush, Brooklyn, Jean-Raymond's Spring/Summer 2020 show was an ode to black femininity, with the collection titled "Sister" honoring Rosetta Tharpe, the queer black woman who invented rock 'n' roll.
Share this article