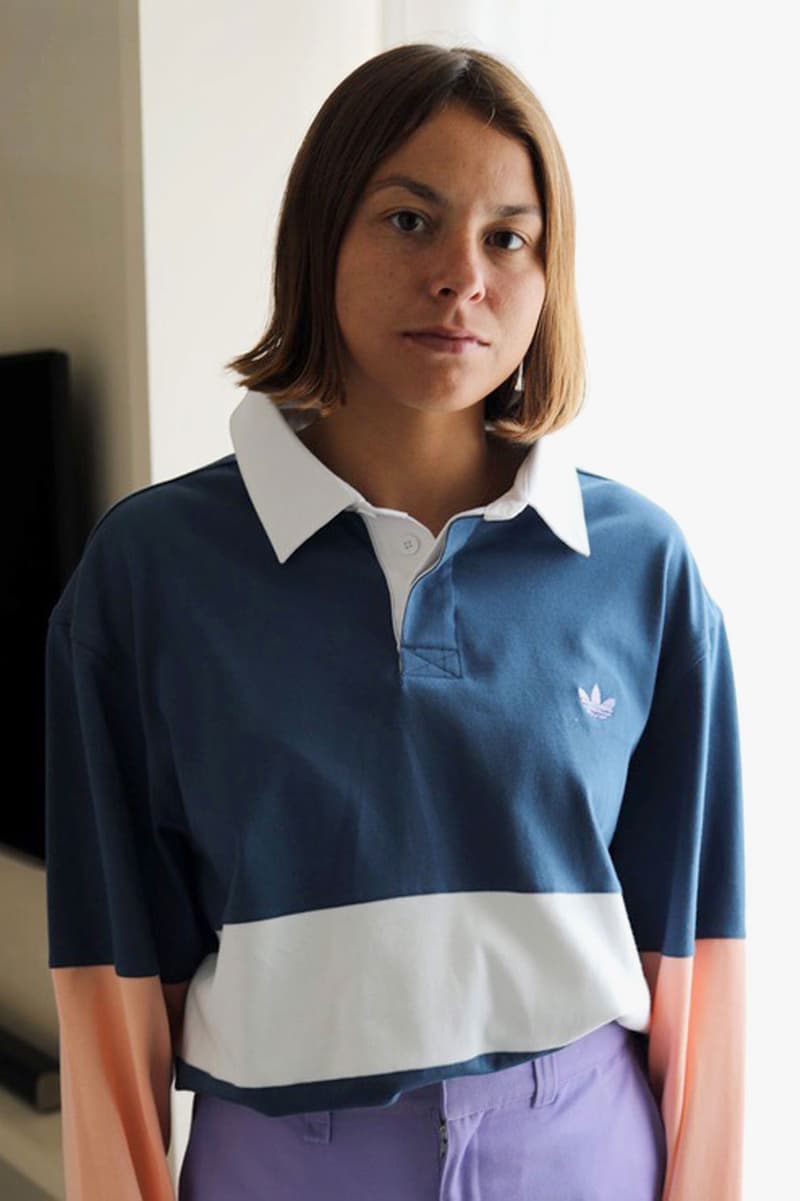 Nora Vasconcellos on Her adidas Collection & Inspiring the Next Generation of Female Skaters
adidas Skateboarding's first female pro rider gives us an exclusive look at her pastel-toned pieces.
Fashion
Nora Vasconcellos on Her adidas Collection & Inspiring the Next Generation of Female Skaters
adidas Skateboarding's first female pro rider gives us an exclusive look at her pastel-toned pieces.
Nora Vasconcellos is known for many things: her intricate original artwork, her endearingly dorky personality and of course, being adidas' skateboarding's first professional female rider. After signing her pro contract with the global sports brand, Nora unveiled a self-titled short documentary film directed by Giovanni Reda, which offered a more intimate look into this inspiring skater's personal life and career so far.
Continuing to break down barriers in the heavily male-skewed sport, the skater followed up with not one but two signature shoes: the lilac Matchcourt RX and later, a stunning Sabalo Slip-On in "Clear Orange." Not quite content with just sneakers however, Nora set her sights on designing a full apparel collection with adidas, inspired by her love for archival pieces. The unisex lineup includes versatile purple pants, oversized, striped rugby shirts a yellow zip-up fleece and a pair of 3MC sneakers, the pastel-toned colorways of which make her look like a self-described "Easter Bunny."
We caught up with Nora in London to find out more about growing up as a female skater in Pembroke, MA, her hopes for the next generation of skaters and the concept behind her collaborative collection with adidas.
Read on for more and in related news, why not revisit the book shining a spotlight on the UK's female skate scene?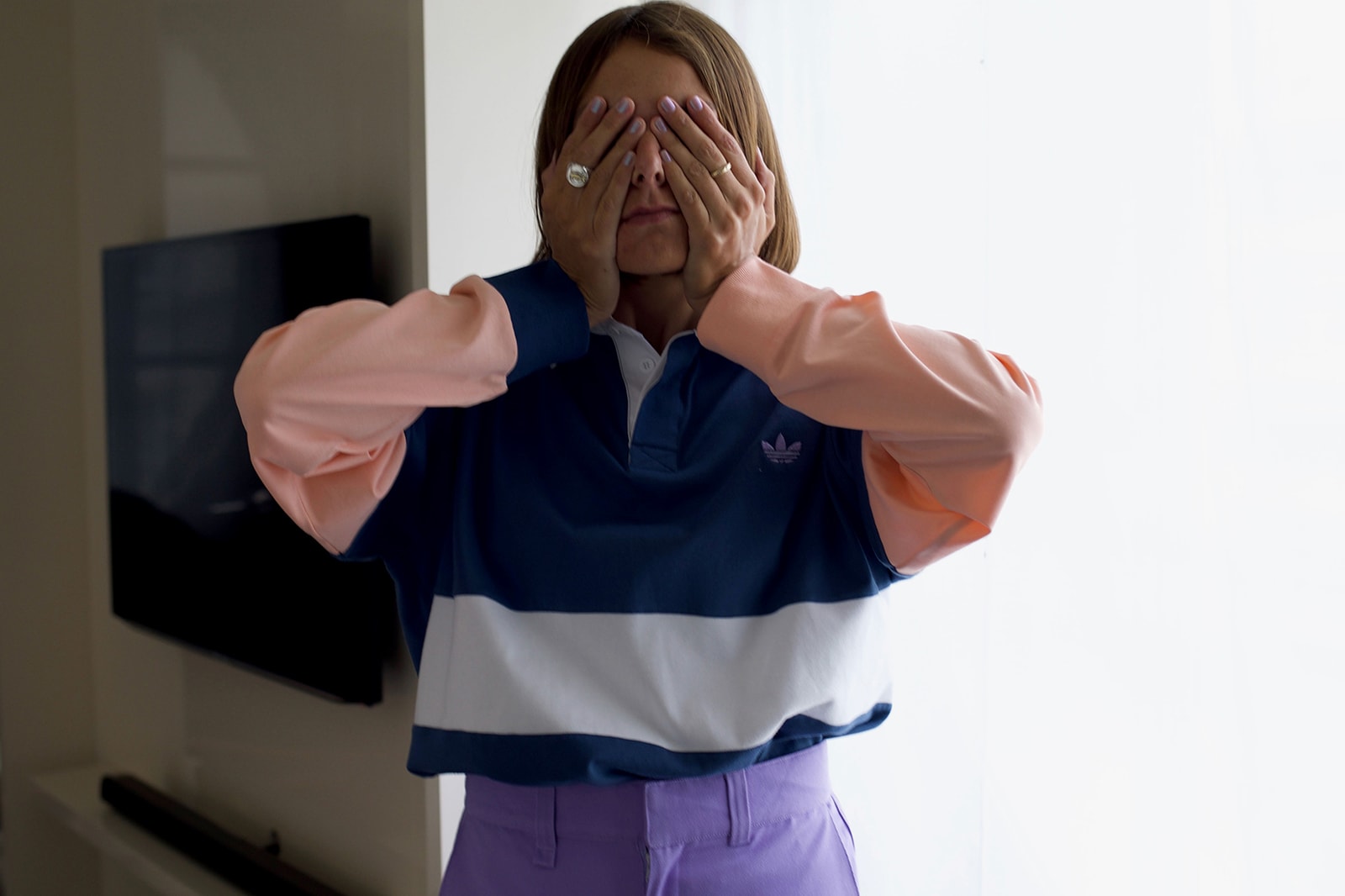 I know you've spoken about how solitary being a women in skateboarding can be – how was it for you when you first started out skating?
It's such an interesting thing, I think especially when you're at that young age where you're like, 11, 12, 13 – you're very vulnerable, you kind of start to be really self-aware. And that's when I started skateboarding, but I was just like, weird. I didn't really care what other people thought, but I do now. And you know, I did then to an extent, but it's a very interesting environment, because I think everybody feels the exact same in that environment.
Even though you might not think when you go in there, skate parks are so funny. I find that the people who are the most overly confident at skate parks are usually the worst skateboarders, so I've always used that as a perspective. I think it's hard to go into a place that's typically male-dominated and try to figure somebody out for the first time. It's also a very vulnerable thing: every time I go skateboarding, I fall. It doesn't matter how good you are, you're going to fall on your ass at some point.
So for you, part of dealing with any intimidation was just that you were really interested in skateboarding and wanted to do it?
Yeah, and I think that a lot of people just aren't patient enough with themselves. If you gave yourself a couple days skating around people, it's pretty amazing. What you'll find is scary and you're embarrassed about, three days later is like something you can laugh about – especially if you're with your friends. That's what I think is so cool about this day and age, especially with social media. A a lot of young people, especially young girls, have created their own little groups, and they go out and are just normal kids at the park.
"It doesn't matter how good you are, you're going to fall on your ass at some point."
I guess this current experience is very different to what it was like when you were growing up staying in Massachusetts?
It's completely the opposite. Growing up in Massachusetts, I would go to the skate park and it was usually very solitary. But I haven't really had that many negative experiences either. I remember being in high school and our neighbours had a paved driveway we'd skate on and being like, "Oh, I don't want to skate because like somebody might from that school might drive by and see." It feels really exposed, because I had done it so much just alone. It's just such a funny thing, because you're not even aware that you're thinking like that until you look back and you're like "What was I scared of?"
There probably weren't that many girls in your area when you were growing up skateboarding. How did you find people pre-social media? Were there other female skating communities that you could link up with?
A little bit. Then it was really through like YouTube, because this was right before Instagram took off. A friend of mine, Lisa Whitaker, has a blog that she kind of started and she would make these little videos of all the pros and the girls in California and all the people she was tight with skating. At first it was called The Side Project and then it turned into the Girls Skate Network, and that's exactly what it was for. It was so cool, because basically, she's been skateboarding forever, she's worked in the industry. Now she has her own company, Meow Skateboards and she just was always the person linking everybody together.
I grew up like watching those videos and then all of a sudden, I moved to California, and I was in those videos. It's like full circle: I'm doing what the girls before me did for me when I was a kid. It's such a unique community of people and everybody's backgrounds are so different and we're all  bonding together over this [skateboarding]. We're all just dork skaters.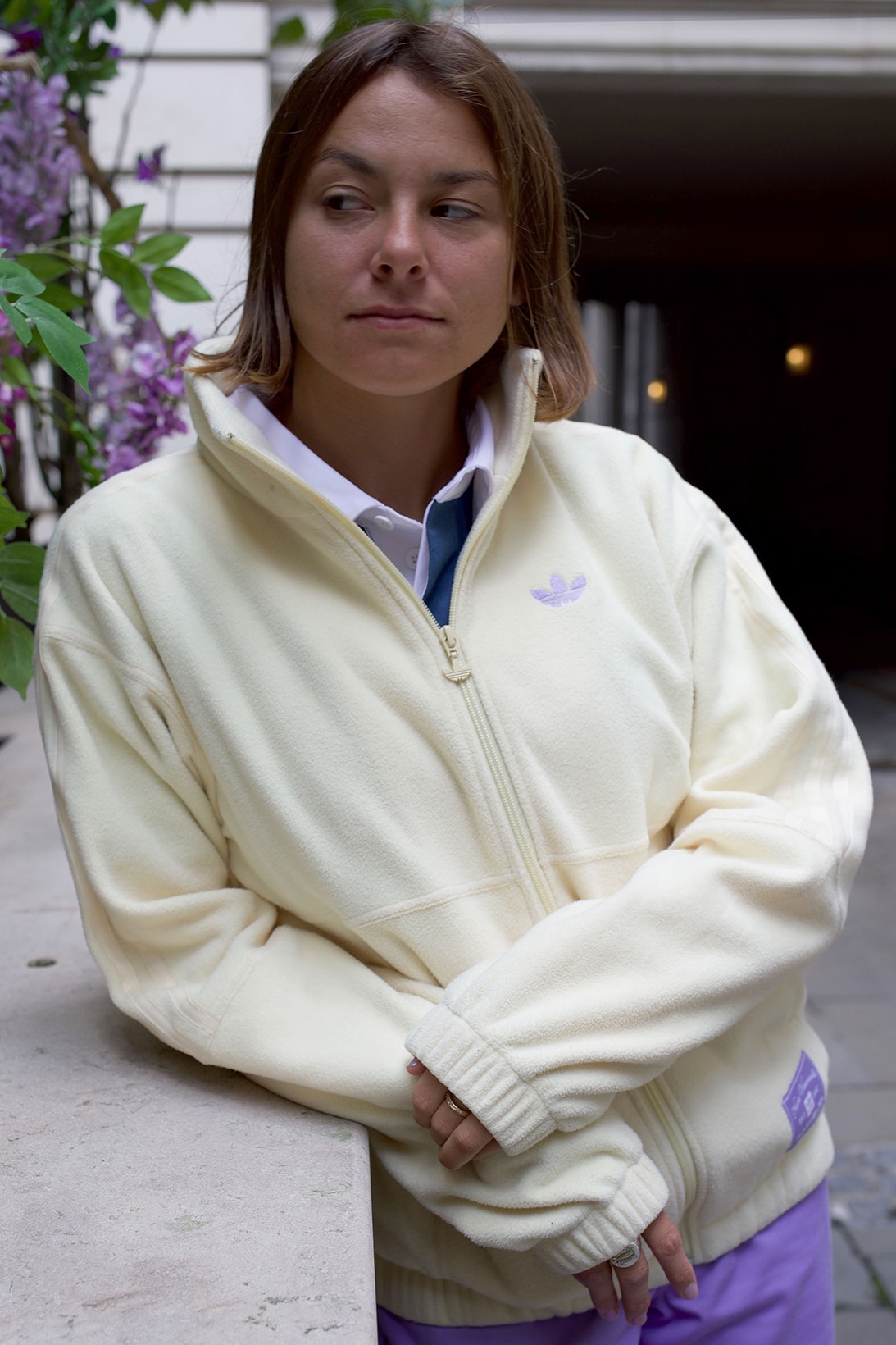 In the past few years, especially in cities like London, the women's skateboarding scene has grown massively. What do you think are some of the positive elements of the increased interest in female skaters and the opportunities available to them now?
Oh, it's huge. I think especially, the biggest thing has been the variety and the amount of girls who are now paid professionals – you don't have to fit a mould. I think for a long time, there was this mould that you had to fit and now you can be androgynous, you can dress a certain way you can really identify as yourself. You don't have to put on some face to be a sponsored skateboarder.
You've travelled a lot – are there any places where the women's skateboarding scene has surprised you?
South Korea was pretty massive. We had a proper skate demo there that adidas did, and we don't have demos as much anymore. It was so cool – we showed up and there was already a crowd around this park they had built. And there's all these girls, one had drawn me on her iPad. She had sent me her art through Instagram before, so it was cool to put a face to a name. There was like six of them [girls], and it was just one of the last places I imagined seeing that kind of crew. In Japan, there's a lot of girl skaters, they have a really deep crew. It's just the the coolest thing, for some dumb girl from America to go and experience the world.
"It's like full circle: I'm doing what the girls before me did for me when I was a kid."
Yeah, I guess let's talk about the collection – could you tell us a bit about the concept and where your inspiration came from for these pieces?
It really started with creating a unisex form-fitting pant that was something that everybody could wear. I have a lot of girlfriends who are tall and like curvy and can't find good pants to skate in. It was just kind of a lot of trial and error and I kind of narrowed it down over time. When adidas approached me about doing this, I was like "Yes, we're going to make them [the pants] purple." That's where it started, I was like "Let's get a pant. We can make it in a huge line sizes, we can make it like super durable, but also like fashionable: something you can take out on a date and also go and skate in."
Everything else kind of fell into place just after we squared away the purple pants. Now, a banana yellow fleece – we're just going to really mix it up. It's just super pastel, bright. I wanted there to be something that everybody could get with. If you hated everything about the collection, you might like the rugby shirt. It was super fun to have full creative control.
It's fun, too, because I'm so comfortable wearing bold colours and pastels and I think a lot of people aren't – especially some of the guys I know. It'll be fun to see people embrace it in their own way.
1 of 2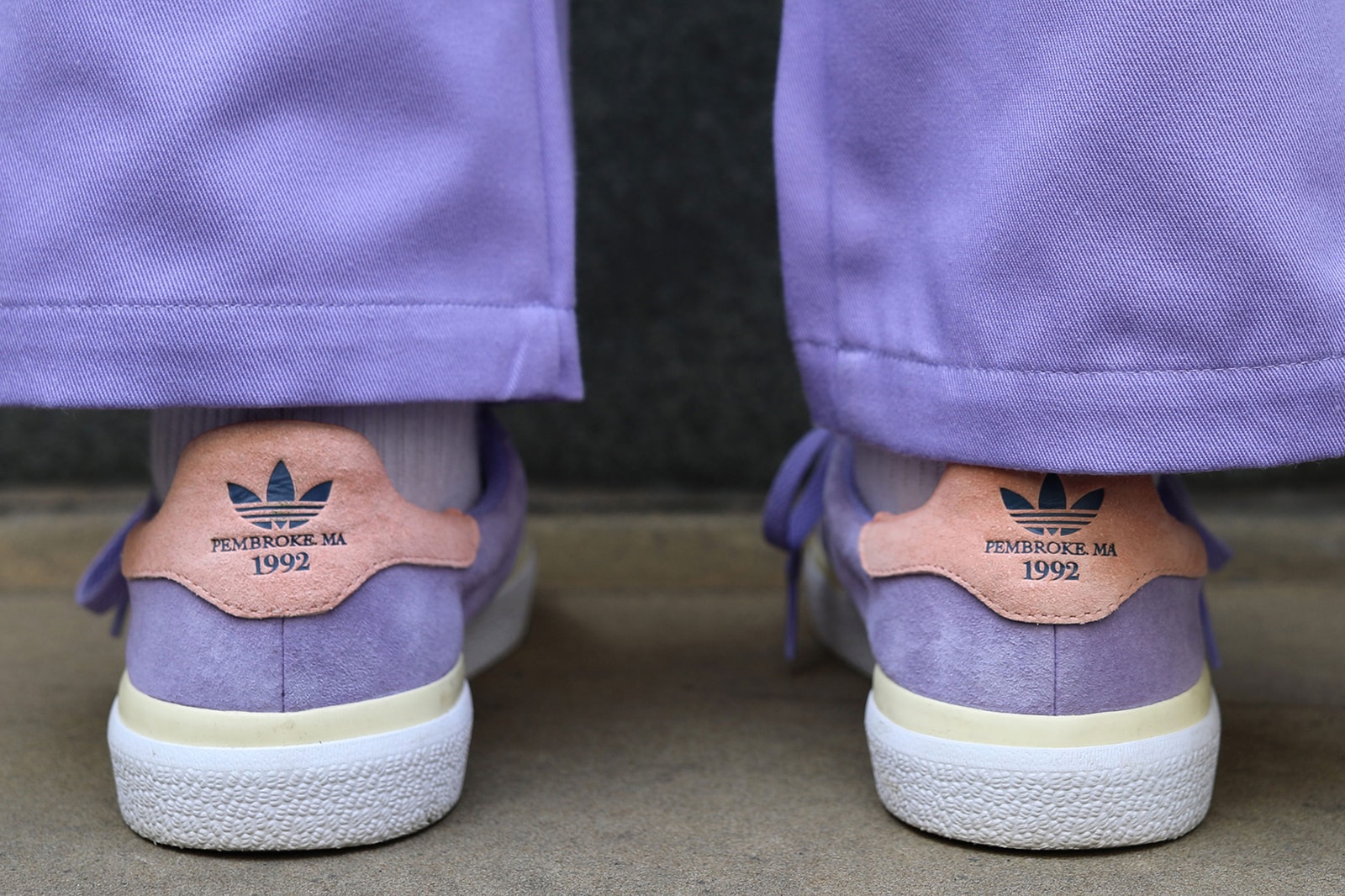 2 of 2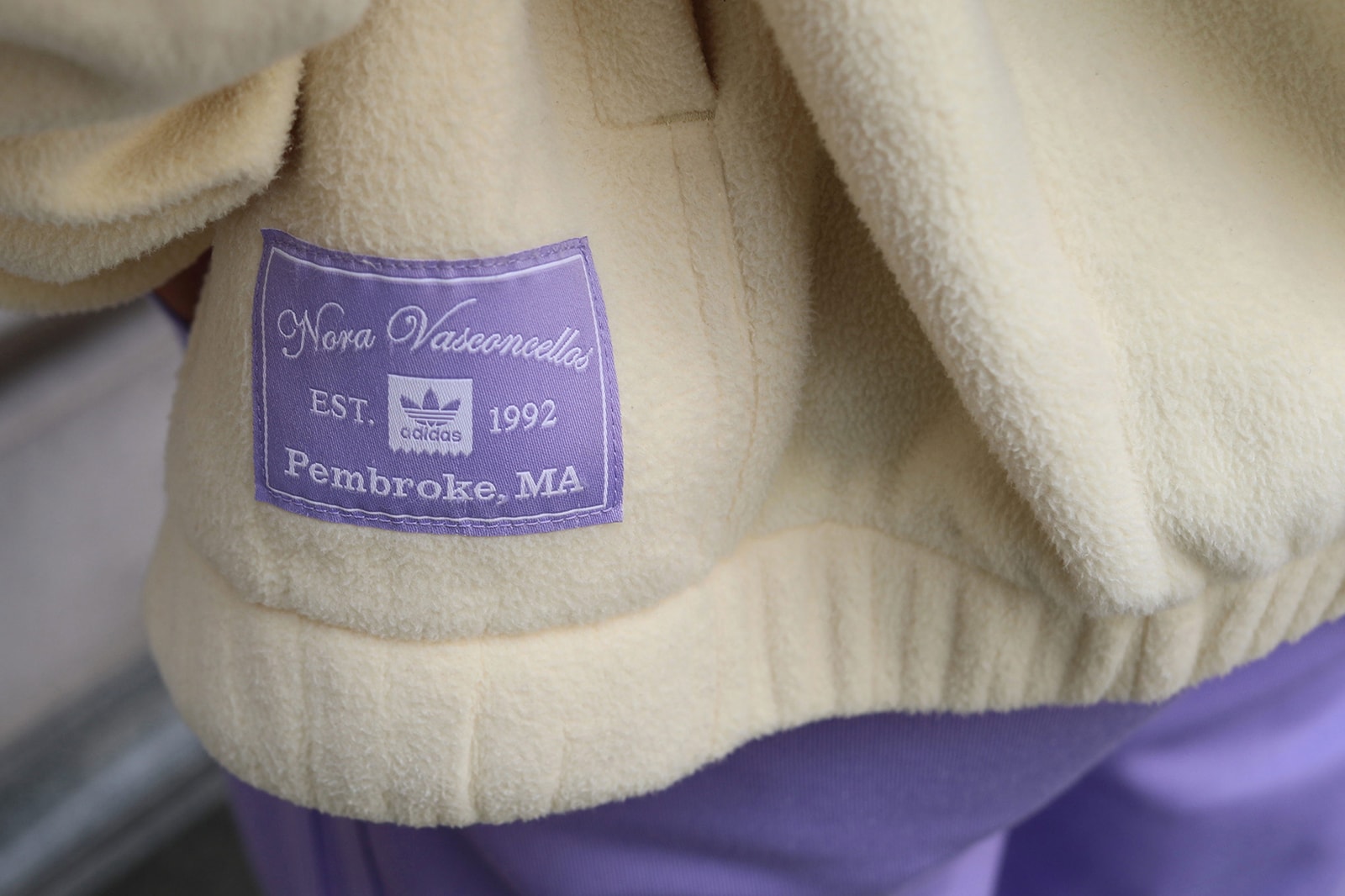 It's nice that you have your own personal spin on the 3MC sneakers – they have illustrations on the inside and the Pembroke tabs. Why was it important for you to incorporate elements of your life and personality on them?
I think my favourite part is definitely the little art on the inside. But on the back tab you have adidas Trefoil and it says "Pembroke, Massachusetts" and "1992." We're all from small towns at the end of the day and it's just my own little pin on the map: it's just fun. The joke growing up was, we grew up in a beautiful little town on the south shore of Massachusetts, and we're not touching the ocean. Then there were towns next to us, there's one town called Duxbury, and it was called "Deluxebury," and then Pembroke was called "The Broke." The joke was that we were the shitty town so I was like "Okay, how shitty are we now? We're on a god damn adidas shoe!" It's just funny. I think life is super funny.
How do you hope that you being in this position as a pro rider is going to inspire like the next generation? 
I hope, it'll be kind of like, "Do what you love to do." Also, I think, you can go outside the box, you don't have to follow the next person. I think it should be about creating your own kind of path and identity and just embracing all the cool little things. Life is like a box of chocolates, you never know what you're going to get.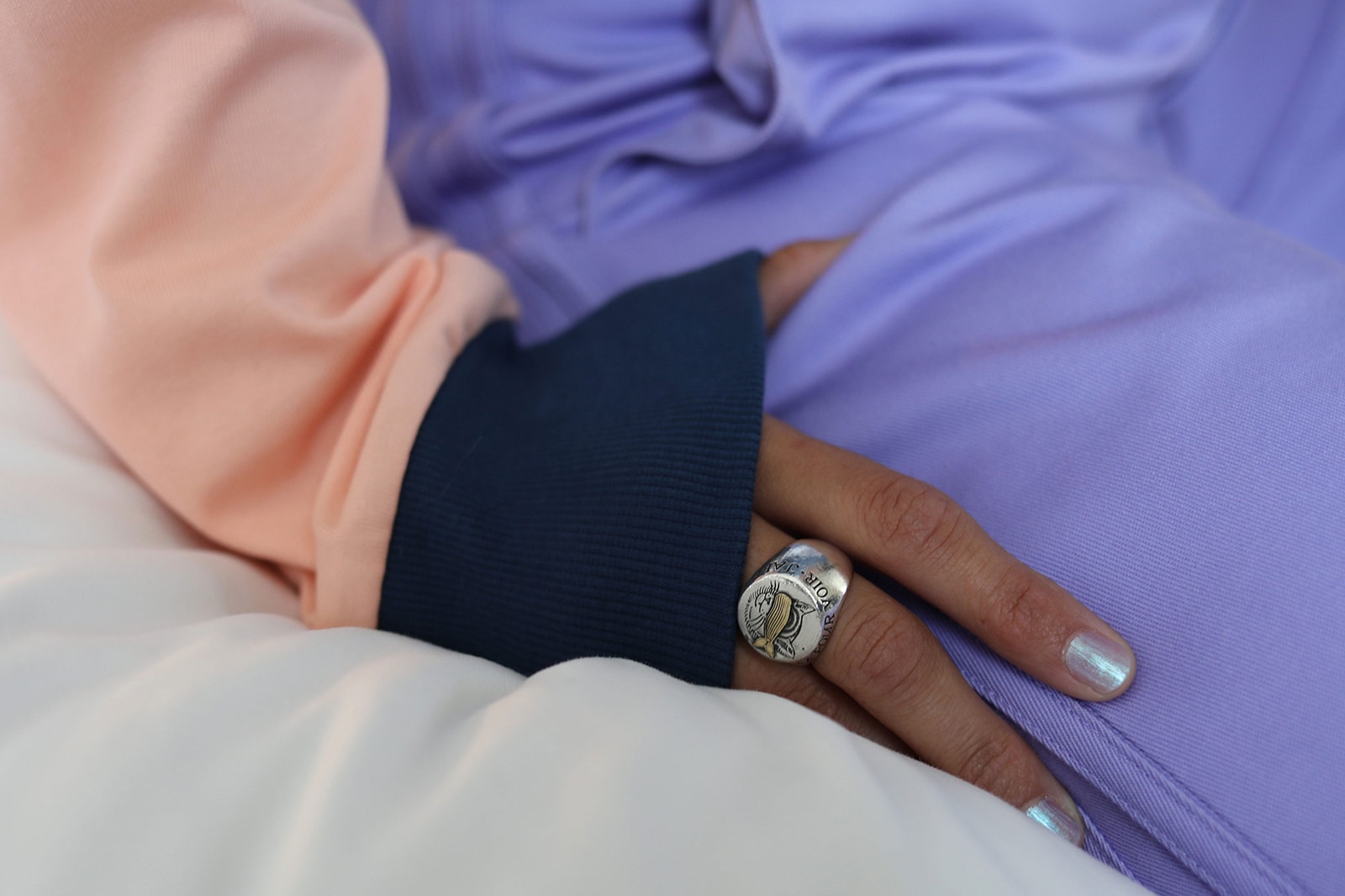 Is there anything in particular that's really exciting you about skateboarding right now?
I just think the accessibility of it and how there's kind of somebody for everybody to look up to right now. I think it's so varied and I love all of the good that's kind of happening. There's a lot of great organizations within skateboarding and I also think skateboarders are coming together and being more vocal about all different types of things in our political climate. Especially in America right now, it's so tense.
I have a friend who lives in Phoenix, and obviously the Southwestern states have a lot of people who have immigrated from Mexico. For instance, my friend Ryan Lay does this whole thing and he sells products that say "Abolish ICE" and it has a skateboard [graphic] going through it. It's just cool how somebody like that, whose a pro skater and is very involved in his community can educate other people who are just kids. Cheers to all the cool people and skating!
---
Share this article