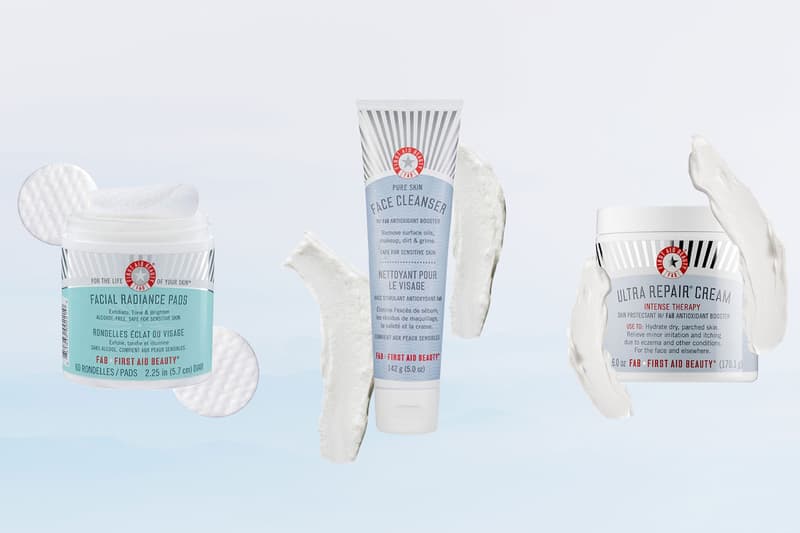 Beauty
First Aid Beauty's Cruelty-Free Products Are the Secret to Great Skin
Founder & CEO Lilli Gordon shares the company's philosophy and skincare tips with us.
First Aid Beauty's Cruelty-Free Products Are the Secret to Great Skin
Founder & CEO Lilli Gordon shares the company's philosophy and skincare tips with us.
With a rescue mission to help your skin look and feel its absolute best, First Aid Beauty has been providing the best cruelty-free skincare products since launching in 2009. Founder and CEO Lilli Gordon started out in the finance industry and decided to change her career path by tapping into the beauty industry, setting out to help those who suffer from dry skin and offer real solutions.
Gordon's brand provides everyday essentials that deliver immediate relief, lasting results and feel-good textures. First Aid Beauty offers a selection of products that have been formulated with clean, nurturing ingredients that have all been safety-in-use tested.
To learn more about First Aid Beauty's skincare philosophy, we got the chance to sit down with the founder herself who talks about how she first started out in the business, as well as a few tips for those who are new to the brand, which you can read below.
While you're here, don't forget to read our latest interview with the founder of The Ordinary.
Can you tell us a little bit about your background? How did you get started in the beauty industry?
So I actually have a weird background. I spent about half of my professional career in finance – not typical for the founder of a beauty company. During a lull, the founders of a skincare company called Fresh approached me and asked me to help them with the brand. I fell in love with the industry and I got involved. I became a shareholder and was part of the board of directors. I partnered with the founders and just fell in love with the skincare industry.
How would you describe the skincare philosophy behind First Aid Beauty?
We're all about beautiful skin. We want you to feel comfortable and we want you to have healthy skin. It's very unique to our brand in the sense that when I first created First Aid Beauty, the focus was really on anti-aging. I have a very particular philosophy because I've seen a lot of older women, in Beverly Hills for example, where you think you're looking at a 15-year-old from the back and from the front they're perfect, but their face has no character.
So the philosophy of First Aid Beauty is really to get the best complexion you could possibly have. If people are able to eat well, exercise and feel better about it, I think that people should give the same kind of care to their complexion. The real inspiration for my company came when I was a little girl and lived with my grandmother. She was one of five sisters and they referred to them as the "Demksy sisters." They were known for their great legs and great skin. These were also older and more mature women, but their complexion just had such a gorgeous, translucent, glowing, natural quality. They didn't use botox because there weren't any anti-aging products back then.
My own personal story which ultimately led to creating this brand was when I was a teenager. My face was miserable. I had acne and eczema, and I found that I couldn't go to a department store and find a beauty product to treat my condition. So with that, I was really able to create the brand I wanted to create for decades with products that treated common challenges and really gave you the tools in the form of skincare.
First Aid Beauty provides everyday essentials and targeted skincare solutions. What has the process been like in terms of finding the right formula for different skin types?
When I first started First Aid Beauty, I worked closely with a board-certified dermatologist for a number of years. We really worked together on creating products that were clean and didn't have any ingredients that would harm you or be toxic to your body. We included ingredients that were hard-working and safe for sensitive complexions. As we grew, we were able to tackle more challenges which was how I built the brand. I started with a strong focus on sensitive skin which is a thread that goes through all of our products. We first dealt with dry and itchy skin, then moved on to dull, then oily and combination.
Could you share with us your top three skincare tips?
Great skin starts with a great cleanser. Some protection is huge so SPF is your best friend. Like everything in life, it's about moderation and being patient.
For those who are starting out with the concept of clean beauty, what are some key ingredients to look out for when it comes to purchasing new skincare products?
I think people should look out for sulfates, phthalates, artificial fragrances, parabens, petrolatum and basically anything that will clog your pores. Those are some of the artificial colorants. Anything that smells really good probably could irritate your skin.
With winter approaching, can you give us a simple skincare routine for those who suffer from dry skin and help reduce the effect?
I love our face cleanser. Some people really want that tight feeling but that's just really stripping your skin off its natural oils. And when you do that, you're encouraging more oil production. You want to balance a cleanser that has the same pH levels as your face.
Daily exfoliation in a gentle way is critical because that's just going to help with the texture and the removal of the flakes which allow the natural glow to come through your skin. In the winter, you have to double down on moisturizing, so I love to use our hydrating serum under our ultra repair cream.
What are the top five products you would recommend to someone who is new to First Aid Beauty?
I would definitely recommend our universal products which are the facial cleanser, facial radiance pads and ultra repair cream intense hydration. I love our ginger and turmeric vitamin C jelly mask because I think everybody can benefit from a brightening mask, and our ultra repair instant oatmeal mask which helps soothe and hydrate the skin.
Share this article