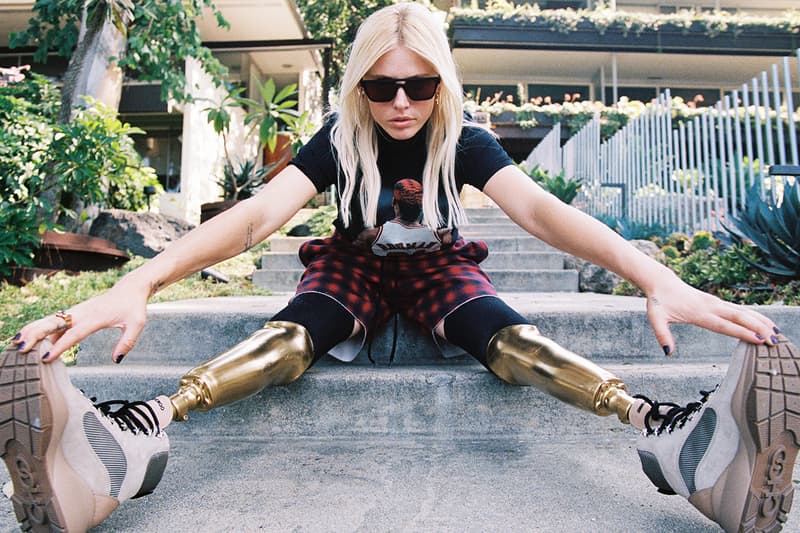 Health
Model Lauren Wasser on Surviving Toxic Shock Syndrome and Creating Her Own Lane in Fashion
How she has turned her personal tragedy into advocacy.
Model Lauren Wasser on Surviving Toxic Shock Syndrome and Creating Her Own Lane in Fashion
How she has turned her personal tragedy into advocacy.
Lauren Wasser was 24 years old when she was diagnosed with Toxic Shock Syndrome (TSS). The rare yet potentially fatal condition, which you may have read about from warnings on tampon boxes, mostly affects menstruating women who use the super-absorbent female hygiene product. According to the National Organization for Rare Disorders, TSS may currently occur in about three in 100,000 menstruating women, with young women between the age of 15 to 25 being the most susceptible to the disease.
In her fight against TSS, Wasser underwent two amputation surgeries and lost both her legs. Since recovering from the near-death experience, the model has been actively raising awareness about the condition and advocating for transparency in the feminine care industry.
"It's so important to keep people aware of the dangers that still exist in tampons," Wasser told HYPEBAE. "Women and little girls are still dying and/or getting injured. We have some tampon and period-proof underwear brands that are addressing the issues associated with TSS, but what about those everyday feminine hygiene products that are on our shelves? The commercials that are advertised still have no warning that the product can kill or injure you."
"It's absurd that these brands are still producing products that contain harmful toxic chemicals such as rayon, bleach and dioxin that we are putting into our bodies at the most vulnerable time of the month. All these synthetic fibers are harmful to us and shouldn't be in there, period. Pun not intended."
As a survivor of the life-threatening disease, Wasser is determined to break the stigma around TSS and to use her voice to call for change. "All I'm saying is that these companies can make safer products, but it is a very money-driven industry. I hope in my lifetime I'm able to make changes and save some lives because of my experience with TSS."
"We need these companies to make safer products. I didn't need to almost lose my life and have my legs taken from me."
To prevent other people from suffering from the condition, Wasser believes it is important for feminine hygiene companies to ensure that their products are safe for consumers.
"We need these companies to make safer products. I didn't need to almost lose my life and have my legs taken from me. We have the technology to make feminine hygiene products safer and without all the harmful toxins. Big companies need to be held accountable and the FDA should make it mandatory that things change. I'm currently advocating for a bill to be passed by Congress, which would be huge. It's a simple ask for us as women to be made aware and informed of what exactly is going inside of us."
"I need women and men to be mad about this issue because it can easily affect people closest to them. It can happen to anyone, at any time."
On her journey to recovery, Wasser said candidly that "it's been one hell of a ride." The traumatic experience of the disease had even taken a toll on her mental health. "I honestly can't believe I'm alive, let alone thriving in life. I went from almost dying to contemplating suicide, and thinking I would never be loved. My whole identity was stripped from me and I had to reinvent myself. I never would have imagined that I would be in this position but I'm so grateful to have this platform to do good and inspire others."
It's the support system around her that has helped her carry on. "I couldn't have made it without my amazing support team day in and day out. My friends and family never left my side, during a time of healing and recovery when love and support is so crucial. I also didn't give up because I realized I am just the messenger and God gave me a purpose — I have a job to do."
"When I was trying to salvage my left foot for so long living with such excruciating pain, it was impossible to live the life I led before and so badly wanted again. Making the choice to amputate my left leg for a better life was the best thing I could have done for myself. Since amputating in January of 2018, I have had my life back."
A basketball lover who always dreamt of playing for the WNBA, Wasser is gradually able to lead an active lifestyle again. In fact, she's even training for the New York City Marathon.
"I'm pain free while playing basketball, running, doing Pilates and training for the 2020 NYC Marathon. I feel like that 24-year-old girl before TSS. I'm back!"
Getting back into modeling has also played a huge part in Wasser's recovery. "It's been heaven sent. I never would have thought this industry would be so supportive and accept me with open arms," she said. "If this [TSS] happened to me 10 years ago, I don't think I would be where I am. It shows that this industry is changing and expanding its idea of beauty to include all shapes, sizes, abilities and colors. We still have a lot of work ahead but progress is progress and I've created my own lane. I'm not going to be molded by anything other than what I want to create for myself. I'm grateful for the brands that have believed in me, my message and everything I stand for."
Between scoring campaigns for brands like adidas and landing pages in glossies including Carine Roitfeld's CR Fashion Book and Paper magazine, Wasser has also walked down the runway for Chromat. Most recently, her golden legs even graced the stage of Rihanna's Savage X Fenty show during New York Fashion Week.
"I'm honestly still shook, and it's been almost two months since the show (laughs). That show meant so much to me. To be noticed and highlighted by Rihanna and placed on a stage with the best of the best is a dream come true."
When asked if she thinks that the fashion industry is doing enough to cater to the disabled community, Wasser's response was hopeful. "I think it's moving in the right direction, there are more doors opening. Rome wasn't built in a day, so I think with time we will see more opportunities and inclusivity for the disabled community. I just want to tear down the labels and walls that are created, by creating my own path."
"I learned that our physical beauty and body are just our vessels. It doesn't define us. Our heart and actions are what define us."
"Growing up with model parents and only seeing and being around that one side of beauty, I guess I only associated it with our outside appearance. Having to dig deep after hitting rock bottom and seeing myself so broken, I learned that our physical beauty and body are just our vessels. It doesn't define us. Our heart and actions are what define us. Leaving a legacy of good and positive changes for generations to come should be our goals. We must set the tone and lead by example."
And if she could go back in time to give her younger self some advice, Wasser would tell her this:
"Life is so precious, it's not about what car you have, how much money you make or what clothes you wear… It's about the heart you carry. Loving and being present with the people you care about and appreciate is so important because we're only here temporarily. Make it count and leave a mark for the better. Also, trust your gut."