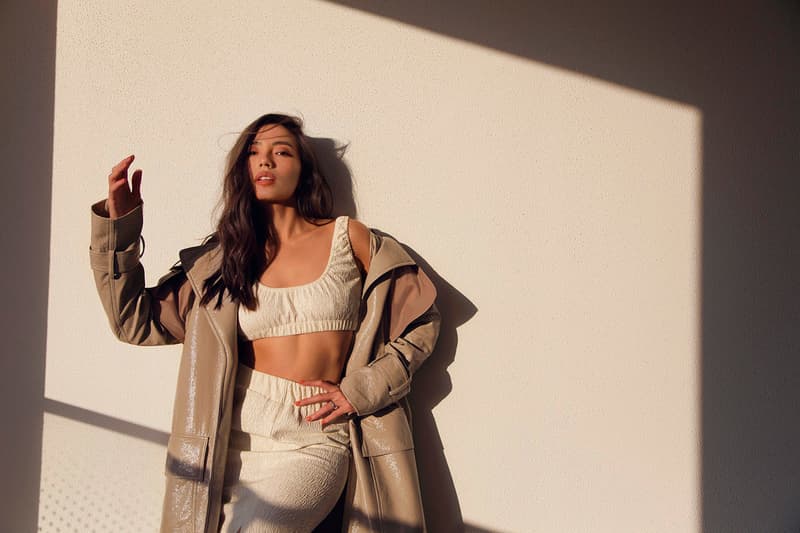 Beauty
Martine Ho on Her Skincare Rituals and How She Achieved Her Wedding Makeup Look
The co-founder of Sunnies Face breaks down her beauty essentials.
Martine Ho on Her Skincare Rituals and How She Achieved Her Wedding Makeup Look
The co-founder of Sunnies Face breaks down her beauty essentials.
For Martine Ho, the concept of beauty is never as simplistic as one's makeup and skincare routine. With a keen eye for design, the co-founder of Filipino brand Sunnies Face not only has a knack for curating the budget-friendly makeup line, but she's also a natural when it comes to decorating spaces and building a wardrobe that's tasteful and uniquely personal.
Martine's affinity for colors and shapes is reflected by her take on fashion — heavily driven by interesting silhouettes, hues and textures rather than in-your-face logos or fleeting trends — as well as her picture-perfect home in Manila. Her Bali wedding in 2018 was one for the books, too. From the invitation to the bridesmaid package, every small detail of the occasion was well-thought-out.
We may be chatting about her holy grail products during our interview, but it's clear that Martine's philosophy of beauty goes way beyond the tangible. "The most attractive thing about someone is self-awareness," she tells us. "With self-awareness also comes confidence. That's what makes someone attractive, regardless of products."
If you've just discovered Sunnies Face, continue reading to learn more about the brand and check out its newly-released Lifebrow grooming gels and brow pencils here.
Martine Ho's Beauty Essentials
Sunnies Face Fluffmatte Lipsticks: Always. The shade I wear literally every day is called "Vacay," which is a very wearable, warm peachy nude. For years, I mixed multiple colors to get a non-sickeningly sweet peach for my skin tone. We sent my mix to our manufacturer to create this shade so it's particularly special to me.
Lucas' Papaw Ointment: I never travel without it. I use it everywhere.
Tom Ford Beauty Mandarino di Amalfi: I might be breaking the rules here but I don't really have a signature scent I'm fully committed to. This is currently in heavy rotation for me and I'm usually drawn to fresh, unisex scents like this.
Drunk Elephant C-Firma Day Serum: This makes the skin look so alive and supple. It helps me get rid of any pigmentation very quickly. Also, the packaging is perfect for keeping vitamin C exposed to oxygen.
Glow Recipe Watermelon Sleeping Mask: It smells super yummy and incredibly hydrating. Immediate baby-face the next day if you sleep with this mask overnight.
Laneige Lip Sleeping Mask: Super dense product and very hydrating on the lips.
J.Hannah Nail Polish "Agnes": This is the shade I wore on my wedding day.
Summer Fridays Jet Lag Mask: Can't travel without this — plumps my dehydrated skin and makes it dumpling-y.
For those who're new to Sunnies Face, how would you describe the brand?
My partners and I have all independently dreamt of building a beauty brand for years and Sunnies Face is the culmination of all our visions blended together. It answers very personal questions of what we felt was missing in the beauty industry. We found that the cool brands that really spoke to us didn't necessarily have the best formulas. And the brands with the best formulas didn't really excite us, plus they had mostly inaccessible price points or were typically unavailable in the Philippines.
Sunnies Face is everything we've dreamt up about makeup: luxury formulas, packaging we love and thoughtful branding without the insane markup.
What excites you the most being a part of the beauty business?
What excites me the most about being part of the beauty business today is being able to have an immediate dialogue with our fans and customers who have been part of every step of the Sunnies Face journey.
As makeup consumers and beauty junkies ourselves, we develop our products based on what we think could be better, or what's missing in our own kits – the same way we listen to what our customer wants, and we put them on the forefront of our decision making process. Sunnies Face is "beauty that gets you" because we get you, because we are you.
One of Sunnies Face's missions is to deliver quality makeup products at accessible price points. Apart from your own brand, what are some budget-friendly beauty products that you enjoy using?
St. Ives Apricot Scrub has been a staple of mine since my acne-prone pre-teen years. I also love Queen Helene's Mint Julep mask and Lash Paradise by L'Oréal. I've taken a vow to never buy luxury brand mascara or eyeliner because the drugstore equivalents are just as good in my opinion.
Some say that beauty stems from confidence. Do you agree with that sentiment?
I think beauty comes from being comfortable with yourself and the right amount of getting to know what works for you.
Your wedding last year was everything a girl could dream of and more. Do you remember the makeup look that you went for on your big day?
That was the best day of my life. We had a Friday welcome party in Bali and the theme was all-pink (my husband's idea, just a testament to how well he knows me, right?). My makeup that night was a tonal pink look.
For the wedding day itself, I just wanted to look like me but the best version of me. I kept my hair down and simple, and did a warm brown shadow, dewy skin and a peachy nude lip. Just my normal daily look but taken up a few glam levels.
You've been doing a lot of traveling lately. What are some of your in-flight beauty essentials?
I'm big on masking especially on long flights. I tend to look like Michael Myers from Halloween and freak out a few passengers when it's dark on board. Hand creams and lip balms are my lifesavers because airplanes can be so dehydrating.
How do you maintain your sleek, long hair on a daily basis?
I'd be lying if I said I did anything more than maybe brushing my hair once a month. But a good brush is a worthwhile investment. I love the Acca Kappa boar bristle one. The irony is that I do everything to downplay the shine because I love a good texturized head of hair, so I use a lot of dry shampoo and texturizing sprays, throwing everything up in a loose bun and just letting it do its thing.
How has living in LA and Manila shaped your personal style?
Having lived in LA and Manila, they share the same sense of a dressed-down, casual, be-yourself kind of vibe by day, and by night, things can get glam very quickly. It's a contradiction or duality that I relate to: casual and dressed-up. I love the idea of being able to enjoy both.
Who are some of your favorite makeup artists in Manila?
One of the perks of living in Manila is that the glam can come to you. I have favorite artists that I love working with. I love it when Robbie Pinera and Jelly Eugenio bless my face with their makeup artistry.
Photographer

Darren Luk/@everylastsecond
Videographer

Kerrod Cooper/@kerrodcooper
Producer

Teresa Lam/Hypebae
Location

Qt Bondi
Share this article