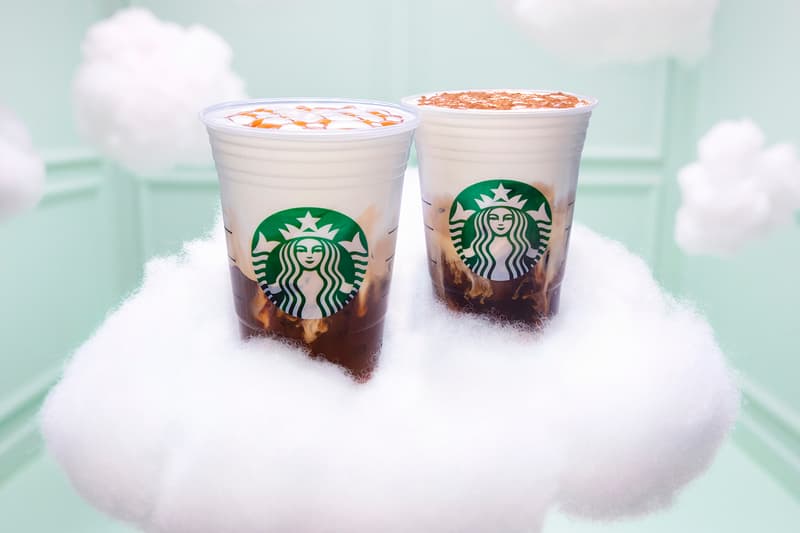 Ariana Grande Is the Ambassador for Starbucks' New Cloud Macchiato
One Grande, please.
UPDATE: After cryptic teasers on Instagram and Facebook, Ariana Grande has now revealed that she's the new ambassador for Starbucks' latest drink, the Cloud Macchiato. The singer posted a reveal on her Twitter, featuring a video of her sipping on the new drink in a green metal straw, of course.
The new drink is now available at Starbucks locations across the U.S and Canada, so make sure to head on out to try it out for yourself. Take a look at the Tweets below, and let us know if you're planning on trying it out in the comments below.
? @starbucks cloud #cloudmacchiato #starbucksambassador #trythesoyversion ? pic.twitter.com/y2LRAx33Sq

— Ariana Grande (@ArianaGrande) March 5, 2019
? @Starbucks pic.twitter.com/msBHqmV9m4

— Ariana Grande (@ArianaGrande) March 5, 2019
---
There's no secret that we all enjoy a Starbucks beverage more than anything, and now the coffee chain is releasing its latest drink, the Cloud Macchiato. According to Starbucks, it is "unlike anything you've ever tasted before," and features a "cloud" of cold milk foam that is light and smooth, with espresso shots and a signature caramel drizzle.
The new drink will be available in two flavors, Caramel Cloud Macchiato and Cinnamon Cloud Macchiato, and can be enjoyed both iced and hot. As if that wasn't enough, the beverage will be a permanent menu item starting March 5 across stores in the U.S and Canada.
We've also been seeing a handful of cryptic Tweets from Starbucks and singer Ariana Grande, all centred around the date March 5. We can't help but think the Cloud Macchiato may have something to do with the singer, as she's previously titled a fragrance "Cloud." It remains to see what the big reveal will be, but make sure to watch this space as more information surfaces.
View this post on Instagram
View this post on Instagram
?☕️☁️?…. @starbucks 3/5

— Ariana Grande (@ArianaGrande) March 4, 2019
☁️☕️☁️… ?

— Starbucks Coffee (@Starbucks) March 4, 2019