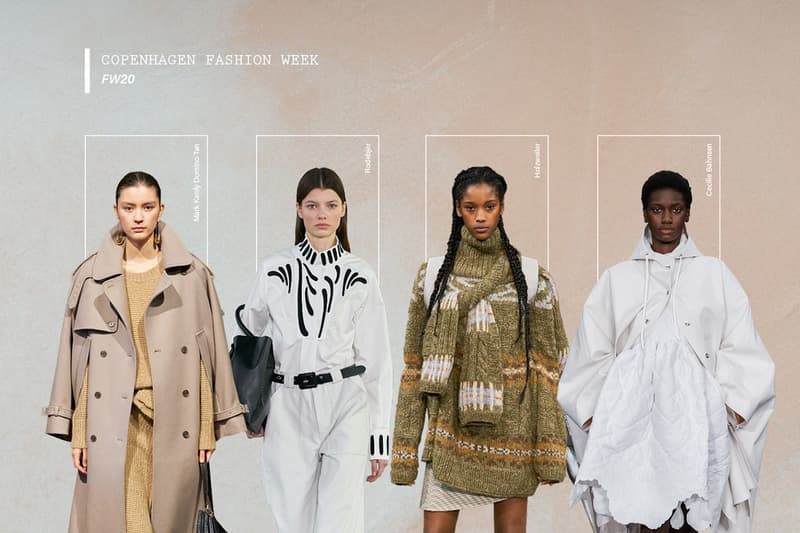 Fashion
The Top 10 Shows at Copenhagen Fashion Week FW20
The best of Scandinavian fashion including collections by Cecilie Bahnsen, Rodebjer and more.
The Top 10 Shows at Copenhagen Fashion Week FW20
The best of Scandinavian fashion including collections by Cecilie Bahnsen, Rodebjer and more.
Held at the burgeoning fashion capital, Copenhagen Fashion Week has been finding success in attracting more and more international press and buyers over the past few seasons. Thanks to its organizer's commitment to sustainability — with an action plan and strategies announced at the start of this week — as well as the city's wealth of homegrown talent and kinship to brands based in Sweden and Norway, the significance of the biannual event has continued to grow steadily on the fashion landscape.
As the Fall/Winter 2020 edition of CPHFW concludes, we're reviewing the top 10 shows of the season, including collections from crowd-favorites Cecilie Bahnsen and GANNI as well as emerging labels like Helmstedt.
While you are here, see some of the most photo-worthy street style moments from CPHFW FW20.
Inspired by the dreamy, wintry landscapes captured in the work of Swedish photographer Martina Hoogland-Ivanow, Cecilie Bahnsen designed a cohesive collection that evokes a sense of tranquility. Sending her woman out into the wilderness, this season, Bahnsen layered her romantic, billowy dresses with weather-appropriate outerwear, coming in the form of scallop-hemmed capes as well as sleek raincoats created in collaboration with Scottish label, MACKINTOSH. Snowy white and glacier blue melt into forest brown and midnight black. Sheer organzas are juxtaposed with unexpected chunky knits, while the designer's signature girly frocks look well-worn with distressed detailing. Read our interview with the designer to learn more about the making of the collection.
Returning to Copenhagen Fashion Week for its sixth consecutive show, Norwegian brand Holzweiler delivered a well-rounded co-ed range that makes you want to step into nature. With the help of Joe Patitucci, the founder of PlantWave, the show titled "Our Soil" was accompanied by a score "performed live" by the seasonal local plants and bushes inside a greenhouse designed by architecture firm Snøhetta (the stunning botanical set was put together by floral stylist Moa Nordahl). Working with stylist Alexandra Carl once again this season, the family-run label sent a total of 33 outdoorsy ensembles down the runway, with silk scarves wrapped around dad caps for added warmth and chicness, and heavy knit sweaters layered on top of each other to create the effortless, cool-girl winter uniform. In addition to new iterations of Holzweiler's alpaca and mohair scarves, the FW20 collection features hike-ready accessories ranging from wide brim sun hats to bucket bags ideal for housing your reusable water bottles.
The GANNI Girls are back and are looking a little more grown-up than they've been in previous seasons. With the intention to create pieces that can be re-worn in years to come, for FW20, Creative Director Ditte Reffstrup built the ultimate wardrobe for the practical modern woman who still loves taking a bit of style risks. While the new collection puts an emphasis on tailoring, it's done in a way that still feels playful. A whimsical, frilly collar was styled with a leather-shirt-and-shorts ensemble, while a golden pattern reminiscent of autumn foliage broke up the neutral beige tone of a two-piece suit. Army green quilting was employed to construct the winter version of a bustier cocktail dress, worn on top of GANNI's oft-used leopard print, while a slouchy sweater was paired with bottom-heavy trousers and an art-school-vibe crochet beret. See the collection up-close by flicking through our backstage photos.
In a tightly edited collection of 24 looks, Swedish designer Carin Rodebjer seeks to explore the artist and the medium in a female context. An ode to Pablo Picasso's surrealist paintings of women and ceramic sculptures, the show saw models styled in unfussy separates that feel equal parts tasteful and comfortable. From an ivory duvet coat worn with a shirt and rolled-up pants in matching hues, to a tonal, burnt orange set accented by a sculptural hat and a necklace designed with an oversized stone pendant, it's all about getting dressed in what makes you feel confident.
Staged at the Copenhagen University Library, the FW20 show of Mark Kenly Domino Tan presented a lineup of elevated looks fit for women in the boardroom. With a local children's choir singing in the background, the catwalk saw models draped in versatile, everyday separates coming in timeless hues of brown, tan, gray and olive green. A master in playing with proportions and silhouettes, the designer put his own spin on office attire, with elegant capes and wool coats paired with color-matching skirts. Models wearing bibliophile-like glasses were suited up in patterned button-ups and tailored trousers, and were shielded from the winter cold in trenches with popped collar.
Following a triumphant return to Copenhagen Fashion Week runway last season, Soulland delivered its FW20 collection as the second chapter of its "Commuter's Trilogy." Titled "Public Domain," the brand's new collection features men's and women's looks inspired by public transportation and the diversity on board. The result is an eclectic mix of styles, ranging from sporty tracksuits and outdoor-friendly jackets, to the laid-back pairing of simple white tunics and knit vests. In addition to collaborations with artist Lulu Kaalund and product designer Nikolaj Mentze, the show revealed a handful of designs that feature the iconic work by Peanuts author, Charles M. Schulz.
"I've been dreaming about another world inspired by old Parisian craftsmanship, where beauty was in every detail and was something you would enjoy with your nearest and dearest," Emilie Helmstedt told HYPEBAE. Resembling a fairy tale world, the new collection of her eponymous label finds its roots in the beauty of the small moments in life. As Helmstedt evolves from being a loungewear brand to a ready-to-wear line, there's also a sense of maturation to its designs. The FW20 show — presented in the French Embassy — saw a number of fitted knit dresses and sweaters made with recycled cashmere. Coats and jackets were layered on top of the brand's cult-favorite pyjamas, while ankle-length nightgowns coming in vibrant hues and childlike patterns were begging to be worn with a pair of retro sneakers.
Loved by style enthusiasts local and abroad for its night life-inspired designs, ROTATE remained as one of the buzziest shows of FW20. Creative Directors Jeanette Madsen and Thora Valdimars dressed models — including the likes of Teddy Quinlivan, Vincent Beier and Mona Tougaard — in statement-making garb made for an unforgettable night out. With party hits like "All of the Lights" filling the venue space, the show redefined sexy with Clueless-esque plaid pieces, puffy-sleeved dresses as well as shiny leather pants and leggings perfect for dancing the night away in.
Making its runway debut this season, Rains presented a collection titled "Chasing Time," with the majority of its pieces developed in an earthy color palette that will continue to work for seasons to come. "Even though we have upped the fashion for this collection, performance in wet weather still remains at the core of our products," the brand's Head of Design Tanne Vinter told us. "Our puffers are made in a unique way, omitting all stitching, cut lines, and air holes, resulting in waterproof — yet breathable — outerwear." Taking indoor fashion and turning it into outdoor, functional garments, the collection features belted jumpsuits, smart shirting and pants made with waterproof coated fabrics. On the accessories side of things, the shoe saw wet weather-appropriate duffle bags and backpacks made for frequent commuters.
Rejoining the Fashion Week calendar of its hometown, Copenhagen-based label Wood Wood showed a co-ed range inspired by the venture of the outdoors and the notion of exploration. The presentation, which kicked off with a performance by When Saints Go Machine, saw a range of looks nodding to sportswear and the utilitarian aesthetic.  From unisex parkas and pea coats, to patterned knit cardigans and fleece vests worn on top of striped shirts, the collection encourages its wearer to explore their surroundings and offers stylish gear for their expeditions.
Composite Imagery

Yuri Hong/Hypebae