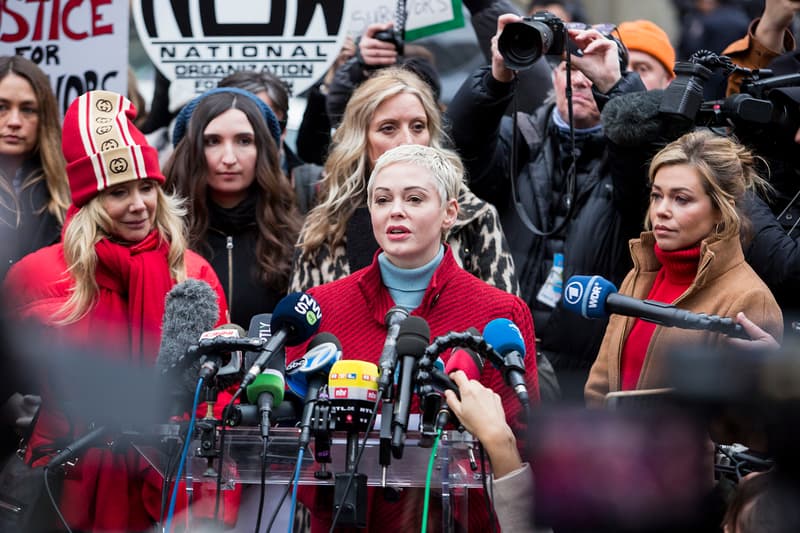 Culture
UPDATE: Harvey Weinstein Will Reportedly Stay at Bellevue Hospital Instead of Prison Until His Sentencing
Due to chest pains from his high blood pressure.
UPDATE: Harvey Weinstein Will Reportedly Stay at Bellevue Hospital Instead of Prison Until His Sentencing
Due to chest pains from his high blood pressure.
UPDATE (March 5, 2020): After being charged of third-degree rape and first-degree sexual assault on February 25, Harvey Weinstein was diverted to the hospital, instead of jail, due to chest pains shortly after his trial in New York City. According to Variety, Weinstein's sentencing is on March 11, and it appears that he will remain in Bellevue Hospital until then.
Images of the former Hollywood film producer emerged on the Internet last week, showing him relaxed in a common area at the Bellevue prison ward. This prompted users on social media to question whether Weinstein was getting special treatment. However, one of Weinstein's attorneys Arthur Aidala told Variety:
"The treating doctors think that's where he should be – it's that simple. It's no secret he was under several doctors' care over the course of the last couple of months. The doctors at Bellevue, up until today, at least, have determined that he's not ready to go to a non-medical facility. It's totally up to the medical team to make that determination. Obviously, nobody wants anything to happen to Mr. Weinstein because of his health."
Specific details on Weinstein's medical condition have not been revealed. "I know he's there and I know he's getting treated," his attorney says. "I don't know what it is." Weinstein is set to face up to 29 years in prison, and is also facing separate charges in Los Angeles with a maximum sentence of 28 years. Stay tuned while we wait for the latest updates on the situation.
---
UPDATE (February 25, 2020): Harvey Weinstein's trial officially took place last month in New York City and after much deliberation, the jury finally came to a decision on February 24. The 67 year old former Hollywood film producer was convicted of two sex crimes: third-degree rape and first-degree sexual assault.
The verdict came down to a jury of seven men and five women during the fifth day of deliberations who all agreed to a decision in around 24 hours. Weinstein will be sentenced on March 11 and will face up to 25 years in prison. Tarana Burke, founder of the #MeToo movement, issued a statement online:
"Today, a jury confirmed what we all know: Harvey Weinstein committed sexual assault. This jury worked with an incredibly narrow and unjust set of laws governing sexual assault, and though he was not convicted on all counts, Harvey Weinstein will have to answer for his crimes."
According to USA TODAY, the ruling was a partial win for the prosecution as Weinstein was able to escape the two most serious charges against him: predatory sexual assault and first-degree rape. This ultimately spared him the possibility of a lifetime sentence in prison.
His lawyers said that he was due to be taken to an infirmary unit for medical supervision at Rikers Island, New York's main jail complex in the East River. However, Weinstein started to suffer from chest pains due to his high blood pressure, and was taken to Bellevue Hospital instead.
No reports have confirmed when he will be released and transferred, so stay tuned while we wait for more details.
---
ORIGINAL STORY (January 6, 2020): Harvey Weinstein's long-awaited rape trial finally took place in New York City this week. According to The Guardian, the former American film producer has been charged with raping one woman and sexually harassing Jackey Lacey in separate incidents over a two-day period in 2013 despite his recent $25 million USD settlement. Lacey said in a press conference:
"We believe the evidence will show that the defendant used his power and influence to gain access to his victims and then commit violent crimes against them. I want to commend all the victims who have come forward and bravely recounted what happened to them. It is my hope that all victims of sexual violence find strength and healing as they move forward."
Officials have also reported that Weinstein's criminal charges include "forcible rape, forcible oral copulation, sexual penetration by use of force and sexual battery by restraint." Additionally,  prosecutors have set his bail to $5 million USD and if convicted, Weinstein will be facing up to 28 years in prison.
Twenty-five of Weinstein's accusers attended the New York trial including actresses Rose McGowan and Rosanna Arquette, who called the latest developments "a clear indication that the risks we took and the consequences we subsequently faced were not in vain." "Today represents a new day for our society," they added. "Now is the time to see Harvey Weinstein, and abusers like him, finally be brought to justice."
Weinstein's indictment is expected to be set at a later date, so stay tuned while we wait for more details to surface.
---
Share this article