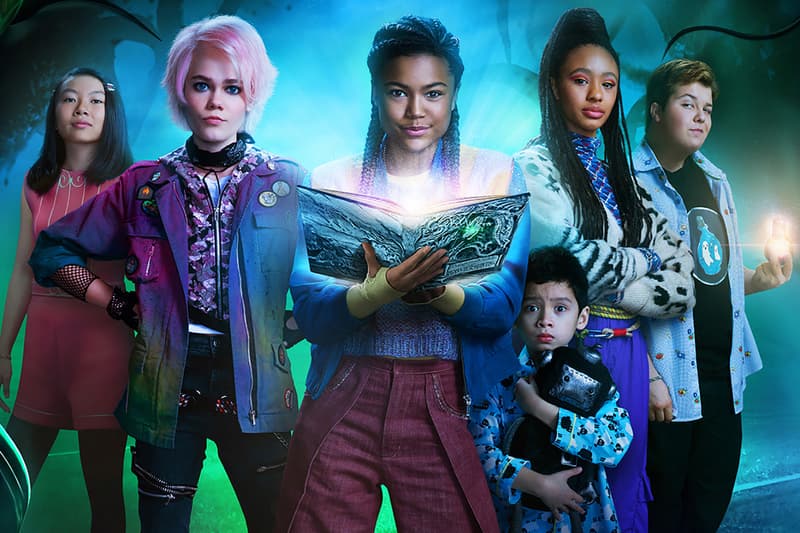 Film & TV
The 9 Best Halloween Movies To Watch on Netflix This Spooky Season
From 'A Babysitter's Guide to Monster Hunting' to 'In the Tall Grass.'
The 9 Best Halloween Movies To Watch on Netflix This Spooky Season
From 'A Babysitter's Guide to Monster Hunting' to 'In the Tall Grass.'
While we won't be able to celebrate Halloween like we normally would this year due to COVID-19, there are other ways to get into the spooky spirit at home, such as watching Netflix's lineup of new and old scary movies. Whether you're into classic horror films or you're looking for light-hearted content, our list below is guaranteed to make you feel festive on October 31. From the newly released A Babysitter's Guide to Monster Hunting based on the first installment of Joe Ballarini's popular book series, to Stephen King's chilling In the Tall Grass, read on for our top picks — don't forget to grab yourself some candy corn.
For more film and TV suggestions, check out these editor-approved shows and movies you can add to your list.
A Babysitter's Guide to Monster Hunting
After agreeing to babysit Jacob Zellman (Ian Ho) on Halloween, high school freshman Kelly Ferguson (Tamara Smart) gets unexpectedly recruited by an international secret society of babysitters who protect kids with special powers from monsters. Kelly joins forces with the group's Vice President Liz Lerue (Oona Laurence), tech genius Berna Vincent (Troy Leigh-Anne Johnson), creature expert Cassie Zhen (Lynn Masako Cheng) and potions master Curtis Critter (Ty Consiglio) to defeat the Boogeyman known as The Grand Guignol (Tom Felton), a witch named Peggy Drood (Indya Moore) and their battalion of diabolic monsters.
A Haunted House
In August 2012, young couple Malcolm (Marlon Wayans) and Kisha (Essence Atkins), move in together into their new home. However, after settling in, they realize that they are not alone. Following a series of paranormal activity, Malcolm discovers that Kisha is actually possessed because she has made a deal with the devil for a pair of shoes. Determined to salvage the relationship, Malcolm hires paranormal experts to help get rid of the demonic spirit trapped inside Kisha's body.
Carrie (2013)
Carrie (2013) is the third film adaptation based on Stephen King's 1974 novel of the same name. The movie follows the story of shy and awkward teen Carrie White (Chloë Grace Moretz), who was raised by her religious fanatic mother (Julianne Moore). Due to her introverted personality, Carrie gets constantly picked on at school by the popular kids, especially Chris Hargensen (Portia Doubleday). After a series of traumatic events at school and at home driving Carrie furious, she discovers that she has telekinetic powers.
Death Note
Based on Tsugumi Ohba and Takeshi Obata's Japanese manga, Death Note follows the tale of high school student Light Turner (Nat Wolff) who obtains a supernatural notebook engraved with "Death Note" on the front. Light discovers instructions in the book stating that if the owner writes down a person's name, that person will die. While Light initially does not have any intention to use the powerful item, the notebook's owner Ryuk convinces Light otherwise.
Hubie Halloween
Every Halloween, Hubie Dubois (Adam Sandler) makes sure that residents in his hometown, Salem, celebrate the holiday safely and comply with the rules. However, this year, things take a turn for the worse when Salem receives unexpected visitors: an escaped criminal and a mysterious new neighbor. As people start to disappear, Hubie tries to convince the local police (Kevin James and Kenan Thompson) and townsfolk that monsters are among them.
In the Tall Grass
Based on Stephen King and Joe Hill's 2012 novella of the same name, In the Tall Grass centers on siblings Becky (Laysla De Oliveira) and Cal DeMuth (Avery Whitted) who hear a young boy crying for help within a field of tall grass. As Becky and Cal venture in to rescue the child, the two quickly get separated and are tormented by an unknown sinister force, preventing them from returning to the outside world.
The Addams Family (1991)
When Fester Addams (Christopher Lloyd) knocks on the Addams household's door claiming to be Gomez Addams' (Raul Julia) missing brother, the family rejoice and reconnect with their long-lost relative. However, Morticia (Anjelica Huston) begins to notice that Fester isn't who he claims to be after he fails to recall moments of the real Fester's life. Little do they know that Fester is actually the adopted son of a loan shark planning to steal the Addams family's riches.
The Babysitter
Middle school student Cole (Judah Lewis) is head over heels for his babysitter Bee (Samara Weaving). One night after Cole's bedtime, he decides to spy on Bee to see what she gets up to during the late hours. He finds Bee and her other high school friends playing truth or dare in his living room. After being dared to kiss one of her friends, Bee stabs him in the skull with two daggers. Feeling completely terrified, Cole discovers that Bee and her friends are part of a satanic cult who plan on killing him.
Truth or Dare
Olivia (Lucy Hale), Lucas (Tyler Posey), Markie (Violett Beane), Brad (Hayden Szeto), Penelope (Sophia Ali), Tyson (Nolan Gerard Funk) and Ronnie (Sam Lerner) travel to Mexico for one last hurrah before they graduate college. Olivia meets a guy at a bar named Sam (Landon Liboiron), who invites her and her friends to go play a harmless game of truth or dare. However, what they aren't aware of is that the game is possessed by an evil spirit — it forces them to share their deepest, darkest secrets and perform life-threatening dares. If they don't comply, they die.
Share this article