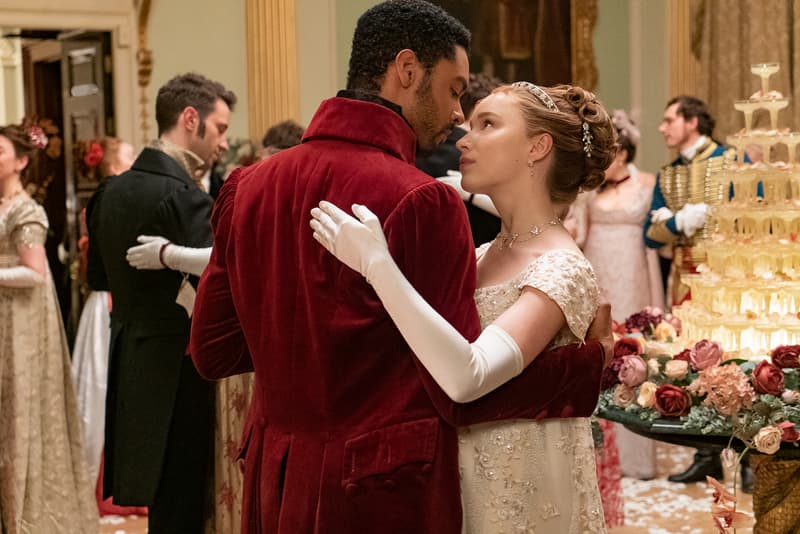 Film & TV
The Best Shows and Movies To Watch on Netflix Now, According to Our Editors
From period drama 'Bridgerton,' to reality series 'Bling Empire.'
The Best Shows and Movies To Watch on Netflix Now, According to Our Editors
From period drama 'Bridgerton,' to reality series 'Bling Empire.'
No matter how many TV shows or movies you've binged on Netflix during lockdown, you can always expect fresh new content to release on the streaming giant every month. If you're searching for new titles to add to your list, here, the HYPEBAE editors share some of the best series and films you can watch on the platform right now.
Whether you're looking for some lighthearted entertainment to brighten up your mood, or a drama that will keep you gripped, our selection below has got you covered. From the Shonda Rhimes-produced period drama series Bridgerton, to the Crazy Rich Asians-inspired reality show Bling Empire, read on for our top picks.
For more film and TV recommendations, here's a list of classic '90s movies to watch on the streaming platform.
Pretend It's a City
A must-watch for New Yorkers, Pretend It's a City reunites Martin Scorsese and humorist Fran Lebowitz for seven 30-minute episodes in which the duo deliver scathing, hilarious observations on the city's subway system, tourists and real estate. The series intersperses one-on-one conversations between Scorsese and Lebowitz with footage from the essayist's old interviews, as well as shots of her strolling through various NYC neighborhoods. It's a love letter to a rapidly changing New York, and an ode to one of the city's most enduring cultural icons. – Alexandra Pauly, Associate Editor
Selling Sunset
The Real Housewives meets luxury real estate – that's the best way I can describe Selling Sunset, one of Netflix's most engrossing original series to date. Enter the Oppenheim Group, a high-end real estate brokerage based in Los Angeles. Overseen by twins Brett and Jason Oppenheim, the business boasts its fair share of juicy drama led by the company's cast of glamorous realtors: Christine, Heather, Maya, Chrishell, Mary, Davina and Amanza. Fights, breakdowns and even a couple of weddings – all set against million-dollar mansions – make for a thoroughly entertaining show. – Alexandra Pauly, Associate Editor
Uncut Gems
A buzzy title in Netflix's library, Uncut Gems is the brash, sleek and hilarious brainchild of director duo Ben and Josh Safdie. Adam Sandler stars as Howard Ratner, a gambling-addicted Diamond District jeweler who continues to make fruitless bets on basketball games. After lending a rare Ethiopian opal to Kevin Garnett (who plays himself), Ratner becomes entangled in a series of increasingly high-stakes bets, eventually entering a three-way parlay that could change everything. Sandler's comedic skills make for a standout performance complemented by supporting roles played by Julia Fox and Lakeith Standfield. – Alexandra Pauly, Associate Editor
Love
As quarantine limits our dating life to the realm of endless messages and awkward video chats, Love chronicles the ups and downs of Mickey and Gus, a burgeoning couple who both have their fair share of proverbial skeletons in the closet. The Judd Apataow-created series may make you miss the fun of a new relationship but more likely, it will have you consider the upsides of self-isolation, free from the all-encompassing – yet entertaining – drama that often accompanies young love. With three satisfying seasons, the series is a binge-ready option for fans of off-beat romantic-comedy. - Alexandra Pauly, Associate Editor
Bridgerton
I hopped on the Bridgerton train around a week after its release in December, and needless to say, the show did not disappoint. Based on Julia Quinn's book series of the same name, the Gossip Girl-like period drama is set in Regency-era London. Daphne Bridgerton is in the pursuit of finding herself a husband amid the city's competitive marriage market. However, no man can seem to live up to her older brother's expectations. When she crosses paths with Simon Basset, the Duke of Hastings and one of the most eligible bachelors in town who has no intention of marrying, the two discover how much sexual tension there is between them. Of course, Daphne and Simon can't seem to get enough of each other and fall in love, but with a cost. If you're looking for something witty, sexy and fun to binge over the weekend, Bridgerton is the show for you. – Pauline De Leon, Associate Editor
Warrior Nun
Fantasy and supernatural have always been my go-to genres, so when I came across Warrior Nun, I knew I'd instantly get hooked. Inspired by Ben Dunn's Warrior Nun Areala, the show follows a quadriplegic 19-year-old orphan named Ava Silva, who is brought back to life after having an ancient holy artifact, the Halo of Angel Adriel, inserted into her back. Now having the ability to walk again after 12 years since her accident, Ava discovers she has superpowers that have been passed down for centuries from chosen one to chosen one. Ava also learns that she is now part of the Order of the Cruciform Sword, an ancient group of specially trained warrior nuns devoted to protecting Earth from demons. – Pauline De Leon, Associate Editor
The Umbrella Academy
Based on the popular, Eisner Award-winning comics and graphic novels by Gerard Way, The Umbrella Academy starts off in the year 1989 when 43 children were born around the world to random, unconnected women who weren't even pregnant the day before. Among them, seven children – namely Ben, Klaus, Allison, Luther, Diego, Vanya and Number Five – are gifted with special abilities far beyond the ordinary. They are adopted by billionaire industrialist Sir Reginald Hargreeves, who establishes The Umbrella Academy to prepare his special children to save the world. However, after falling out during their teenage years, the siblings part ways. Seventeen years later, all of them reunite to solve a mystery surrounding their father's death. On top of that, they also have to deal with the imminent threat of a global apocalypse. – Pauline De Leon, Associate Editor
Itaewon Class
Korean dramas were never on my radar until a friend of mine recommended that I watch Itaewon Class, so I decided to break that one-inch tall barrier of subtitles and give the show a chance. The Netflix Original series explores the themes of family, love, self-acceptance, class warfare and second chances. What I especially love about Itaewon Class is its diverse cast that features a transgender person and a person of color, both represented from a realistic point of view. Each episode runs for about an hour long and is jam-packed with emotion and drama, so try not to finish it all in one day as I did. – Pauline De Leon, Associate Editor
Love & Anarchy
Not your typical rom-com, Swedish drama Love & Anarchy follows Sofie, a career-driven consultant and married mother of two, as she encounters young IT technician Max at work. While the two butt heads when they first meet, a surprising, at times scandalous office romance emerges when the pair begin to engage in a game of dares. Outrageous challenges aside, the show also offers a clever analysis of topics such as family relationships and workplace culture. With only eight episodes, this is a series you can easily binge through on a Friday evening. – Teresa Lam, Features Editor
Giri/Haji
Giri/Haji (Japanese for "Duty/Shame") has got to be one of the most underrated dramas on Netflix. A crime thriller co-produced by the streaming platform and the BBC, the eight-episode series centers around Kenzo Mori (Takehiro Hira), a Tokyo police detective, and his younger brother Yuto (Yosuke Kubozuka), a former Yakuza member gone rogue. While Yuto is thought to be dead in the Japanese underworld, a London murder involving the nephew of a Yakuza boss suggests otherwise. Dispatched to the UK capital to search for his sibling, Kenzo must face a series of professional, personal and daunting ethical challenges. – Teresa Lam, Features Editor
Never Have I Ever
Mindy Kaling and Lang Fisher's Never Have I Ever follows Devi Vishwakumar, a straight-A sophomore, as she navigates high school, friendships, teenage romance and the loss of a parent. While the storyline may seem familiar, it's remarkable that the show has chosen to explore the coming-of-age genre through an Indian-American lens. Not only does the 10-part comedy offer much-needed South Asian representation on screen, but it also manages to tell inclusive stories of some other marginalized communities. If you like watching shows that are funny, heartwarming and deeply moving at the same time, you'll absolutely enjoy this series. – Teresa Lam, Features Editor
Nailed It!
While there are plenty of fascinating baking competitions on TV, nothing I've seen before is quite as entertaining as Nailed It!. A lighthearted reality series guaranteed to make you fall off the couch with laughter, the bake-off show sees amateur home bakers compete in themed challenges like unicorn cakes and gingerbread houses. Rather than elaborate confections, however, expect to see contestants having meltdowns in the kitchen. The comedic commentary from host Nicole Byer and pastry chef Jacques Torres is just the icing on the cake. – Teresa Lam, Features Editor
Grand Army
It's been a long time since I watched a show that touched me in the same way that Grand Army did. The show centers around a public high school in Brooklyn, following a handful of students through everything from trying to get into college to surviving sexual assault, all loosely based on the show creator Katie Cappiello's play Slut. It captures very real elements of teenage life, and doesn't shy away from tackling topics like systemic racism, bullying, coming out and rape culture. It's a show that I finished in just a few days, and I'm already longing for more. So far, there's only one season with nine episodes, but I'm banking on the show returning for several new installments. – Tora Northman, Editor
Twilight Series
Honestly, anyone that doesn't love the Twilight series is either lying or delusional. There's no better time to revisit the dreamy love triangle between Bella Swan and werewolf Jacob and vampire Edward, and the baseball scene in the first movie makes the whole thing even better. If you're looking for movies you'll be able to fly through over a weekend, the Twilight series is a must. Nostalgia, young love and terrible dialogue – what more can you want? – Tora Northman, Editor
Bling Empire
After binge-watching a few seasons of The Real Housewives of New York City months ago, I've been searching for the next best title to satisfy my guilty cravings for trashy reality shows. At first, I clicked on the series out of curiosity as Bling Empire is the first I've seen that stars overwhelmingly rich figures who are Asian. Although some episodes are hard to watch because of Andrew Gray's toxic gaslighting and aggression towards Kelly Mi Li, I ended up finishing the show in two days thanks to Anna Shay's youthfulness, boss attitude and golden interviews ("There ain't no dick that good."). – YeEun Kim, Associate Editor
High Score
To be completely honest, I was never really interested in gaming until quarantine life began. I recently bought myself a Nintendo Switch, which is the first gaming console I've owned after my Gameboy from almost two decades ago. In addition to titles like Animal Crossing and Fall Guys: Ultimate Knockout, I've found myself enjoying nostalgic games like Tetris and Super Mario, so I immediately knew I had to watch High Score when I first saw it on Netflix.
The docuseries covers the history of OG games like Pacman, Donkey Kong and more, along with the development of gaming giants like Nintendo that we know today. I've been enjoying learning about the retro titles and how they came to be. Although I've also been guilty of binging reality series like Selling Sunset and The Real Housewives of New York during this time, I like watching High Score for its educational and informative component. Plus, each episode is extremely well-made and easy to watch, with a balanced mix of in-depth interviews, old video footage and cute, retro graphics. – YeEun Kim, Associate Editor
The Chef Show
Cooking is probably one of the most popular categories people are paying attention to at the moment. I've definitely been watching more cooking videos and shows on Netflix and YouTube to motivate myself to experiment with different recipes for each meal (plus, they are soothing to watch). There's nothing more wholesome than seeing Jon Favreau and Roy Choi, along with different guests in each episode, discuss their love and passion for food. What I also really enjoy about The Chef Show is that you don't have to watch it in order – each episode is easy to follow even if you don't have any background context of what happened previously. All you need to do is simply appreciate and witness hearty dishes come to life. – YeEun Kim, Associate Editor
Hollywood
In classic Ryan Murphy form, Hollywood is an artfully composed narrative that touches on the visceral truths of human relationships, all coated beautifully with a glossy veneer of stunning cinematography and dark humor. Taking place during the Golden Age of Hollywood, Murphy and fellow co-creator Ian Brennan create a fictional world that shows how the power players of Tinseltown control and manipulate the industry, painting a disturbingly realistic portrait of what the Hollywood experience might actually have been like for struggling artists.
The show blends together a mix of fictional characters with fictionalized versions of actual historical figures – Anna May Wong and Hattie McDaniel, to name a few, with Lena Horne and Dorothy Dandridge coming to life through Camille Washington (according to Murphy). The result is a strikingly relevant commentary of "what may have been" had actors and actresses of color received equal opportunities to their white counterparts. The show, at its core, serves as a reflection of history that ponders what might have taken place behind the closed doors of a post-WWII Hollywood, exploring themes of homosexuality, over-decadence, vulnerability and struggle. – Zarah Cheng, Editor-in-Chief
Kingdom
I've always been a fan of the zombie genre, but the selection of television series revolving around the undead throughout the years has been more or less along the same note: The Walking Dead, Black Summer, Z Nation. Then comes Kingdom. This period drama set in Korea's Medieval Joseon period is unlike anything the category has seen before. The scenes themselves are beautifully cinematic (I find myself sometimes forgetting that it's actually a TV show and not a film), but the storyline is also intricate beyond what you would normally expect from a zombie show. Along with the ruthlessly diabolical ambitions of the royal family, the plot also touches on themes of class struggle and a complex portrait of the meaning of survival. The show also does not hold back on the blood and gore, which is something that I appreciate. Although Kingdom is definitely not for the faint of heart, each and every episode will have you at the edge of your seat. - Zarah Cheng, Editor-in-Chief
Editor

Pauline De Leon/Hypebae
Share this article