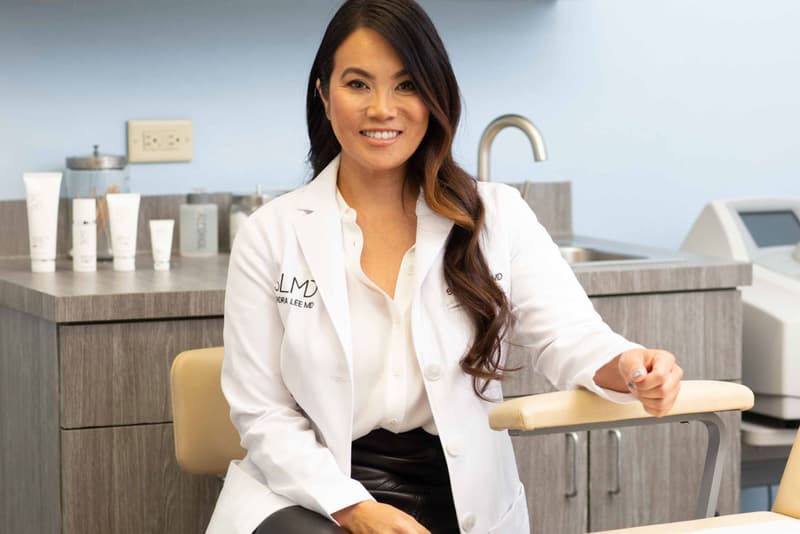 Beauty
How Sandra Lee, AKA Dr. Pimple Popper, Became the Queen of Extractions
The viral dermatologist talks med school, pimple popping, COVID-19 and everything in between.
How Sandra Lee, AKA Dr. Pimple Popper, Became the Queen of Extractions
The viral dermatologist talks med school, pimple popping, COVID-19 and everything in between.
No matter how sacred your skincare routine, you've definitely defied your dermatologist's advice and popped a pimple — chances are, watching it erupt gave you a bizarre thrill. And unless you actively avoid the internet, you've likely found yourself enthralled by pimple popping videos, a polarizing genre that leaves viewers disgusted, satisfied or a little bit of both.
Extraction videos have long lived on the underbelly of platforms including YouTube and Reddit but Sandra Lee, M.D., better known as Dr. Pimple Popper, brought the oddly satisfying fascination out of the shadows and into the spotlight when her first zit-busting clip went viral. The dermatologist-meets-influencer, an early adopter of YouTube who began using the platform to share her television appearances, boasts nearly 7 million subscribers. Her most popular video, which details the extraction of a dilated pore of winer (essentially a giant blackhead), has over 64 million views. A further testament to her success, Dr. Lee's very own TLC show, Dr. Pimple Popper, boasts four seasons and a spin-off series, Before The Pop.
For the latest installment of How Did You Land That Job, HYPEBAE spoke with Dr. Lee about her unique profession, the obstacles she faced on the path to dermatology stardom and why she thinks skincare content is so popular.
Can you tell us a bit about your childhood? When and how did you develop an interest in dermatology?
My dad is a dermatologist, so I was surrounded by dermatology and didn't really realize it. In a way, I was lucky, because I think a lot of people don't realize — at least when [they're] going into medicine — how interesting and varied and rewarding dermatology is. [Dermatology] is not something that's available to everybody — you kind of have to search it out and a lot of times, they find out a little too late. It's one of those rotations [medical students] take after the rotations they think they really need. They think it's going to be an easy rotation and I hear many times that they fall in love with it, but it's too late.
Did your dad you push you towards dermatology or was it more of a self-developed interest?
He didn't encourage me to do anything specifically. Even though he's an Asian dad, a Chinese dad, he's not the kind that said, 'you must become a doctor.' He was trying to help me and my brother find things that he knew we were good at, or that we seemed to like to do. I remember him saying, 'if you want to be a garbage person, just be the best garbage person you can be.' He knew dermatology was a great specialty, but he didn't actually push me into it. He encouraged me, and I think he was happy when I finally did get into a residency position.
You went to UCLA and then to Hahnemann Medical College (now Drexel University College of Medicine). Can you walk us through your career, from graduation up until joining Skin Physicians and Surgeons?
I went to UCLA – I'm from Southern California, I was raised here — and then I went to the East Coast to go to medical school. From there, I went to residency. I actually didn't match my first year, so it was a very stressful time in my life. If you don't match somewhere, it's pretty devastating; you don't know what you're doing with your life. So I actually did my transitional year in Pittsburgh and during that time, I rotated in Illinois in one of the programs at Southern Illinois University. I was really lucky; it's a wonderful program. The main thing I learned there was surgery. I was there with no friends or family, in a different state with totally different seasons, so it was quite an experience. Then I did a fellowship in San Diego with a very well known laser surgeon. That was a cosmetic laser and surgical fellowship so that's where I learned to do lower face facelifts, eye lifts, laser resurfacing and liposuction.
From there, my husband and I — my husband went to medical school with me and he also went to dermatology residency, though in a different state — both took over my dad's practice in Upland, California and renamed it Skin Physicians and Surgeons. So I've been in practice since 2004 or so. I finished my training in 2004, when I was 33-years-old.
You started your YouTube channel in 2010, but it's not until around 2015 that your videos began garnering millions of views. How did you discover that people love watching extractions, and did it surprise you at all?
I started my YouTube channel because I was posting a lot of my TV appearances. It wasn't until 2015, when it took off, that I actually posted an extraction video. I realized it on Instagram — I was showing off a little window to my world, and I happened to post an extraction video. It got a noticeable increase in attention and likes and I thought that was really strange so I did it again, and it happened again. I quickly realized that this was a way to grow my channel and my page. It became a hobby-slash-obsession for me. I branched out on YouTube and noticed there were other extraction videos on there, so I thought, this is a thing. I quickly discovered there was sub-Reddit where people would actually share popping videos with each other, and I realized I could be their queen. This is the stuff I do at work, and I could provide it all the time. I really wanted to show why I love dermatology, but I was trying to figure out a way to do it anonymously. I don't want to show my patients or make them embarrassed, but also get these people excited about dermatology and help grow their fascination with it.
Your content serves as entertainment for many of your subscribers, but you also make a huge difference in your patients' physical and mental wellbeing by removing their cysts and skin growths. What is it like treating skin conditions that often cause people to be ridiculed and judged?
It's really rewarding. One of the things that's interesting is that [extraction videos are] not just entertaining for people, [they're] relaxing. They watch my videos to help them sleep or decrease their panic and anxiety, which is fascinating to me. We all know the feeling of being judged by our physical appearance or feeling lesser or not having confidence because of our skin. We all get it, and it's nice to see that others are in the same boat as you — you're not alone. It's sort of a big support group or a self help group. Certainly the way I approach it is very important to me — I don't treat [anyone] differently or make them feel bad for whatever skin condition they may have, because it's just part of life. Let me see if I can do something to make them feel better about themselves. We all feel it; it tugs at your heartstrings. It makes you happy that somebody feels better about the way that they look.
Do you hope your show, Dr. Pimple Popper, will help erase some of the stigma associated with skin conditions?
I think it does already. It definitely shows that these things happen to people. There are a lot of conditions that can be hidden under their clothing and it's so secretive and embarrassing. For somebody that has the same condition to see it on TV, it makes them realize that they're not alone. For example, hidradentitis suppurativa is when you get these big blisters on your armpits or your groin. They ooze, they make a mess, they're very embarrassing, and people don't realize that there are solutions to these things. I think it gives them hope.
Is it ever hard to balance your off-screen career with your on-screen personality?
I don't know about my personality, because this is me. I don't want to change and I certainly don't want to be something that I'm not. It's more hard for me to balance my life, because there are a lot of moving parts now. On one hand I always remind myself how lucky I am to have all these things going on and how so many people would love to be in my position. I'm very appreciative of it. I'm fortunate, but it's also a lot. And then they threw COVID in.
Your husband works at the same practice as you. What's it like working alongside your spouse?
It's really nice. You have somebody to bounce things off of, [somebody] who has your best interests at heart and vice versa. What's really important here and what allows us to work together is that we don't work for each other. We're a team. If I was his assistant or he was my assistant, it wouldn't work. I don't want him telling me what to do, and he doesn't want me telling him what to do. But certainly if I'm doing something that's foolish, he will tell me. I respect it; I know he's only telling me for the betterment of both of us.
Dermatology is an incredibly competitive specialty. What advice would you give pre-med and med students looking to pursue it?
I get this question a lot and I feel like I'm not so good at giving the best advice. [Dermatology] is very competitive and for a lot of students, that shuts the door on a lot of opportunities — [they think], I don't even want to try. I think there's always possibility. I don't think there's anything you can't reach for if you really want it. The only way you're going to know if you want it is if you experience it. I feel like the fact that I didn't [match] my first year and was so devastated is why I'm in the position I'm in now. A lot of times, the failures you go through are actually what you use to make yourself more accomplished. If you're just handed things…you don't really appreciate it as much and you may not become as successful. People just need to pursue their dreams and know that life is a journey. I didn't know I was going to be Dr. Pimple Popper — if you told me this five years ago, I'd say you were insane. You can never know where the world takes you.
What inspired you to launch your own skincare line, SLMD Skincare?
That's one of the wonderful things that has come out of this. When [my YouTube channel] started picking up, I thought, what am I gonna do with this? I have this platform, this magical thing where I can communicate with people and connect with them around the world, and they actually trust me as a dermatologist. It's important for me to not spread misinformation — because there's a lot of that on the internet and there continues to be — but to try and help. I feel like all my videos entertain people but also secretly educate them. [People] want to be educated, they want to learn about their skin. For me to teach them why certain products work, and actually provide products for them that I know we as dermatologists would recommend, puts control back in your hands. That's what everything is kind of about — it makes you feel a little out of control when you have pimples that never seem to get better or some other kind of skin condition, so it's been wonderful to do this. Now [SLMD Skincare] is in Target stores too, which is crazy amazing. I'm really proud of it.
"I worry about social media and misrepresentation…Look at things and ask questions no matter what."
How has the pandemic affected your business? 
If you're an entrepreneur and you're on social media, things are going to get in your way and present a wall. You have to realize that the those who do well are those who are able to pivot. Use these sorts of opportunities — not opportunities, none of us want a pandemic — but see what's happening and be able to change. We've been able to do that, realizing that people are now shopping at home and also on social media a lot. I'm not seeing as many patients so I'm doing more social media; we're doing our television show actively and expanding our skincare line and actually, sales increased. Now you have people's attention and they're at home and on Zoom meetings, looking at their faces. They've got their magnifying mirror at home, so people are thinking more about their skin.
What advancements do you hope to see in dermatology in the next 5-10 years?
I'm always looking for advancements in terms of non-invasive anti-aging treatments. We're all looking at that — it's a huge business in dermatology. I come from more of a surgical background so I have more experience or maybe I feel more comfortable doing things that are more invasive, per se. There's always something coming out and my best advice to consumers is don't jump on the first bandwagon of a new device. Wait a few years because if it's still around, that means it's doing something. These devices cost a lot of money for doctors to actually acquire, so they have to sell it in a way. They have to make their money back or they're not generating any income from it. It is a business, too.
Going back to what you said about misinformation online, is there one big mistake people make when it comes to taking care of their skin?
I think people are pretty good. It's drilled into them, some of the basics like sunscreen. I think TikTok certainly takes care of retinol and hydroxy acids and all of those sorts of things. This opens a whole can of worms, but I worry about social media and misrepresentation. I think there are a lot of great people who aren't physicians talking about skincare; I think they do their homework and they know what they're speaking about in terms of general skincare, but you just want to be careful…there's a lot of stuff going on behind-the-scenes that you don't realize. There's still misinformation being put out there in some way or another that tricks them. Look at things and ask questions no matter what. That's an important trait for people to have.