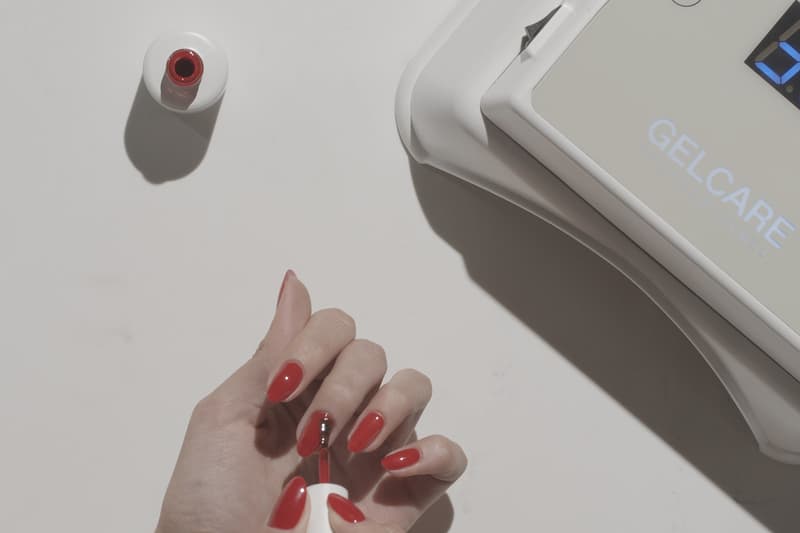 Beauty
A Step-by-Step Guide to Doing Gel Nails at Home
Learn how to perfect your manicure from the pros.
A Step-by-Step Guide to Doing Gel Nails at Home
Learn how to perfect your manicure from the pros.
Going to a nail salon and getting a gel manicure is one of those simple pleasures that many beauty lovers are probably missing amid the pandemic. While it may not be possible for you to visit your nail tech regularly these days, with the right tools and a little bit of practice, you too can achieve the perfect gel nails at home. For those looking to pick up a new skill during this lockdown, the founder of Montréal's cult-favorite nail parlor Le Manoir, Emilie Sanscartier, has given HYPEBAE an expert's guide to doing gel nails.
Using products from 9 chemical-free, vegan and cruelty-free brand GELCARE, the nail artist breaks down each step of the process, from old gel removal, to nail prep, to polish application and curing. Give yourself a DIY treatment by following the tutorial and demo video below.
For more gel mani tips and techniques, be sure to subscribe to GELCARE's YouTube channel.
View this post on Instagram

Step 1: Get Your Tools in Order
To get yourself ready for an at-home gel manicure, you will first need to gather the necessary tools.
For beginners looking to invest in a full set of supplies, GELCARE offers a Starter Kit that not only includes all the nail care basics — base coat, top coat, buffing block, curved file, gel removal tool, hook tool, cuticle nipper, cuticle remover, gel remover and cuticle oil — but also an LED lamp for curing gels. Be sure to set up your manicure station under a table lamp, so you can see all the details throughout the process.
Of course, you will also need to choose a gel polish that is compatible with your LED lamp. In the video tutorial, we are using a nail color from GELCARE.
Step 2: Gel Removal
If you're already wearing gel nails, file off 80 percent of the gel using the most abrasive side of the curved file. Make sure you file as evenly as possible.
Next, apply cuticle oil to hydrate your cuticles — the oil will also help lift the gel faster. Individually wrap your nails with a cotton pad soaked in low acetone remover and aluminum foil. Make sure the nails are wrapped securely and that the cotton pad covers the entire nail bed. Let sit for 10-15 minutes using a heating source, such as heated mittens or a blow-dryer.
Remove the aluminum foils and scrape off the gel with the bladed head of the gel removal tool. (Pro tip: If the gel has not lifted enough for easy removal, we recommend filing the gel surface further, rewrapping your nails and putting them back under the heating source.)
Step 3: Prep Your Nails
After removing the old gel, spend some time to properly prep to your nails.
First, apply cuticle remover. To "double cleanse" your nails, use the cuticle pusher on your gel removal tool to push back your cuticles in a back and forth motion. Then, using the bladed head on your gel removal tool, scrape off the skin under your cuticles in a circular motion. Wipe off the residue cuticle remover with a cotton pad.
To achieve a smooth and clean look, buff your nails and file them into your preferred shape.
Wash your hands with water and soap. If necessary, cut off excess cuticles using the cuticle nipper.
Step 4: Gel Application
Here comes the final and most exciting part of the manicure: painting your nails with gel polish.
To start, apply base coat and shine your nail under a table lamp to ensure it is covered up to the edge. Cure each finger individually under the LED lamp for 5 seconds. (Note: If you apply the base coat on many fingers without curing them in between, the base coat will move. If the base coat is missing around the nail, even if it is subtle to the eye, it will have an impact on the retention of your gel and your manicure could chip.)
Once you have finished applying and setting the gel, cure all nails for 30 seconds. Make sure to check that the base coat covers the entire surface of your nails under a table lamp. If certain areas are not covered (near the cuticles, on the sides or at the tip of the nail), we recommend applying a second layer of base coat and curing again.
Apply a thin coat of color and cure for 30 seconds. Repeat with an additional 1-2 coats to achieve your desired opacity.
Finally, apply one coat of top coat and cure for 3 minutes, then apply cuticle oil to hydrate and make your mani shine. Voilà!
Share this article