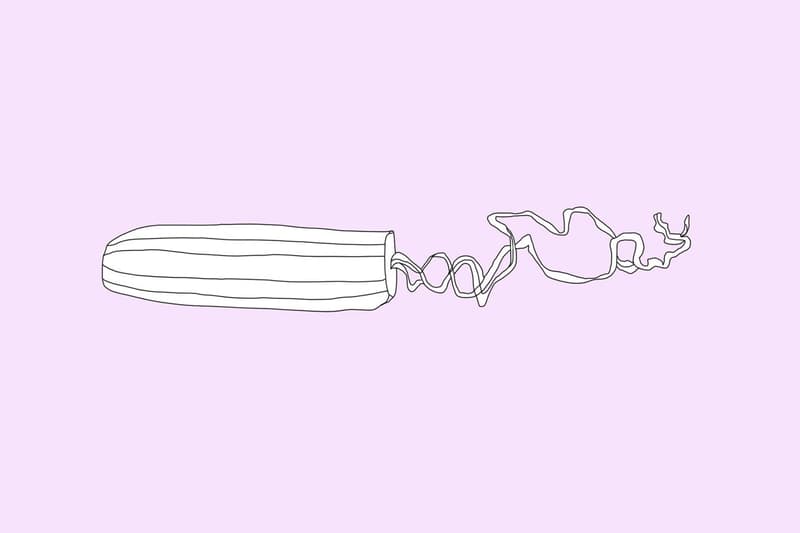 Culture
The Weirdest Period Myths That People Still Believe in 2020
Misconceptions involving mayonnaise, sushi and bears.
The Weirdest Period Myths That People Still Believe in 2020
Misconceptions involving mayonnaise, sushi and bears.
Despite the fact that nearly every human with a uterus menstruates (in 2019, that was approximately 3.8 billion people worldwide), myths and superstitions about periods abound. Sadly, menstruation continues to be a social taboo and, despite strides towards education around reproductive health, is often discussed as if it were embarrassing or unclean — thus, it's not entirely surprising that people still perpetuate far-flung falsehoods such as the French belief that menstruation causes mayonnaise to curdle.
Organic period care company Yoppie compiled a list of strange period myths by country, proving how a little bit of blood can bring out the wackiest in people. In Afghanistan, anyone menstruating is dissuaded from eating meat, rice, vegetables and sour foods, as well as drinking cold water (the reason remains unclear) while in Bangladesh, used pads must be buried to avoid attracting evil spirits. From Asia to Europe, cooking while menstruating is a no-no: in Japan, those on their period must not make sushi as their sense of taste is imbalanced and in Italy, anything prepared by a menstruating person is bound to be a disaster. Similarly, Indian culture dictates that menstruating people shouldn't enter a kitchen, as they are unclean and will make the food go bad.
In Australia, some people believe that swimming while on your period will cause a shark attack while in Poland, it's thought that having sex during menstruation will kill your partner. In the UK, the common misconception that tampons break the hymen, thus "taking" someone's virginity, continues to proliferate and in the U.S., menstruating people are told that their smell will attract bears.
Keep reading for Yoppie's roundup of the weirdest period myths from around the world.
Weird Period Myths, By Country

Afghanistan – Do not eat meat, rice, vegetables or sour foods and no drinking cold water, sitting on the wet ground or washing. No real explanation as to why. It's also believed that taking a bath while on your period can make you infertile.

Argentina – Making whipped cream during your cycle should not be done as it will curdle.

Australia – Swimming on your period could result in a shark attack.

Bangladesh – Old menstrual cloths must be buried otherwise they could attract evil spirits.

Bolivia – It is important not to hug or cradle young babies as you could cause them to get ill.

Brazil - Walking barefoot while on your period can cause cramps.

Columbia – Consuming cold drinks will give you cramps.

The Dominican Republic – While on your period it is dangerous to drink lemonade.

France – You must not make mayonnaise as it will curdle.

Ghana – People are asked to eat a hard-boiled egg whole when they get their first period. If they don't, or even only eats part of the egg, it's considered bad luck for their future children.

India -  Do not enter a kitchen or cook food for anyone. It's dangerous due to being unclean and it will make food go bad.

Israel – If you shower with hot water while on your period this will cause a heavy flow.

Italy – Everything you cook will be a disaster.

Japan - Do not make sushi as your period causes an imbalance in taste.

Malaysia – Used pads or tampons need to be washed before disposal otherwise ghosts will haunt you.

Mexico – Exercise while on your period can damage your uterus.

Nepal - Avoid general contact with people.

Nigeria – If you burn your period products it can cause you health problems such as cancer and infertility.

The Philippines – After your first period, you should wash your face with the menstrual blood in order to have clear healthy skin for life.

Poland – Having sex while on your period can kill your partner.

Romania – Don't touch flowers as they will die quicker.

Tanzania – If anyone else sees your menstrual cloth you could become cursed.

Uganda – Menstruating people must not drink milk from cows as they could contaminate the entire herd.

The United Kingdom - Using tampons as a virgin will break the hymen and take your virginity.

The United States – The odor or smell of menstruation can attract bears, so people on their period should be especially careful when camping in the woods.
Share this article