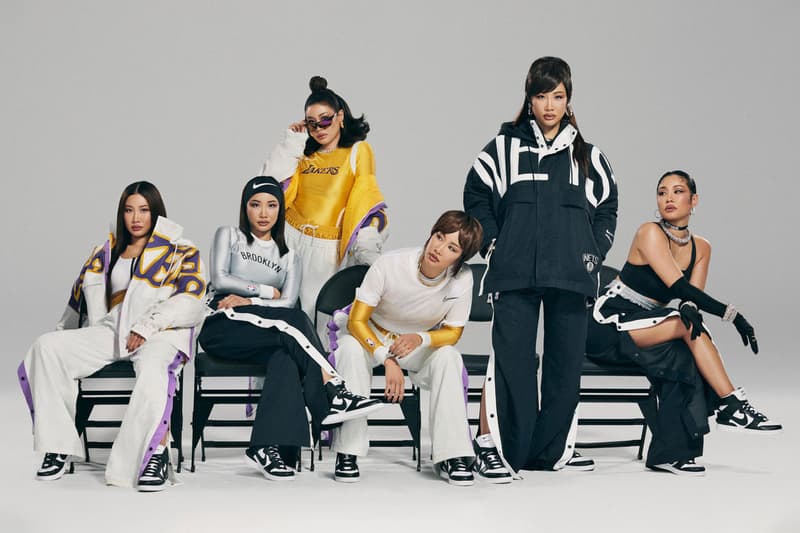 1 of 2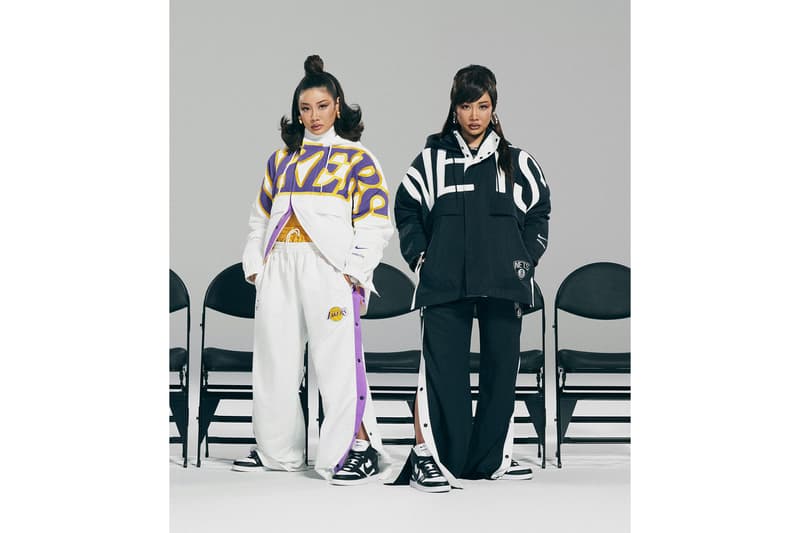 2 of 2
Fashion
Yoon Shares All of the Details Behind Her AMBUSH x NBA x Nike Collaboration
The designer reveals that she's working on yet another footwear collaboration in our latest interview.
Yoon Shares All of the Details Behind Her AMBUSH x NBA x Nike Collaboration
The designer reveals that she's working on yet another footwear collaboration in our latest interview.
Despite the ongoing pandemic, AMBUSH's Yoon has seen much success over the past year – the designer has worked on numerous collaborations spanning technology and luxury fashion. Now, she has joined forces with Nike and the NBA to create a capsule range around the Los Angeles Lakers and Brooklyn Nets.
Teased last month, the three-way partnership is a combination of sport and fashion. In addition to the black-and-white Dunk Highs (originally slated to release in tandem with the Tokyo Olympics, which has been postponed to 2021), the creative has created a unisex jacket, body-hugging top and baggy track pants for each of the basketball teams. Taking inspiration from iconic female musicians of the '90s such as Aaliyah and TLC, the collection spotlights women's roles in building the streetwear industry into what it is today.
In a Zoom call with HYPEBAE, Yoon shares all of the moments behind the exciting project that she has been working on over the past year to empower women. From inspirations to information on yet another footwear collaboration, read our full conversation with Yoon down below. The AMBUSH x NBA x Nike collection is slated to drop on December 11, 2020, and the Dunk High will be available through a lucky draw the following day.
What do you want to bring to the new generation of NBA fans through this collaboration?
My partnership with Nike is to strengthen women's roles in the world of sports and the fashion industry in general. Oftentimes when you look at the basketball world, the uniforms and jerseys come mainly from menswear. There hasn't been an interpretation of how women could wear those pieces. I wanted to use that masculine energy and flip it around, so that girls would be more comfortable wearing it. They can be empowered through the clothes, and that's what I mainly wanted to achieve through the collection. I also didn't want to exclude the guys since I know there are a lot of NBA fans out there, so I made sure that the jackets are unisex.
Your team-up with Nike dates back to 2018. How has working with the brand influenced you as a designer over the past seasons?
I've learned a lot working with Nike's design team. The members are so knowledgeable of the technology and performance side of the products. As a brand, I think Nike has taught me what it's like to strive for the best. Working with them has really inspired me to try to become the best as well. It's a great partnership that I can do fun things with, but also a project in which I can be motivated to push harder.
How did you feel when you first heard about the three-way collaboration between AMBUSH, Nike and the NBA?
I was honored. At the same time, I was surprised because someone had told me you have to play sports if you wanted to work with Nike. I guess Nike wanted to do something new with me. I think I was able to provide more of the consumers' point of view, whereas the brand provided insight on all things performance-related.
Can you briefly talk about the design process behind the new collection?
Prior to the pandemic, I would go to Portland, where the design team would brief me on what we're working on. We would then gather inspiration and look for ways to have fun with it. The team told me about how there are so many female NBA fans who have always had to deal with everything male-focused. The NBA itself reminded me of the '90s and all of my favorite musicians like Aaliyah and TLC. They were able to project such a strong presence and power, and I thought that would be a fun angle to take with this specific collection. I brought in that old-school vibe, and made it more modern and relevant to today.
How did you end up with the Dunks specifically, and where did you get the inspiration for this design?
The Dunks were initially part of the Tokyo Olympics collection, which was pushed to next year obviously because of the pandemic. Since the Games were supposed to happen this year, I wanted to pay homage to Japan and the country's subcultures. I was looking into Bosozuku bikes and Dekotora cars, which feature extended pipes that I took inspiration from. That's how the design came to be.
Was the design process similar to your previous Nike Air Max 180 collaboration?
For the most part, yes. I've been constantly in touch with the Nike design team through messaging. We're always connected and communicating, throwing ideas here and there to see how we can make the project more interesting.
How would you personally style the Dunk High?
What I love about the Dunks is that you can actually dress them up or down depending on how you style them. I don't like to tell people how to coordinate their outfits – I'm just looking forward to seeing how all of you will put them together. I just want to encourage everyone to have fun with them, and make sure to tag me on Instagram so that I can check out how everyone's wearing them.
What about the collaborative apparel range? What was the inspiration behind the items, and would you say they're a continuation of your SS20 collection as well?
I took inspiration from the '90s and oversized menswear pieces, along with all of the female artists that I've loved growing up and still do. I wanted to transfer their energy into the whole collection. I made the jersey fitted so it hugs the female body nicely, and created the pants so that they open up on the sides. Sometimes they can seem almost like a dress, depending on how you coordinate them. Again, I didn't want to leave the guys out, so I've made the jackets unisex. I know there are lots of Lakers and Nets fans, so I've created designs that can be worn to those teams' games.
Why the Lakers and Nets?
To be very honest, it was Nike's choice. But the Lakers did win this year, so it's great to be working with the champions. What I think Nike wanted to do was to highlight the rivalry between the East Coast and West Coast.
The sneaker and streetwear scene has become increasingly inclusive to women compared to previous years. How do you see the industry transforming in the future, and what steps do you believe big brands like Nike should take to push for this change?
If you look at the history of streetwear, it's mostly focused on men running that scene. Over the years, the Internet and social media have revealed that there is a huge female following to the industry as well, and that's becoming much more apparent now. Streetwear has grown to take such a huge part in today's generation and I think brands like Nike should continue to do what they are doing. It's not just about making things feminine, but rather creating good designs that will naturally gain a following regardless of gender.
What do you think of the connection between fashion and sports, and how do you see the trend of sportswear and sneakers in the future?
I think it's just going to get bigger and bigger. The word "comfort" is becoming such a big part of everyone's new lifestyle given what's happening in the world right now. Sportswear is here to stay and will continue to grow, not just for people who play sports. I think streetwear is such a big part of the new generation as we've seen all around the world, specifically in rising regions like China and South Korea.
What are your dream sneakers, other than the Air Max 180 and Dunks?
That's a hard question. Every time I see the Nike archive I get so many ideas. We are actually working on another sneaker – it's going to be something that people haven't seen yet. Stay tuned, as it's going to be a really exciting release that you won't be expecting from us.
Share this article