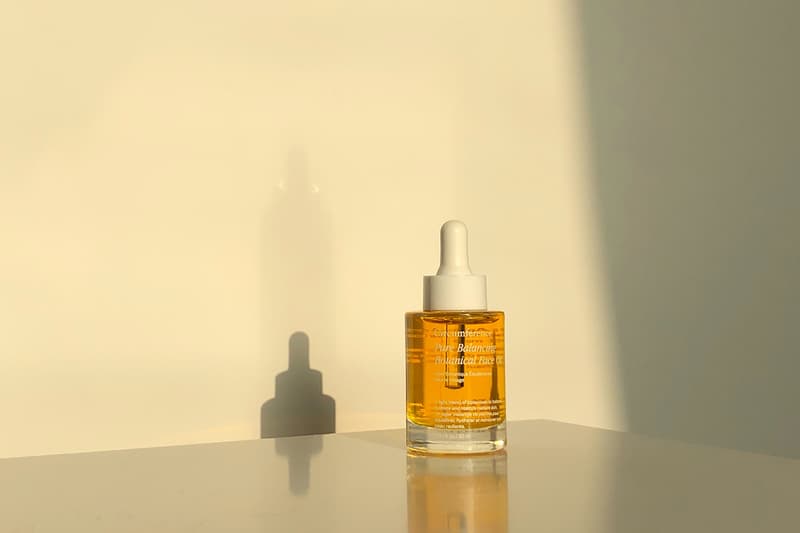 Beauty
Circumference's Pure Balancing Botanical Face Oil Gave Me the Dewiest Skin Ever
Our editor can't get enough of this sustainable beauty brand.
Circumference's Pure Balancing Botanical Face Oil Gave Me the Dewiest Skin Ever
Our editor can't get enough of this sustainable beauty brand.
Although I still reach for moisturizers on days that are particularly dry, I will opt for using just face oil on most days. Especially effective in regions that are more prone to humid weather conditions, high quality face oil actually possesses a lighter texture than many moisturizers. As a result, I find that my skin can breathe better throughout the day and I don't feel that my pores are getting clogged with pollutants and general impurities in the air. As a skincare addict, I've also fanatically been looking into products that are effective, yet ethically responsible. I've become increasingly interested in learning about sustainable beauty options, discovering a range of incredible companies that are committed to making strides in creating innovative products that are beneficial to both us and the planet. Circumference is one of those brands.
I recently got the chance to test out its signature, all-purpose Pure Balancing Botanical Face Oil, and it's definitely my current favorite. To start, New York- based label Circumference is known for its plant-based formulas – every single product in its roster is crafted with a meticulous blend of "potent, plant-derived actives" that are highly effective, safe and stable. You won't find any harmful ingredients here – the brand is 100 percent toxin-free. For the Face Oil, in particular, it is crafted to help balance and nourish skin with a combination of essential fatty acids and antioxidants. With a cocktail of 16 different organic botanicals – which include marula, prickly pear, sea buckthorn and jojoba, to name a few – the resulting product is an impeccably balanced oil that works to create a protective layer on your skin. The oil optimizes your natural oil production and also helps to smooth out skin tone and over time, can even heal damage.
So, how does the product actually feel on the face? To start, the composition is beautifully light. It can easily be layered under my tinted moisturizer, and I don't feel like I have too many films of skincare and makeup on my face. For those who prefer a more dewy look as I do, this face oil is perfect for achieving that glowing finish without overdoing it. If you're worried about having too much shine on your face, applying a mattefying SPF on top of the oil or, of course, some translucent powder in the glistening areas are simple solutions to reduce the dewiness (but to be honest, who wants less glow?).
For those who experience pilling with their makeup, face oil might also be a good option for those who look for a quick makeup routine in the mornings. The face oil penetrates through the skin much faster and generally blends much better with other beauty products that are applied as layers above. Along with its other benefits, this is another key reason why I prefer face oils – even with cream-based SPF applied on top, I never experience any pilling.
As for the scent of the face oil, you would expect quite an overwhelming scent with a plant-based formula but that is not the case here. The fragrance is fresh and light, with only light traces of herbal notes. In the mornings, it's the perfect wake-me-up. The bottle itself is also designed with a striking minimalist aesthetic. The brand never uses single-use plastic, so all of the products are housed within recycled glass containers. As for the Oil, its exquisite amber color shows through, and makes for the perfect top shelf addition.
Behind the scenes, Circumference prioritizes conscious sourcing, fair practices and social responsibility. In our current climate, it is simply not enough to create strong products that are effective – what goes in to fabricating these products, as well as what happens afterwards, is equally important. Circumference believes in transparency, as well as upcycling its raw botanical materials. With all of these efforts, users can invest in these products and know that the best available practices are being used to create these skincare items with the longevity of the planet in mind.
You can shop Circumference's Pure Balancing Botanical Face Oil at its web store, as well as at select stockists such as Net-a-Porter where it retails for $850 HKD (or $100 USD).
If you're curious to learn more about face oils, check out our review of Dr. Michael Prager's Urban Protect Day Oil.
Share this article