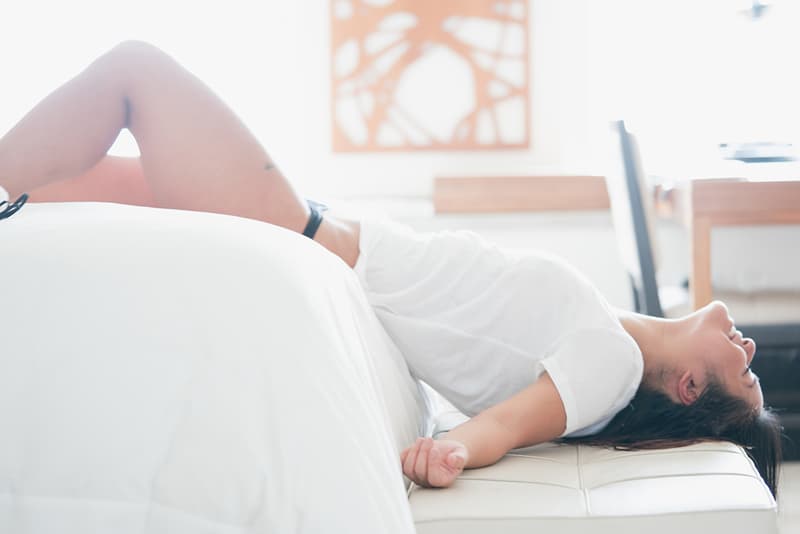 How to Own Your Pleasure
Getting to know your body can be incredibly empowering.
Ladies, the cards are stacked against one of our most fundamental human rights: our right to experience sexual pleasure.
Pleasure, especially women's pleasure, is a stigmatized topic. Example A: In 2019, CES — the world's largest tech trade show — rescinded an innovation award given to a vibrator company, claiming the winning product "profane" and "immoral." The Consumer Technology Association, the show and award's organizer, later gave it back with an apology, and finally allowed women's sex tech products to officially exhibit on the show floor for the first time in 2020.
Many tech companies still have an archaic attitude towards women's pleasure, deeming it "inappropriate." Some wouldn't allow a doctor to promote her own book, The Vagina Bible, because it has the anatomically-correct word "vagina" in the title. The advertising policies of social media platforms prevent us at Crave from marketing our female pleasure products to new audiences, and yet Viagra is granted these permissions.
Given these attitudes, can you blame women for feeling guilt and shame for wanting pleasure? Can you blame women for not knowing about their own anatomy or pleasure spots when the full anatomy of the clitoris was not even fully documented until 1998?
I don't blame them, but I do know that in 2020, it's time women start owning their pleasure.
Over the last 10 years of building a modern sex toy company for women, I've learned that there is no right or wrong way to do this. Your preference, interest or curiosity may be different than that of your friends and lovers, but that does not mean it is any less valid or important.
Pleasure is a personal journey that starts with yourself and it will likely change over time. It taps into your curiosities, your desires and your comfort zone, but you have to first give yourself permission and the space to explore your pleasure. My friend and certified intimacy educator Shan Boodram agrees. "I think people can give themselves permission to explore their pleasure by being okay with where they currently are and starting there," she says.
"I often find that sexual repression and the sexual pressure to 'open up' often boil down to the same end result: people feeling like there is something wrong with their sexuality. In truth, where you are is where you're meant to be, so feel good about that space and challenge yourself to take small risks to expand outside of your comfort zone."
So here are five ways to own your pleasure.
Casually Talk About It
Having healthy and open conversations about pleasure and masturbation are critical in the fight to normalize both. Start with your most-trusted friends or your partner. You might casually mention that you're stressed from work and could really use an orgasm, or ask if they've seen Sex Education on Netflix. Or simply say, "I'm searching for a new vibrator, do you have a favorite?" If you're feeling extra-bold, a sleek, wearable sex toy like our Vesper vibrator necklace, can be a great facilitator for these conversations.
Learn What Feels Good
You deserve orgasms and only you know the best way to get there. Think of this as conducting a research study on yourself. The best part: it's 100 percent safe (no STI or pregnancy risk) and there's no added pressure from a partner. So check yourself out in a mirror. Touch yourself. Use your fingers, lube and toys. Masturbate lying down on your stomach, on your back or standing up. Masturbate in the shower. Getting to know your body can be incredibly empowering and over time, you'll discover what gives you the most pleasure.
Communicate With Your Partner
Once you've discovered what gives you pleasure, it's time to be vocal about it to your partner, who hopefully, wants to please you as much as you want to please them. This takes open and active communication. How are they supposed to know what makes you feel good if you don't tell them? Or what makes you uncomfortable? A receptive partner won't take this as criticism, but as a way to enhance the experience for both of you. Women are not one-size-fits-all and pleasure needs to be customized.
Experiment Like No One Is Watching
What piques your curiosity? What turns you on? What would you love to try just once? This may be trying a new sex toy or sex position, having sex in a new environment, or experimenting with a new method of foreplay, such as mutual masturbation. Whatever it is, make a list and just go for it. You have nothing to lose, but a lot — like mind-blowing orgasms — to gain.
Take Your Pleasure Seriously, but Not Too Seriously
Don't focus all of your energy on the finish line (climaxing) and allow yourself to enjoy the journey. "Have fun with it," says Boodram. "I know that's the most clichéd advice in the world, but in this particular case, it happens to be extremely true. Your pleasure is an area that's just for you, so hell yeah, you should enjoy every step of the journey. Set your pace, find your tools and feel as good as you want for as long as you want."
I want to leave you with this: every person needs to know that they're in charge of their pleasure, that they can give themselves pleasure. Get it, and ask for it. Own it.
---
Ti Chang is a Taiwanese-American industrial designer passionate about designing for women. She is the co-founder of modern sex toy company Crave, found in mainstream retail stores such as Bergdorf Goodman, The Standard Hotel and Goop. Ti has won numerous awards including Red Dot, IDEA and Good Design. Her work has been featured in numerous publications including Playboy, Fortune, Huffington Post, Forbes and Cosmopolitan.