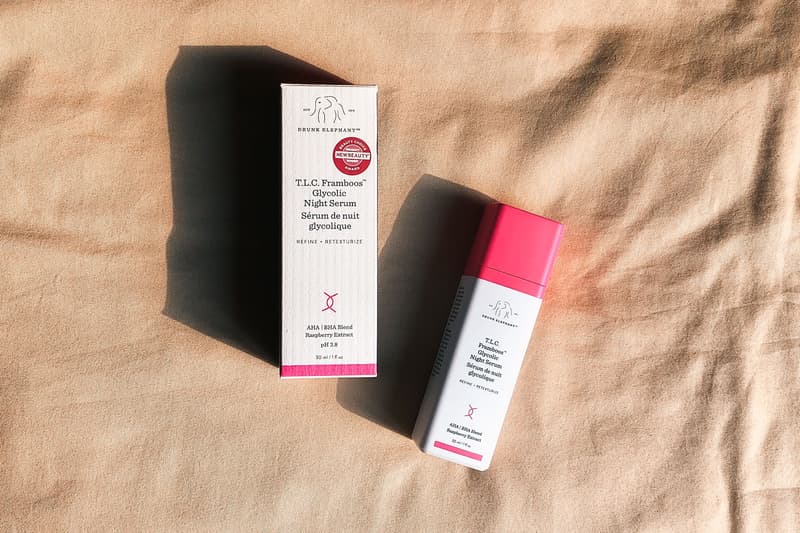 Beauty
Drunk Elephant's Glycolic Resurfacing Night Serum Has Transformed My Skin Texture
A skincare product that truly lives up to the hype.
Drunk Elephant's Glycolic Resurfacing Night Serum Has Transformed My Skin Texture
A skincare product that truly lives up to the hype.
Face serums were never a part of my skincare regimen until I recently noticed how bad the texture of my skin was around my forehead and chin. Living in a humid city like Hong Kong, my T-zone can get really oily, causing multiple breakouts that lead to scarring, as well as whiteheads and blackheads.
I've heard great things about Drunk Elephant's products and how they don't contain the "Suspicious Six" — essential oils, drying alcohols, silicones, chemical sunscreens, fragrances and dyes and sulfates. After doing some research on what AHA and BHA would do to my skin, I've decided to get my hands on the brand's cult-favorite T.L.C. Framboos Glycolic Resurfacing Night Serum.
Read on to find out what I think about this product and how it has helped improve my complexion.
WHAT IS IT: Drunk Elephant T.L.C. Framboos Glycolic Resurfacing Night Serum
WHY IT'S WORTH THE HYPE: Last year, I was quite stubborn when it came to maintaining my skin. No matter how many times people would tell me not to pick at my pimples and to just leave them alone, I'd end up popping them anyway. As a result, I had multiple scars on my forehead and chin that I desperately wished to get rid of.
Drunk Elephant's night serum contains both AHA and BHA that essentially work together to resurface congested skin by lifting away dead skin cells. For those who are unfamiliar with the skincare ingredients, AHA (alpha hydroxy acid) is a water-soluble acid made from sugary fruits that help peel away the surface of your skin so that new skin cells may generate, while BHA (beta hydroxy acid) is an oil-soluble that gets deeper into the pores and removes dead skin cells and excess sebum.
After two weeks of using this product, I immediately noticed improvements. The undertone of my skin changed from a dull yellowish hue to a healthy, flushed pink shade. The texture on my forehead has significantly improved and my scars began to slowly fade away. I think it's safe to say that this night serum won't be leaving my beauty routine anytime soon.
WHERE YOU CAN FIND IT: You can purchase Drunk Elephant's night serum at Sephora for $90 USD.
Share this article