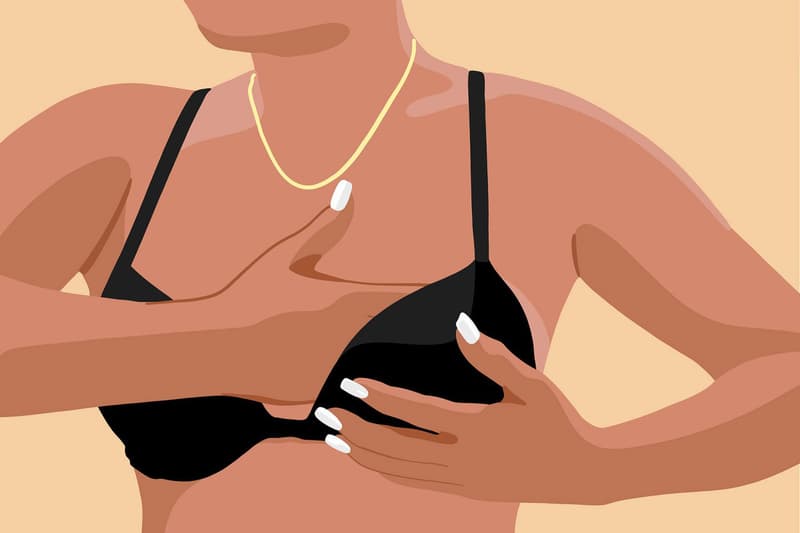 Health
Here's How to Find the Right Bra Size for You
Hong Kong-based lingerie boutique SHEER's Lisa Cheng teaches us everything from sizing to wearing bras the correct way.
Here's How to Find the Right Bra Size for You
Hong Kong-based lingerie boutique SHEER's Lisa Cheng teaches us everything from sizing to wearing bras the correct way.
There are many misconceptions around sizing and fit when it comes to bras, despite the fact that the undergarment is commonly worn as a daily staple. From the "scooping method" to "sister sizing," we had the chance to sit down with lingerie expert and SHEER founder Lisa Cheng to learn more about how to choose and wear bras correctly.
A Hong Kong-based luxury lingerie boutique, SHEER opened a pop-up called The Fit Clinic at its Landmark location earlier this year to help women find the perfect-fitting bra. "A bra is the first thing that we put on during the day – it's one of the most intimate garments we wear as women and often determines how comfortable our day is going to be," Cheng emphasized about the importance of finding the correct fit and size. "Additionally, a good bra can do wonders for both your posture and also your figure. A properly fitted bra that supports your breasts will straighten your upper back and make you stand taller, and with straightened shoulders and a more upright posture, your core muscles will be activated."
According to Cheng, one essential concept to understand when it comes to shopping for bras is "sister sizing" – a range of similar bra sizes that you'll need to know because each brand produces lingerie based on different sizing systems. As for wearing a bra correctly, "swooping and scooping" are important steps to learn for your daily routine to ensure the health of your breasts and overall posture.
Scroll down below to read our full guide on how to wear and choose a bra. You can also head over to SHEER's website to read about how to take care of your underwear.
What inspired you to launch The Fit Clinic?
Over the last nine years of SHEER, we noticed that whilst a lot of women visit us looking for more unique pieces, many more actually come in search of their perfect everyday bra. As women, we begin our bra journeys at around 13 years old and continue to wear bras our entire lives, yet very few of us start the process from learning how to choose and fit bras correctly – unlike the many ways that skincare regimes, fitness routines and makeup hacks are shared with us. So, SHEER decided to dispel all the mysteries in finding a perfect bra by creating The Fit Clinic.
At The Fit Clinic, we had a wonderful range of everyday bras that women could try on, with our fit specialists advising them on which styles and sizes would fit them better. After their fit appointment with us, many women happily walked away with a greater understanding of their breast shape, their correct bra size, and what they need to look for in their perfect everyday bra.
How can you tell if your bra fits right? 
Whenever you try on a bra, here are a few things to check:
THE STRAP - First you'll have to adjust the strap, which provides only 20 percent of the support within a bra. When adjusting, slide two fingers stacked vertically on the tops of your shoulders to ensure that the strap is neither too tight or too loose.
THE BAND - The majority of support comes from the band which should sit completely horizontally across your back and parallel to the ground. Any band that pulls up your back means that it is too loose, even if it's just a centimeter.
THE CUP – A cup that fits well (after scooping) should not have any gaps between your breast and the cup. If you see a gap, then the cup is too big for you.
THE UNDERWIRE – A correctly fitted underwire should sit flat across your sternum. The wire should not dig into the center or sides of your ribcage. A wire that digs in the center means the cup is too big, whilst a wire that digs from the side means that the cup is too small.
How can you differentiate sizing between brands when shopping for lingerie? 
Like with all clothing, every brand comes with various sizing – sometimes even styles within the same brand will also fit differently. It's important to know your "sister size" as you may need to try them to find the right fit. Just like body types, breasts also have shapes. Knowing your breast shape will help you identify the style of bra that looks best on you.
What does "sister sizing" mean, and how does this help find the perfect bra size? 
Essentially, "sister sizing" refers to similar bra sizes that you can alternate depending on the bra. Most of the time, many women end up with the wrong bra size because the band is too loose. If you find yourself pulling your bra down throughout the day because it's moving up then your band is likely too loose. A correctly-fitting band should sit flat across your back or parallel to the ground. A loose band will look like it's riding up your back.
When the band is loose but the cup is fine (no spillage, no big gaps), then you would want to go down a band size but up a cup size. For instance, if you're wearing 34B and the band is too loose, go for a 32C instead. This is because not all cups are created equally, and a 32B cup will be smaller than a 34B cup, while a 32C cup is the same as a 34B cup. On the other hand, if your band is too tight but the cup fits, simply do the reverse – go up a band size, and go down a cup (i.e – 34B to 36A).
What is the proper way to "scoop" to make sure you're wearing your bra correctly? 
The "swoop and scoop" bra-wearing method that ensures that all your breast tissue is properly contained within the bra cup so that your entire breast is filling the bra instead of being squished or not supported by it. These are the steps you should follow:
1. Put on your bra, making sure the strap is not too tight or loose.
2. Bend over slightly at the waist.
3. Using your left thumb, pull the underwire away under your armpits. Use your right hand to "scoop" your breast from behind your armpit forward and into your cup. You may need to tighten your strap afterwards.
4. Repeat on the other side, and your bra should fit better.
As the founder of a lingerie boutique, what are your thoughts on going braless?
To each her own! To be a modern woman is to have the beauty of choice, and that is something we should all cherish. For us, lingerie is something for women to look and feel beautiful in for themselves, and not just their partners. To experience the joys of lingerie, we should appreciate it in our daily lives instead of reserving it for special occasions. We see our role as providing women with a comfortable environment to find a perfect everyday bra and explore their lingerie personas, instead of preaching to them about whether they should or not wear a bra.
What are some of the most common misconceptions or mistakes surrounding lingerie that you've come across? 
Aside from fitting and care, another misconception we have come across is that lingerie is just for special occasions. Spending time to explore what styles you enjoy or finding out which items look amazing on you isn't about attempting to impress anyone, but rather a commitment to your own self-care. If many women today take care of their health by eating well and strengthening their bodies by working out, then why shouldn't we also take care of our breasts by wearing the correct lingerie?
---
You can visit SHEER's boutique located on the third floor of Landmark at 15 Queen's Road Central, Hong Kong after booking a private appointment to receive personalized consultation on lingerie.
Share this article