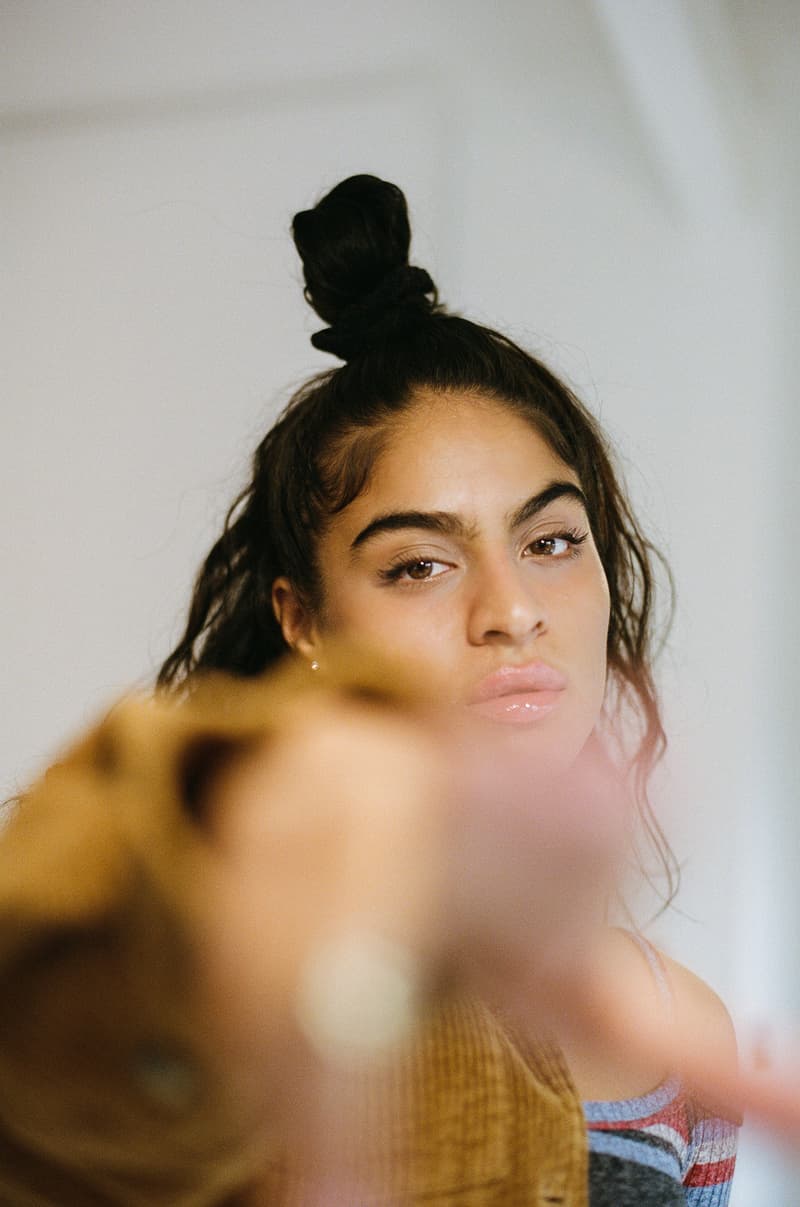 Jessie Reyez on 'Before Love Came to Kill Us' and Finding Light in Darkness
"Even when things that seem like problems happen in your life, they're actually opportunities."
Music
Jessie Reyez on 'Before Love Came to Kill Us' and Finding Light in Darkness
"Even when things that seem like problems happen in your life, they're actually opportunities."
Two weeks before Jessie Reyez's debut album is due to release, the world turned upside down. Originally supposed to be on the road to support Billie Eilish for her North America tour, the R&B artist — like many others in the music industry — was forced to postpone her upcoming concerts in the wake of the coronavirus pandemic. Following show cancellations, Reyez even debated whether she should still put out new music.
"So, I'm conflicted," the Canadian singer-songwriter tells her fans on Instagram. "The whole premise of building this album was to make something that made people think about their mortality. Now it seems like a theme song to what's happening IRL."
As a follow-up to her critically acclaimed EPs, Kiddo (2017) and the Grammy-nominated Being Human in Public (2018), the singer's new album Before Love Came to Kill Us showcases her innate ability to be brutally honest in her music. The 14-track record, which sees a wedding gown-clad Reyez perched on a coffin on the album art, takes listeners on a sonic journey of bittersweet romance, tackling themes from betrayal and jealousy, to loneliness and desire.
"I had the idea of [writing about] the dark side of love, and the bright side of death. The dark side of love being the fact that the day you meet the love of your life is the day that you meet the person who is going to hurt you the most — because statistically speaking, they're either going to cheat, or you guys are one of the few that actually fall in love and make it until you're old and gray. But then eventually, one of you has to die, so inevitably it always ends in goodbyes," Reyez told us last December at The Annex in Toronto.
"However, the bright side of that and of death is that if you keep this mortality on your shoulder every day, you live your life in the most authentic way you could. Today you might confess something you've been holding back. Today you might treat somebody in more of a kind way. Today you might not lie, because you know that tomorrow you have to talk to God and account for how you lived your life."
Unafraid to confront her own feelings in her songwriting, Reyez pours her broken heart into this project. "I think the pattern that's most prominent [in my creative process] is that I talk about my life. There's always truth in my songs," she said.
On the album opener, "Do You Love Her," she laments a relationship gone wrong with her piercing lyricism: "I should've f*cked your friends/ It would've been the best revenge for the fire that you started." On "Ankles," she stands up for herself, declaring to an ex-lover that "These b*tches don't make it to my ankles." But like almost every single breakup story, Reyez's protagonist attempts to make amends with her old flame. Her unwavering vocals are accompanied by passionate confessions of love on "Kill Us": "We're not supposed to/ But I can't learn my lesson/ I miss when you were my best friend/ Before love came to kill us."
Longtime fans of Reyez will also find "Figures," the 2016 single that earned the artist international attention, on Before Love Came to Kill Us. When asked if the success of "Figures" made it any harder for her to compose new music, Reyez said it did the opposite by opening new doors for collaborations with other artists.
"Honestly, it makes it easier, because luckily 'Figures' was one of the main factors that put me on the radar of a lot of labels and a lot of different artists. Because of the position I'm in now, I have the liberty to go to the studio whenever I want, and that's a privilege I didn't have before. Because Kiddo did so well, I have the privilege of working with and reaching out to a lot of artist that I admire and look up to. And before Kiddo and 'Figures,' I didn't have that. So I feel like it's more positive opportunities that it gives me instead of pressure."
Besides the steamy track "Imported" featuring 6LACK, the album also sees Eminem, who previously worked with Reyez on his 2018 track "Good Guy," appearing on the fervent guitar ballad "Coffin."
Another collaborator, Toronto-based Tania Peralta, was enlisted to work on the spoken portions of the record. "Tania is an amazing poet. I have been a fan for a long time," Reyez told us. "I personally identify with a lot the darkness in her words. I identify with her being a Latina fighting to keep her culture in a different country. I wanted to make that something integral in the album, so I reached out to her."
"I told her that there was a poem that I had read along time ago on her Instagram, that it wasn't there anymore. And then she told me that she had made all of them private — I was floored — and said that she would make them public for me to be able to find them. She did, and to no surprise I ended up reading four hours of her poetry, but couldn't find the exact one that I was referencing. I did, however, find a lot of different pieces that I loved. So instead of just using one poem, I made an amalgamation of different lines and different poems that resonated with me the most."
With this new puzzle of words, Peralta penned two poems for the album — one for "La Memoria" and the other for "I do." Performed in English and Spanish, both pieces of poetry borrow the imagery of wilting flowers to depict the fragility and transient beauty of love.
We asked Reyez what she's learned about herself while creating her debut album. "It isn't something that I learned, but something that was reinforced: even when things that seem like problems happen in your life, they're actually opportunities." As fear spreads and uncertainty looms, Before Love Came to Kill Us serves as a timely reminder to honor your feelings, to be authentic in your art and to always find light in darkness.
Before Love Came to Kill Us is now out on all streaming platforms.
Share this article