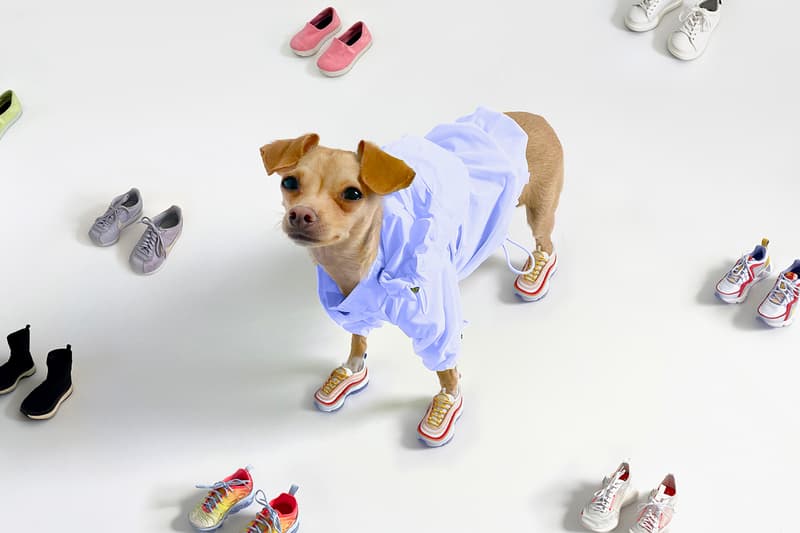 Fashion
Boobie Billie, Instagram's Most Fashionable Dog, Is a Sneakerhead Just Like Us
The style influencer of the moment ranks her favorite Nikes in our interview.
Boobie Billie, Instagram's Most Fashionable Dog, Is a Sneakerhead Just Like Us
The style influencer of the moment ranks her favorite Nikes in our interview.
Have you met New York City's new It-girl, Boobie Billie? An Italian Greyhound-Chihuahua mix living in Brooklyn, she is the Chanel bag-toting, Prada-loving dog and influencer who has recently shot to social media fame.
Citing Céline Dion, Donté Colley and Copenhagen stylist Emili Sindlev as some of her style icons, the self-confessed fashion enthusiast has been posting her OOTDs on Instagram since last December. Similar to the fashionable humans she admires, Boobie doesn't shy away from bold colors, head-turning accessories or the latest street style trends. From a tonal hot pink ensemble completed with Prada's fuchsia plexiglass trim hat, to a slime green oversized sweater look inspired by Billie Eilish, the six-pound pup is perfectly proportioned to pull off any outfit. Obviously, she loves a mini bag too. Her envy-inducing handbag collection, which includes Jacquemus' Le Chiquito, vintage Louis Vuitton and BY FAR's cult-favorite top handle bag, is a reflection of her eclectic style.
What many may not have realized, however, is that Boobie is very much a sneakerhead as well. Whether she's donning a girly tulle dress or an athleisure 'fit, the Insta-famous dog almost always has sneakers on her tiny feet. In our interview, Boobie talks all about her favorite shoes, her paw-ssion for fashion and how she hopes to utilize her platform to bring joy to her online community. As to where she shops for her pint-sized Speed Trainers, that will remain a secret between Boobie and us.
How did you begin documenting your outfits on Instagram?
I've always loved fashion. I was pretty much born wearing Balenciaga. One day I was like, wait a second. I pattern-clash? I color-block? I wear sneakers? Who cares if I'm a dog? So I put on my lilac Nike Cortez's and here I am.
Where do you tend to draw inspiration from when you get dressed?
For me it's all about fun and moods. I wake up in the morning, and I'm like, who am I today? Am I feeling like a cowgirl? A little butter bb? A sophisticated woman? And then I go from there.
Judging from your Instagram profile, you seem to strictly wear sneakers. What are your top three favorite pairs of kicks?
The Nike RYZ 365 "White/Pink/Red," the Air Max 97 "Barely Rose" and the Cortez in lilac.
You've managed to attract over 116k followers in less than a year. Did you anticipate that when you first started your account? Was there a moment when you realized you've truly achieved influencer status?
Honestly, no! It felt like I was just dressing up and having fun. Then one day I looked up and all of my bbs were there. Oh my god, but the moment it all felt real was when I started seeing pictures of me as other people's profile pics. My heart literally stopped because TBH I thought I was hacked.
Who are some of your most famous fans on your followers list?
There are definitely a few queen bbs following me. Please excuse this major name drop moment, but Tracee Ellis Ross, Emma Roberts and Ariel Winter are some of the biggest [names]. It's funny because I never see their follows come in. But then I'll be booping around Instagram and I see a "follow back" under Tracee Ellis Ross' name and I'm like… whoa.
Best message or comment you've received on Instagram?
Sometimes guys will DM me and be like "My girlfriend loves you, can you follow her?" That always makes me laugh because like, here's this guy trying to do something sweet for his bb and who am I to get in the way? So of course I follow them.
It's been a difficult few weeks for people around the world. Is there a message you'd like to share with your online family?
Honestly, I know it's hard now, but picture this: it's the first day out of quarantina. The sun is shining. We're all wearing colorful patterned off-the-shoulder tops. We're lounging on a massive picnic blanket, sitting literally six inches apart. We're eating charcuterie and cheese. It's the most gorgina perfect day anyone has ever seen. We'll get through it bbs, and then we'll get together.
How are you spending time at home these days while practicing social distancing?
Okay so, I've been watching a ton of Criminal Minds. I know I know, it's like 2005 called and they want their show back, but I can't get enough.