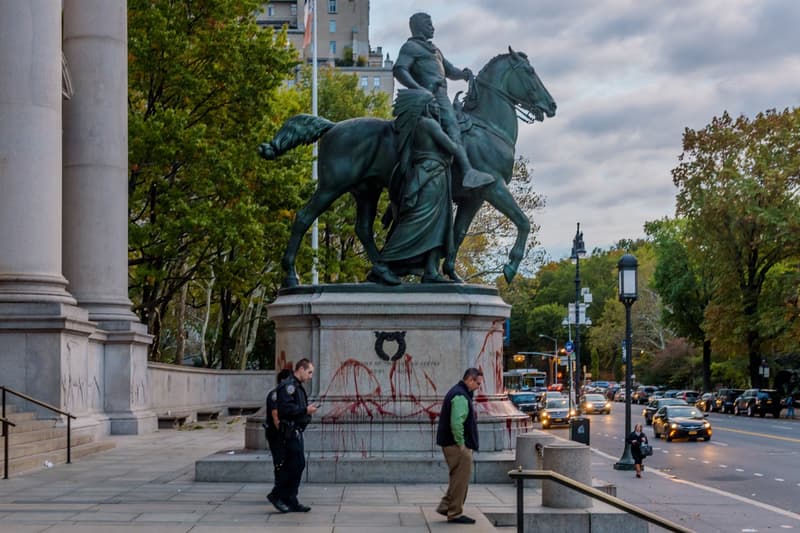 Culture
New York to Remove Theodore Roosevelt Statue at Museum of Natural History
The 26th president of the United States was outspokenly racist.
New York to Remove Theodore Roosevelt Statue at Museum of Natural History
The 26th president of the United States was outspokenly racist.
As the murder of George Floyd continues to spur nationwide conversations about deeply entrenched racism in the United States, New York City has decided to remove a statue of Theodore Roosevelt located at the American Museum of Natural History. The monument — which has garnered criticisms for years — depicts Roosevelt on horseback, accompanied by a Native American man and an African man on his left and right sides.
New York Mayor Bill de Blasio agreed to a request made by the Museum of Natural History to remove the statue because it "explicitly depicts Black and Indigenous people as subjugated and racially inferior," de Blasio said in a statement provided to The New York Times. "The City supports the Museum's request. It is the right decision and the right time to remove this problematic statue," he added.
Roosevelt, the 26th U.S. president, was vocal about his beliefs that the "English-speaking race" is superior to others, a fact that the Museum of Natural History points out on a page dedicated to the statue in question. The politician was also an outspoken supporter of eugenics, and endorsed the sterilization of the poor and disabled.
The statue has long been a point of contention. Back in 2017, protestors splashed its base with red paint, symbolizing blood. Now, as ongoing Black Lives Matter protests encourage states to rethink the racist and colonialist ideology of historical figures (such as George Washington, a monument of whom protestors toppled in Portland, Oregon), public denunciation of the monument finally resonated with Mayor de Blasio.
Roosevelt's great-grandson, Theodore Roosevelt IV, released a statement that supports the statue's removal yet skirts the former president's racist beliefs. "The world does not need statues, relics of another age, that reflect neither the values of the person they intend to honor nor the values of equality and justice," he said.
de Blasio has not yet announced when the statue will be taken down, where it will go and what, if anything, will replace it.
Share this article