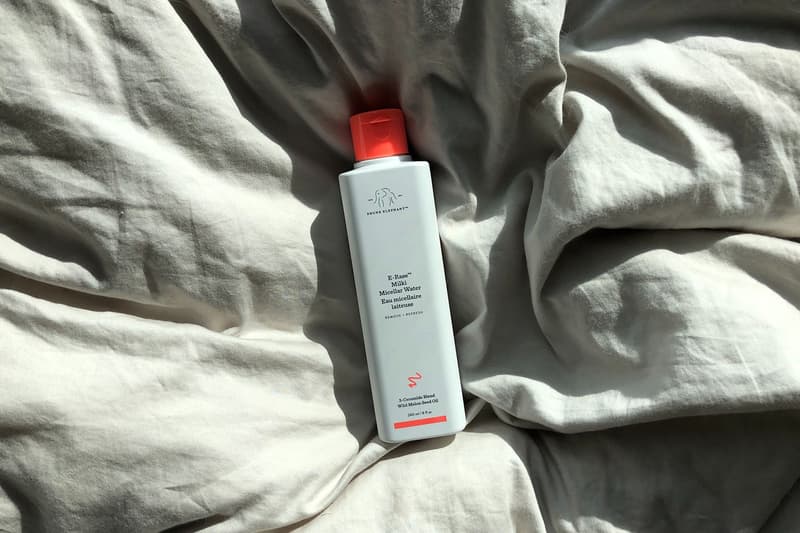 Beauty
I Tried Drunk Elephant's New E-Rase Cleanser and I'll Never See Micellar Water the Same Again
Perfect for sensitive skin.
I Tried Drunk Elephant's New E-Rase Cleanser and I'll Never See Micellar Water the Same Again
Perfect for sensitive skin.
Cleansing is arguably the most important step in one's skincare routine and if you're an avid follower of K-beauty, you'll know that double cleansing is canon in self-care practice. For me, I have always found that Drunk Elephant's Slaai Makeup-Melting Butter is the most effective on days when I'm wearing foundation. However, I have found that in our contemporary times of face masks and COVID-19 health measures, I tend to skip the face makeup altogether and opt to only wear skincare products instead. When it comes to cleansing at the end of the day, I've found that using the cleansing balm is a bit excessive and prefer to reach for something lighter and without a doubt, the clean beauty brand's new E-Rase Milki Micellar Water is a new favorite.
Although I regularly used micellar water in the past, I haven't been too keen on using them since I discovered oil-based cleansers. Due to the fact that micellar waters usually require the use of a cotton pad, I found that my skin often felt stripped despite the products being designed for sensitive skin. Having these past experiences, I was hesitant to try DE's new E-Rase offering, but I have to admit that my doubts have been all but banished. Drunk Elephant's micellar water is unlike any other variety I've tried in the category because the consistency is much creamier than you would expect – true to its name, the texture is more milky than watery.
I found that the product glides with an almost silk-like effect across my skin and does not cause any irritation at all. While effectively removing any makeup, dirt, pollution and bacteria, the milk also delivers a slightly cooling effect that soothes the skin (probably thanks to the vitamin E found in its composition). As with all DE products, non-fragrant plant oils are used so that you can truly clean and reset your skin without having to worry about perfumes and other damaging ingredients.
In terms of performance, I found the micellar water effective in being able to remove all of the makeup and grime from my face (we all know that satisfying moment when you wipe your face with the second or third cotton pad and it comes off clean). I found that my skin felt more plump after using this product than any other cleanser. In fact, E-Rase can actually be used without rinsing, so I've found that it's a great way to revive my skin throughout the day. For a quick skin refreshment with an added dewy effect, this product is an ideal pick-me-up when your skin feels clogged or tired.
The only downside I experienced while trying this product is that it is not the best at taking off waterproof eye makeup. As I usually use waterproof mascara to combat the humid conditions of Hong Kong, I usually require a stronger oil-based eye makeup remover. Although the E-Rase is designed to be able to take off not only face makeup but also those of the eyes and lips, I found that after I came out of the shower, I still experienced some smudging around the eyes and would have to clean up the area with a Q-tip. Even so, I've still been reaching for the E-Rase when cleaning my face at the end of the day and would definitely recommend it as a gentle cleanser (especially for sensitive skin), as well as a first choice for those who prefer micellar waters.
The Drunk Elephant E-Rase Milki Micellar Water is available now at the brand's web store for $28 USD, as well as at select stockists such as Sephora.
---
Share this article